Dems Plan $350 Billion Fight Against Systemic Racism Using Corporate Stimulus Funds
Five years, 10 "major investments" and $350 billion.
That is a provision that Senate Democrats want included in the next coronavirus stimulus to combat systematic racism and an historic underinvestment in communities of color.
The proposal, unveiled Thursday, would invest hundreds of billions of dollars over the next half-decade into initiatives that Democrats said would properly address racial inequalities that have been exacerbated by the pandemic, including childcare, jobs, mental and primary care, infrastructure, tax credits for renters, homeowners and low-income housing, and Medicaid expansion.
A majority of the money—$200 billion—would be diverted from unused COVID-19 relief appropriated during a previous stimulus package by Congress that was meant to be used by the Treasury Department for corporate lending.
Rather than have the money remain untouched at Treasury, Democrats want to re-program the relief through negotiations for the next stimulus bill that Congress plans to approve before month's end.
It remains to be seen how Republicans will react to the pitch. But major disagreements over policy that already exist, as well as Republicans' hesitance to endorse a price tag that would balloon above $1 trillion, could further hamstring swift passage of any legislation.
Senate Minority Leader Chuck Schumer said their proposal is "a needed step in a long journey to address systematic racism and historic underinvestment in communities of color."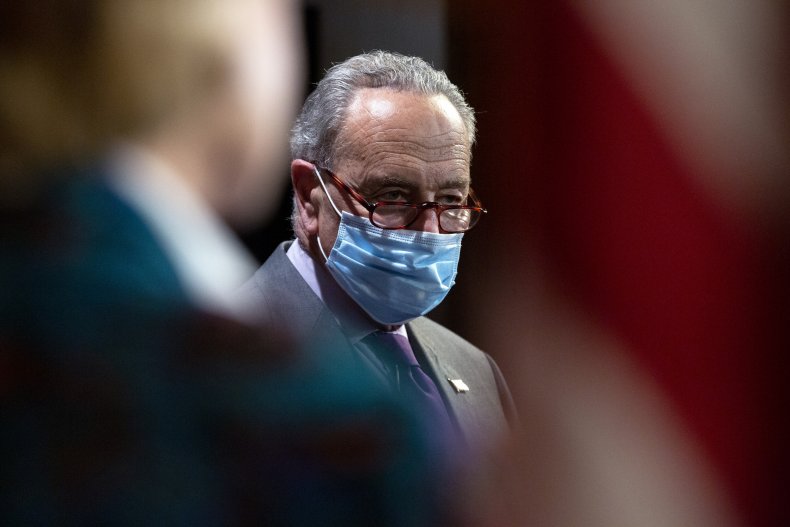 "Long before the pandemic, long before this recession, long before this year's protests, structural inequalities have persisted in health care and housing, the economy and education," the New York Democrat said in a statement. "Covid-19 has only magnified these injustices and we must confront them with lasting, meaningful solutions that tear down economic and social barriers, and reinvest in historically underserved communities."
The renewed push to address racial inequities comes on the heels of Congress' failed attempt last month to pass sweeping police reform in response to the killing of George Floyd, a black man, by a white Minneapolis police officer.
Here's how the funds for communities of color would be broken down for each of the bill's 10 components.
Childcare: $50 billion
Community health care access: $40 billion
Job training, at-risk youth development: $25 billon
Aid for small businesses: $17 billion for capital/support, $3 billion for tax incentives
Modern infrastructure, including high-speed internet and schools: $115 billion
Tax credit for new homeowners' down payment: $40 billion, or up to $15,000 per family
Tax credit for renters and low-income housing: $25 billion for renters, $5 billion for low-income (would reduce rent and utilities to 30 percent of income for low-income residents)
Expand Medicaid: $15 billion
Improve maternal mortality: $15 billion
Divert more federal funds to disadvantaged communities: no cost, policy changes