GOP Needs to 'Go Back to the Drawing Board' on Police Reform, Pelosi Says
Start over.
That was the message from House Speaker Nancy Pelosi on Friday to Senate Republicans for how Congress can overcome its impasse on police reform legislation.
"We always have a responsibility to reach across the aisle. But instead of a handshake, you get a slap in the face, then you say you better go back to the drawing board,'" the California Democrat told reporters. "And that's what they better do."
The blunt rhetoric, which came less than a day after the Democratic-led House approved its bill to overhaul America's law enforcement communities, further called into question whether lawmakers will be able to muster a bipartisan deal to curb police brutality in a timely fashion as protesters continue calls for action on racial injustice in the wake of George Floyd's death.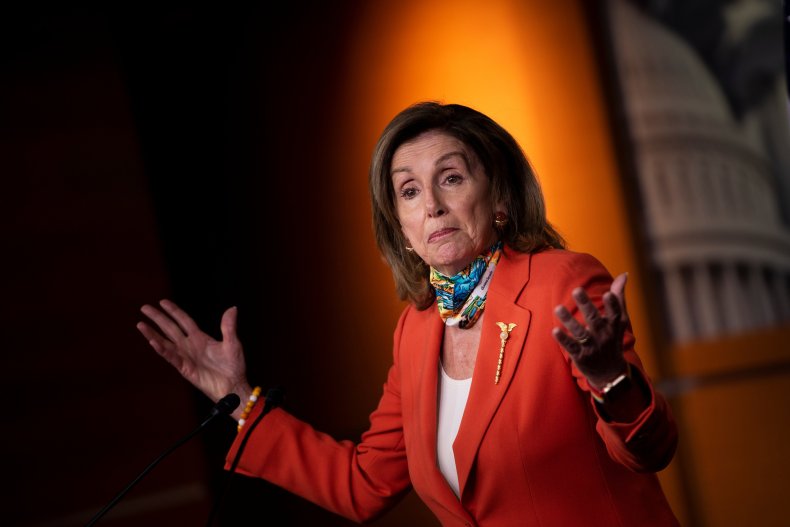 Police reform was moving swiftly, as far as Congress' standards go, until the historic movement crashed and burned earlier this week thanks to bitter partisan disagreements over provisions like chokeholds and qualified immunity. Senate Democrats blocked their GOP colleagues from advancing a Republican reform package spearheaded by Senator Tim Scott (R-S.C.), the only black GOP senator, on Wednesday over assertions it fell far short of the needed change.
"McConnell has—the Grim Reaper, who does not pass any of our bills, can't even pass his own bill over there," Pelosi said, referring to the Senate majority leader, Kentucky Republican Mitch McConnell. "They should get together and formulate legislation that can pass the Senate, and then we can see how we come together around them."
Scott's bill stops short of the Democrats' proposal, which was crafted by the Congressional Black Caucus. Under Scott's legislation, police departments are pressured to ban chokeholds by threatening to withhold funds but does not address qualified immunity for officers or ban certain no-knock warrants. The Democratic bill would ban chokeholds used by federal authorities, prohibit no-knock warrants for federal drug cases and eliminate the legal immunity protections for police.
"'Why can't you work together?' Because they don't share our values on this subject—not yet," Pelosi said. "But I hope that they will."
Democrats have made clear that they want to utilize public pressure as their strategy, in hopes Republicans make concessions. But GOP lawmakers say they gave their Democratic peers ample opportunities to amend their Senate bill—a notion Democrats deny and say is irrelevant because Scott's proposal was "not salvageable"—and are only fixated on election-year politics with an insincere drive to overhaul police use-of-force practices.
Pelosi declined to say whether negotiations would take place over the weekend. The offices of Scott and Democratic Senators Kamala Harris (Calif.) and Cory Booker (N.J.), who have led the Democrats' bill in the Senate, did not respond to Newsweek's inquiry.