Police Reform Passes House as Democrats Try to Pressure GOP Amid Standoff
The U.S. House of Representatives passed a sweeping police reform package Thursday evening that reins in officers' use of force in a bid to curb racial injustice amid a national uproar over the death of George Floyd.
The Democratic-led chamber approved the historic legislation, which includes a ban on chokeholds, the elimination of qualified immunity for police and increased accountability measures, mostly along party lines 236 to 181. Three Republicans—Fred Upton (Mich.), Will Hurd (Texas) and Brian Fitzpatrick (Pa.)—voted with Democrats for the bill.
But while the proposal's passage on the one-month anniversary of Floyd's death marks a major milestone for overhauling America's law enforcement agencies at the federal level, Congress is far from delivering any legislation on the matter to President Donald Trump's desk.
Lawmakers are in a stalemate, a state of limbo that intensified Wednesday when Senate Democrats blocked a GOP reform bill led by the chamber's lone black Republican, Senator Tim Scott of South Carolina.
And Democrats are banking on their peers across the aisle—namely Senate Majority Leader Mitch McConnell—succumbing to the public pressure campaign being waged by protesters across the country, even as House Democrats' bill is at risk of joining gun control and immigration reform in the Kentucky Republican's "legislative graveyard."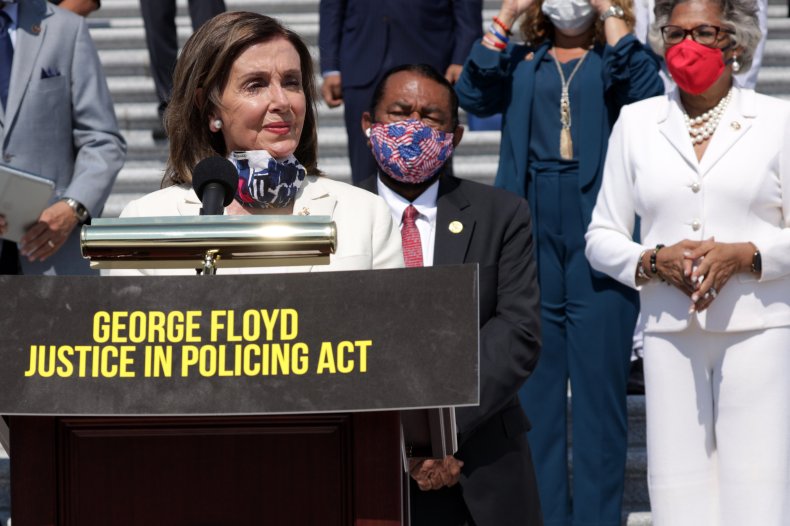 "[McConnell] very often insists on having a jamming vote for leverage purposes and so forth before he becomes serious about negotiating," Senator Sheldon Whitehouse (D- R.I.) said. "This ain't our first rodeo and this ain't his first use of the jam-them-first-then-maybe-get-serious strategy."
Democrats contend that the "shame, fake reform," as House Judiciary Chairman Jerrold Nadler (D-N.Y.) labeled it, fails to include measures that will bring substantive change because the bill stops short of banning chokeholds, does not address qualified immunity and does not prohibit no-knock warrants. The Democratic proposal bans chokeholds used by federal agents and forbids no-knock warrants in drug cases.
Amid the impasse and upcoming congressional recesses, GOP lawmakers are warning of a diminishing momentum for change while Democrats are confident they can force Republicans' hands.
"[Republicans] need to...write a bill that's real. Don't just take the words and defang it. That has no effect," House Speaker Nancy Pelosi (D-Calif.) told reporters. "You all gave them so much credit for a bill that did nothing and then expected us to embrace it. No way. [Senate Democrats] did the right thing."
The Congressional Black Caucus, chaired by Rep. Karen Bass (D-Calif.), spearheaded Democrats' bill.
"I don't view this situation as being over at all," she said. "I think it's always public pressure that leads to transformative change. So, the pressure needs to keep up."
Nadler predicted that "it may take a while for the pressure to build up in the country" and Senate Republicans won't be allowed to "thwart the will of the country."
But Republicans aren't budging as they say Democrats are "staging partisan theater" just months before a major election.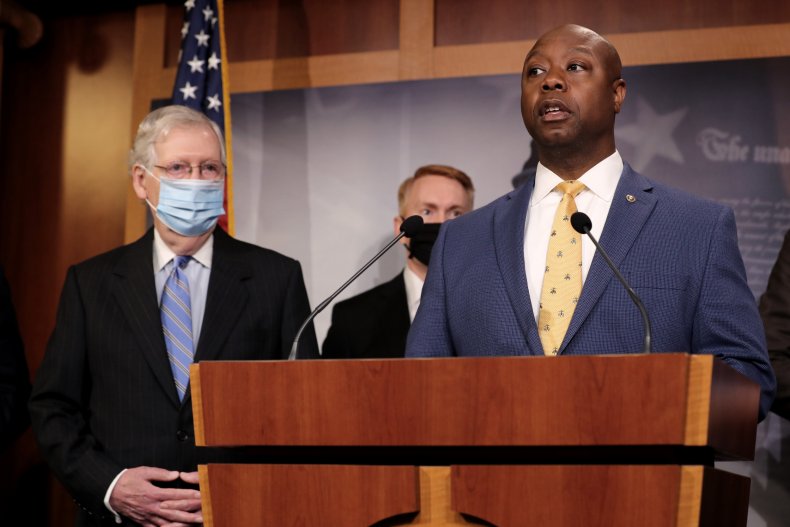 "I'd say it's on the back burner for a good while because I don't think there would be any attempt to do anything else when you kind of put the quietus on the process, because I think it was a political concern," Senator Mike Braun (R-Ind.) said.
Scott warned momentum for change "is dissipating as we speak," and he charged Democrats with "playing a dangerous game of politics, that they can afford to wait until November or next year."
Senate Judiciary Chairman Lindsey Graham (R-S.C.) said it appeared as though police reform "seems to be" a dead issue while Senator Roy Blunt (R-Mo.), the No. 4 Republican, said Wednesday that if Democrats blocked their bill, "there's probably no path forward within this Congress."
How the two parties can overcome its standoff has yet to be seen.
The Senate has turned its attention toward the annual National Defense Authorization Act that funds the military ahead of a two-week July 4 break. Once the chamber returns, Congress is expected to turn its focus toward another economic stimulus package to combat the coronavirus pandemic, another contentious issue lawmakers hope to accomplish before a month-long August recess.
The House continues to work remotely, only returning to the nation's capital for scheduled votes.