The Second Coming of Den, Tokyo's Quirkiest Cuisine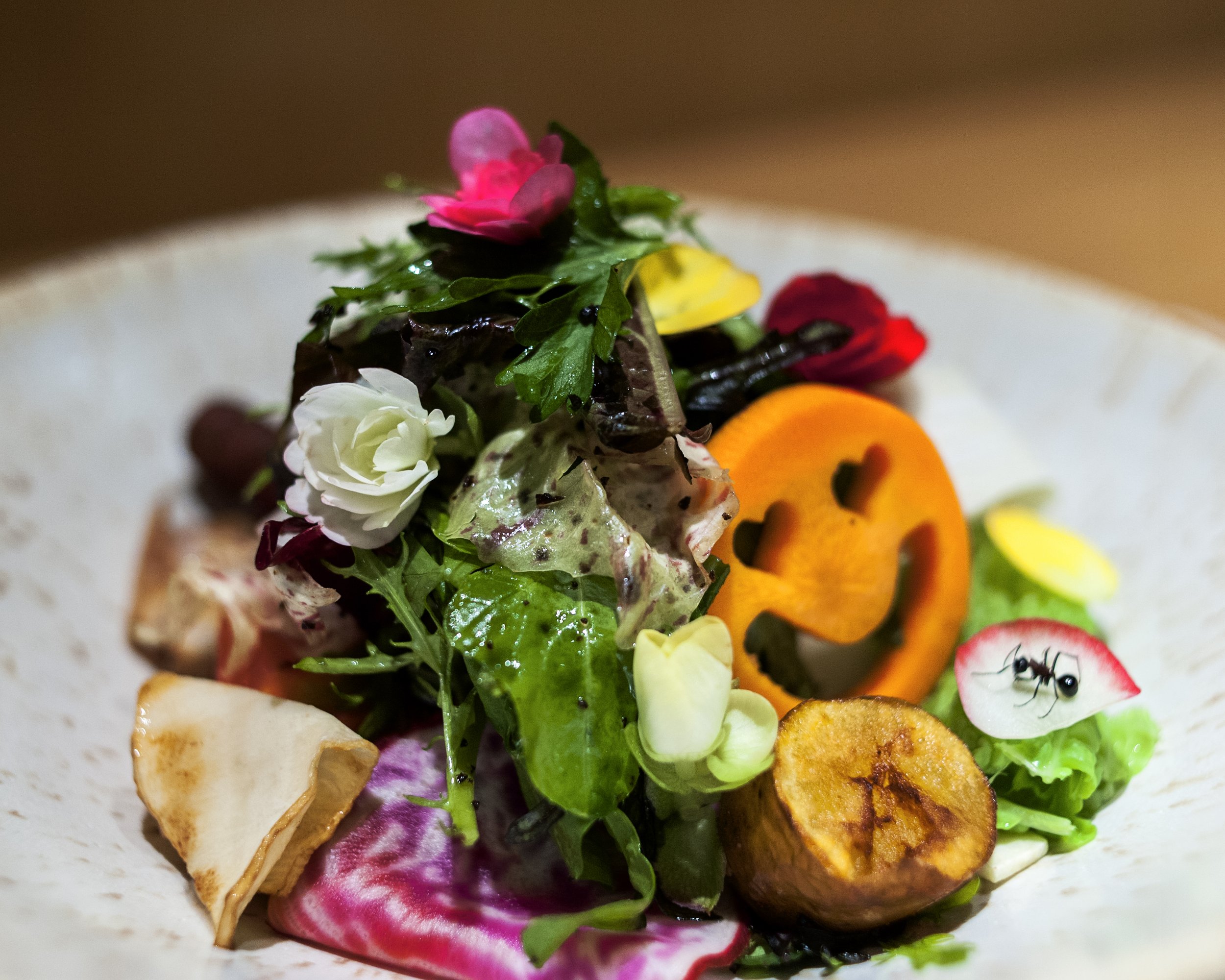 On a warm June evening, Zaiyu Hasegawa ascended the stage at an awards ceremony in New York, where the World's 50 Best Restaurants list had named his Tokyo restaurant, Jimbocho Den, "One to Watch." Standing beneath a life-size projection of his photograph, he wore an expression of giddy excitement tinged with mild terror, as if he had just turned up at a surprise birthday party and opened the door onto a room full of a thousand strangers. As the emcee pushed the microphone toward him, Hasegawa leaned forward and smiled gamely. "I don't speak English," he said, before thanking everyone in Japanese. The audience erupted in cheers.
"I didn't understand a word," he says, laughing, recalling the moment. "I was just thrilled to be there."
Hasegawa is an affable 38-year-old with spiky, Muppet-like black hair and boundless optimism. He has reason to be in high spirits. Den is fully booked every night, typically three months in advance, and Hasegawa has a devoted following around the world. His welcoming personality and playful approach to kaiseki ryori—multicourse Japanese haute cuisine—have made his 20-seat restaurant a destination for globe-trotting gourmands who chronicle their dining adventures on social media. His witty creations are exceptionally Instagrammable. A whole smelt, deep-fried in tempura batter, balances on its anterior fins so that it appears to walk across the plate in an imitation of Tiktaalik roseae , the recently discovered fossil fish with leglike fins; smiley faces carved into circles of carrot rounds wink from behind edible flowers in a garden salad. Hasegawa has taken his quirky cuisine on the road with events at restaurants such as D.O.M. in São Paulo, Brazil; Sepia in Sydney; and Chefs Club in New York. But this December, after nearly nine years in Jimbocho, a neighborhood in eastern Tokyo better known for secondhand bookshops than high-end eateries, Den is moving to a more central location in the Japanese capital's upscale Aoyama ward.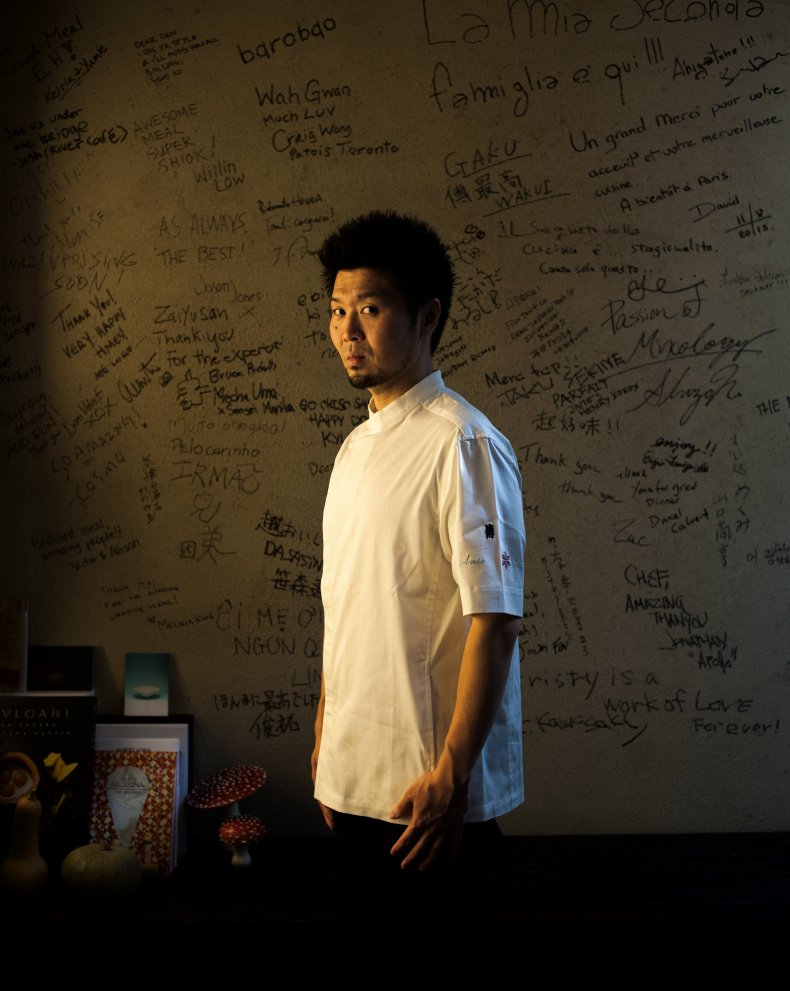 While the original location featured an open kitchen with counter seating downstairs and separate tables on the second floor, the Aoyama restaurant will bring everyone together in the same space, with the kitchen and dining area raised on a platform, rather like a stage. And the counter will double as a huge communal table that can be pulled into the middle of the room to accommodate extra guests. When we met, in October, the new space was still a shell of exposed walls and loose wires, but Hasegawa could already envision the finished interior, outfitted with custom tables made from recycled wood and set with antique porcelain.
"The food will be the same, but the new place will have a more family-like atmosphere," he says. He wants to do away with the formality associated with kaiseki and "bring people closer" in an emotional rather than the physical sense. Food is his medium, but Hasegawa's artistry is about more than cooking. "My goal is to be a craftsman that creates feelings. I want my guests to leave happier than when they arrived," he says.
Related: How to find and eat actual Kobe beef
At Den, the cuisine, the setting and the service are delicately constructed to have an emotional effect. From the moment you pass through the white dividing curtain or noren at the entrance, Hasegawa treats you to omotenashi, the Japanese concept of hospitality: careful observation that enables a host to anticipate guests' needs before they're even aware of them. I once accompanied a friend on his first visit to Den. Before seating us, the hostess had discreetly changed my companion's place setting, pointing his chopsticks to the right (they usually point in the opposite direction) because she'd realized, as we walked in, that he was left-handed. It was a detail about my friend that I had never noticed.
Hasegawa inherited his gift for omotenashi from his mother, a former geisha who worked at Uotoku Kagurazaka, a high-end Japanese restaurant in Tokyo. "My mother was a great cook. The food she made was very simple, but she prepared everything with consideration for how we were feeling," he tells me.
She also instilled an appreciation of refined cuisine. Hasegawa grew up eating the sophisticated bento boxes that she brought home from the restaurant, filled with seasonal delicacies such as grilled fish with miso wrapped in fragrant magnolia leaves, or simmered vegetables cut into intricate patterns. By the time he was in high school, he knew he wanted to become a chef. When he was 18, he showed up at Uotoku—without mentioning whose son he was—with nothing but a fold-up mattress. He began a live-in apprenticeship that lasted several years, during which he honed his skills and saved enough money to venture out on his own. After stints at other restaurants, including the three-Michelin-starred Ishikawa in Tokyo's Kagurazaka district, he opened Jimbocho Den at the age of 29.
In the restaurant's early days, Hasegawa served classic recipes with minor tweaks. "[Japanese cooking] always uses the same motifs—for example, cherry blossoms in spring—to convey the changing of the seasons, but I wondered if there were new ways to express those ideas," he says.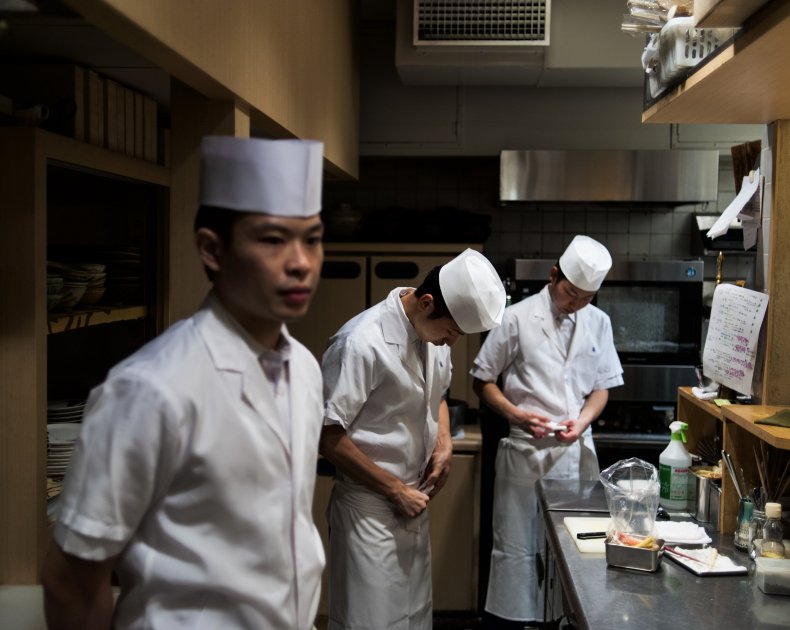 A keen traveler, he began experimenting with un-Japanese ingredients such as passion fruit and basil seed. He incorporated pop-culture references into his presentations: The restaurant's signature Dentucky Fried Chicken is a crispy chicken wing stuffed with flavored sticky rice and served in a red- and white-striped box adorned with Hasegawa's face. Originally he created the dish for a holiday-themed parody of the Japanese custom, popular since the 1970s, of eating KFC at Christmas; it was so popular, he put it permanently on the menu.
The organized nature of the Japanese kitchen, and the fact that Japanese chefs rarely spend time abroad, partly explains why there are relatively few restaurants offering kaiseki as creative as Den's. Hasegawa, though, is a traveling man: He just returned from a two-week tour of South America, which included stops in Brazil and Peru for events collaborating with local chefs, and a cooking demonstration at Semana Mesa, an annual food conference in São Paulo.
As for the new venture, he's nervous but characteristically upbeat: "It's a lot of pressure, but I'm lucky to have so much support. The important thing is that I enjoy what I'm doing every day." And he hopes that his example will encourage the next generation of Japanese chefs to innovate and take their place on international stages—whether or not they understand the language.
Read more from Newsweek.com:
- Inside 108, Noma's more casual spinoff
- How much pasta can you eat before you die?
- Escaping Japan's cities for the 'so-called wilderness'