Late on the night of September 20, Kristian Baumann's friends threw him a birthday party. They cranked up the AC/DC, and passed round glasses of sparkling wine and bacon-wrapped sausages from a hotdog truck parked outside. Two cakes appeared, and a colleague set out a pot of curry so spicy it had a few celebrants looking longingly at the harbor waters nearby. Through it all, Baumann—the chef of Copenhagen's hottest new restaurant—kept a smile on his face and gamely thanked well-wishers for the surprise. But his slumping shoulders told another story. He might have been turning 30, but what he really wanted was to go to bed.
Since opening 108 on July 27, Baumann has been working 16-hour days, seven days a week, without a single night off. That's not unusual for the chef of an ambitious new restaurant, but Baumann is under a degree of pressure that few of his peers experience. 108 is the livelier, less expensive offshoot of Noma—widely considered one of the world's best restaurants—and Baumann's boss is the highly influential René Redzepi. As 108's chef, Baumann must walk a treacherous tightrope, balancing Noma's image on one hand, with the need to carve out his own identity on the other. And since 108 is located just 100 meters from Noma, Baumann has to do all this in a restaurant that stands, literally and figuratively, in the shadow of its parent.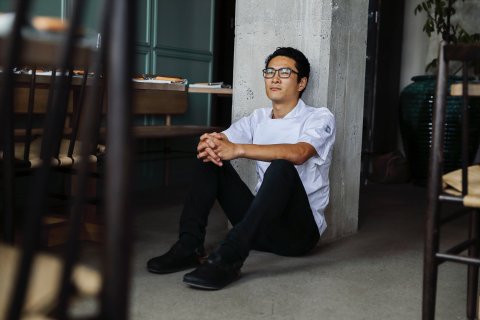 "It's been overwhelming," Baumann says of the six weeks since opening. "The hours, the press, the bookings. I've kind of lost all sense of time and place."
Baumann, who has the lean build of a Thai boxer (a sport he practiced back when he still had time), shares Noma's belief in using ingredients that are intensely seasonal and regional, but is not afraid to work in a little lemon or soy sauce if his palate tells him to. Redzepi tapped him to lead Noma's first expansion precisely because he possesses the kind of quiet strength necessary to forge a separate path. "He's a good listener, and good at taking criticism," Redzepi says. "He's also a fighter. I knew he was going to find his own voice."
Baumann is honored to be entrusted with 108, and he understands the advantages that the backing of a famous restaurant confers. But for all the benefits the Noma affiliation brings, it raises expectations that can be hard to meet. 108 first appeared as a popup, in January this year. The days in which a new restaurant has time to find its footing before it is reviewed are long gone, but from the moment it opened its doors, 108 was unusually besieged. Although the reviews were mostly positive, Baumann was overwhelmed by the amount of attention. "Journalists, critics, bloggers, they were all there—and this was for a popup!" he recalls. "'Ricardo [the sommelier] said to me, 'We've created a monster. Now we have to learn how to control it.'"
He would also have to learn how to distance himself creatively from Redzepi. As a young cook, Baumann apprenticed at Noma before becoming sous-chef at Relæ, another acclaimed Copenhagen restaurant. In 2014, he returned to Noma. "When you work for René, the most important thing is understanding what he's looking for. You need to know where he is mentally, what he likes, where he is on a given day. If it's raining outside, he likes things more rich—and you need to understand that." So much of his energy had gone into knowing Redzepi's palate that Baumann found it tricky to express his own. "I knew I wanted to take things in a different direction, but I couldn't articulate how. I got a little lost."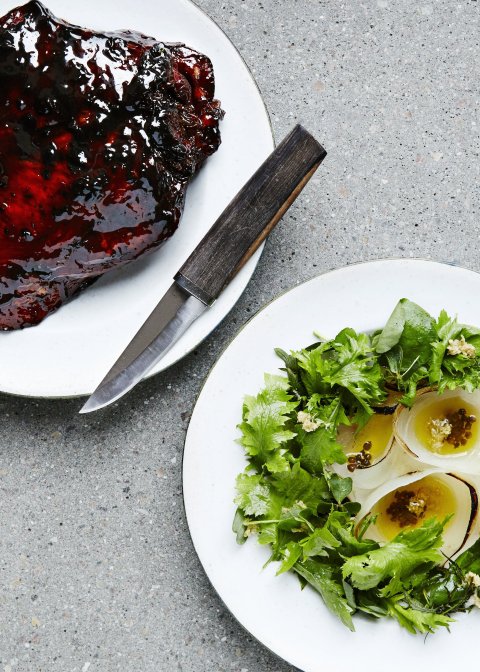 Ironically, it was the activity most closely identified with Noma—foraging—that got him back on track. "I had to go out in the forest, reconnect with things." He also had to cook. A lamb shoulder held the key: after using up 200 kilos of linseed miso glaze, Baumann turned to more abundant fermented plums. "We needed something more plentiful, but what I really liked was that they tasted like an old-school red wine sauce." By the time the permanent restaurant opened, he had developed a tight menu of dishes that looked fresh and modern, but were also comforting. Where Noma might have played up the intensity of roe from a European fish called bleak, at 108 the tiny pearls are marinated in a sesame-tasting oil made from rosehips, seasoned with plums, and adorned with coriander flowers—so that instead of blasting the palate with fishiness, the dish blends sweet, spice and brine in near equal measure.
The menu is not the only way in which 108 distinguishes itself from its forebears. Every element of the place is custom-made, from the leather pockets that hold cutlery in the warm, vaguely industrial dining room to the high-powered stovetops in the kitchen that bear the restaurant's name in blue neon. (Baumann had a voice in the design of both.) In terms of price and availability, 108 is far more accessible than Noma. A café tucked into the corner of the building serves coffee and pastries in the morning and wine at night; it recently added a lunch plate—for the shockingly un-elitist price of 100 kroner (about $15)—to its offerings. And to the delight of anyone who has ever woken up early to book a high-profile restaurant three months ahead of when they hoped to dine, 108's staff keeps several tables in the dining room open for walk-ins.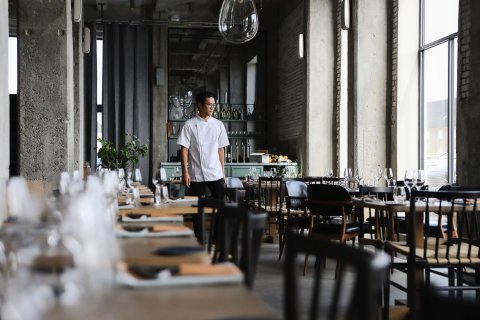 That isn't to say Bauman has completely overcome the elephant in the dining room. "It can be frustrating," he acknowledges. "There are people who are misinformed about what we are; people who can only think 'Noma, Noma, Noma,' without even trying to understand what we're doing.'" But 108's reservation book is so full—on one recent Saturday, they did 191 covers and turned tables four times—that the restaurant recently decided to open seven days a week. "We don't have the manpower for it, it's true," Baumann says with a slight smile. "But we're going to do it anyway. We'll just get through it."
Redzepi has said he hopes that 108's reputation will be so firmly established that someday no one will even remember that Noma is behind it. And Baumann himself can see his restaurant slowly coming into its own. "Last week, a diner I didn't even know came up and told me she would dream about our mackerel dish," he says. "That's what makes me happy."
On the menu: From mackerel to milkskin, 108's winners and losers
108 employs the full Nordic arsenal of techniques—foraging, fermentation, pickling, smoking—in dishes that manage to be both creative and comforting. The à la carte menu combines jewel-like small plates with hunks of protein meant for sharing. Among the small plates, the cured mackerel is the runaway star. It looks simple: neat, glistening triangles of fish overlap the edges of an emerald pool of spruce oil. But thanks to a brief cure in pine salt, a few dollops of salted gooseberry, and that pool of oil, the dish tastes as much of the forest as of the sea—sweet and salty, clean but tingly.
Orderly rows of marigold petals give a delicate geometry to the stems of Romaine salad, a handful of fresh leaves tossed in an intensely savoury paste made from their fermented brothers and sisters; who knew lettuce could show such muscle?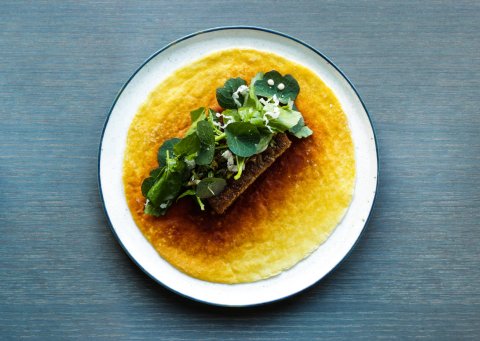 The caramelized milk skin is one of the few dishes that doesn't deliver on its promise; though the toasty pancake, with its topping of pork belly and fresh cress looks gorgeous, the fattiness of meat and milk echo each other enough that not even the wasabina, a wild mustard, provides enough contrast.
A roast of lamb shoulder, one of the three main courses, achieves better balance. Tart elderberry capers add pop to tender meat enriched by a smoked-butter sauce. Grilled monkfish tail, glazed with a bread miso and grilled on the bone, comes to the table looking as burnished as lacquerware, the sweet meatiness of the fish accentuated by its encounter with hardwood smoke.
Finally, tiny sourdough cones crafted from leftover bread and piped full of vibrant blueberry ice cream make for a whimsical end to some serious cooking.
108 is open Monday-Sunday, 5pm to midnight; www.108.dk