Who Was Denim Bradshaw? GoFundMe for Young Cowboy Killed in Rodeo Hits $20K
A GoFundMe page for a teenage boy who died after he was thrown from a bull at a rodeo has raised more than $20,000.
Denim Bradshaw, 14, died in a hospital this past Saturday after he reportedly fell from the animal, which then stomped on his chest, at the Rafter K. Rodeo Winter Series in King, North Carolina. He suffered cardiac arrest, and EMTs performed life-saving measures at the scene.
Bradshaw "adventured into the world of bull riding and fell in love," said a post on the GoFundMe page, which was set up to raise funds for funeral expenses.
"The boots, the cowboy hats, and those big belt buckles -- he loved it all," the post continued. "He got to ride his first bull on January 28th, and his excitement was palpable. None of us could believe that this first ride would cause his death, and we are beyond devastated. Our sweet 14 year old boy lost his life during what was the most exciting moment of his short life, and we are now lost without him."
The post described Denim as a son, brother, cousin, uncle and friend "to all who were lucky enough to know him."
The teen "always had a sparkle in his eye and a smile on his face lighting up every room he walked into. He had dreams of becoming an officer with his dog Aphora. To know Denim was to love him," the post said.
Newsweek has contacted the GoFundMe page's organizer for further comment.
Denim's mother, Shannon Bowman, paid tribute to her son in a Facebook post on Sunday.
"Last night was the longest night of my life!! My beautiful handsome 14-year-old son had went to be with the Lord. I awoke in a nightmare for the rest of my life," she wrote.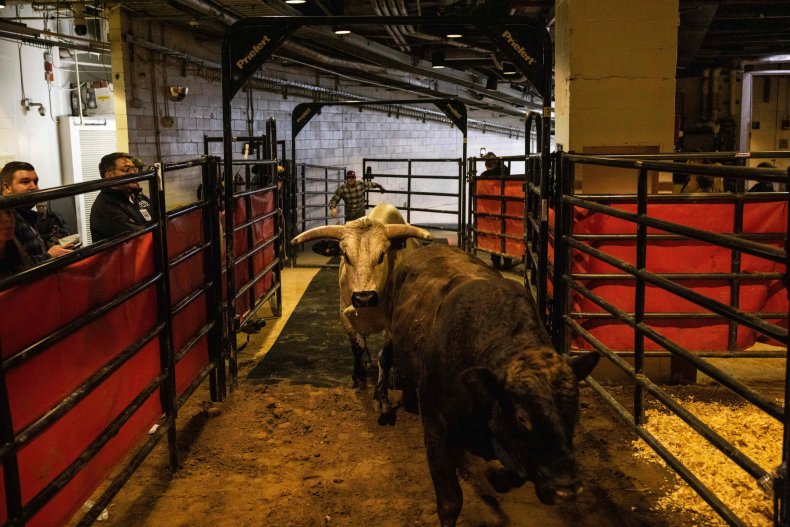 "I hate myself for this call but he was loving every second of it. I never seen him so happy as I had seen him last night before his departure," she continued. "My lil cowboy, I will love and miss you so much and I know God will take care of you."
The Rafter K. Rodeo Co. sent condolences to Bradshaw's family and friends in a post on Facebook. "Our sport is truly a family and we are so thankful for everyone that was there to help," it said.
"We are thankful for our on site EMT's, paramedics and law enforcement that work so hard to care for the cowboys. This is a tragic event and words cannot describe the pain felt by this loss. We ask everyone to come together and pray for his family for comfort and healing in this difficult time," the post said.