Denmark to Allow Lovers to Visit Each Other From Other Countries, But Police Require Proof of Relationship
Spouses, live-in partners, fianceés and "sweethearts" of Danish citizens are now permitted to enter the country from Germany as well as other Scandinavian countries.
According to recent travel updates shared by Denmark's National Police, those who wish to do so must have been in a relationship with a Danish national for at least six months, the National Police noted in its guidelines, and provide sufficient proof of partnership to authorities at Denmark's border. Examples of adequate documentation include a partner's name and address, combined with copies of email, text or telephone correspondence, as well as photos.
In its guidance for individuals who intend to act on this opportunity, Danish law enforcement noted that while the extent of "proof" a person wishes to provide is their decision, entry into the country is not guaranteed.
"An overall assessment will be made at the border as to whether the foreigner will be allowed to enter Denmark," police stated, adding that the newly-drawn border permissions exclude relationships that have been conducted solely through phone calls or written messages.
After criticism surfaced questioning the need for law enforcement to survey private conversations between spouses or partners, Denmark's Minister of Justice, Nick Haekkerup, said providing a written statement confirming the relationship's existence would be sufficient to determine eligibility for entry.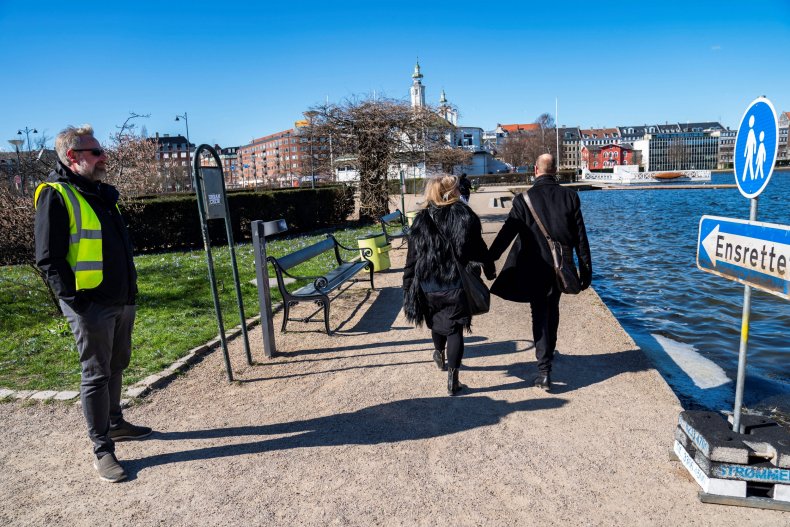 "If you say you are in a relationship and put it in writing, that is enough," Haekkerup told Danish broadcaster TV2, according to reports published by several local outlets on Monday. Newsweek reached out to representatives from The Danish Parliament for additional information about the new protocol but did not receive replies by time of publication.
International travel to Denmark has been subject to debate in recent weeks, as various segments of the nation's economy and public life have reopened following declining incidences of illness, hospitalization and death related to the novel coronavirus. In a development Prime Minister Mette Frederiksen described as "moving forward," museums, zoos and theaters were permitted to reopen nationwide last week. High school students have already returned to classrooms, following the country's return to in-person elementary school instruction midway through April.
Discussing border restrictions in a May 20 announcement shared to Frederiksen's official Facebook page, the prime minister said formal plans to ease regulations will be disclosed before May 29. For now, the government's rationale behind border control is rooted in outbreak management, she added.
"I'm looking forward to welcoming tourists in our lovely country again. And I know how much tourism means to large parts of Denmark," Frederiksen wrote. "Yet it's a difficult question. Because if we 'just' open the borders, then we risk starting new chain of infection."
Denmark has reported a relatively moderate virus outbreak among its population compared to other countries impacted by the pandemic. As of Monday evening, the nation had confirmed 11,586 cases and 563 deaths due to the respiratory syndrome, according to Johns Hopkins University's tracker.