Denny's Thanksgiving Dinner 2019: Restaurant Launches Festive Menu for Holiday Season
Denny's has announced a new festive menu for the holiday season. The Sweet Holiday Delights Menu and the Festive Holiday Feasts Menu includes a turkey and dressing dinner and a cinnamon roll pancake breakfast.
The menu is available nationwide now through the end of the year, including Thanksgiving and Christmas. Prices for the seasonal menu dishes vary from around $8 to $18 and vary depending on location.
Denny's Sweet Holiday Delights Menu and Festive Holiday Feasts Menu includes:
Cinnamon Roll Pancake Breakfast: Buttermilk pancakes cooked with cinnamon crumb topping and topped with whipped cream. Served with a pitcher of warm cream cheese icing, two eggs, hash browns, and either two bacon strips or sausage links.
Bourbon Chicken & Garlic Peppercorn Sirloin Dinner: A USDA choice cut, 8 oz. seasoned sirloin steak topped with garlic peppercorn butter. A grilled seasoned chicken breast covered with a bourbon glaze, fire-roasted bell peppers, onions, and mushrooms. Served with two sides and dinner bread.
Turkey & Dressing Dinner: Tender carved turkey breast, savory stuffing, turkey gravy, and cranberry sauce. Served with two sides and dinner bread.
Apple Bourbon Crepe Breakfast: Folded with vanilla cream and topped with caramel apple walnut bourbon sauce. Served with two eggs, hash browns, plus two bacon strips or two sausage links.
Double Chocolate Pancake Puppies and signature Pecan Pie and Pumpkin Pie which are sold by the slice or whole.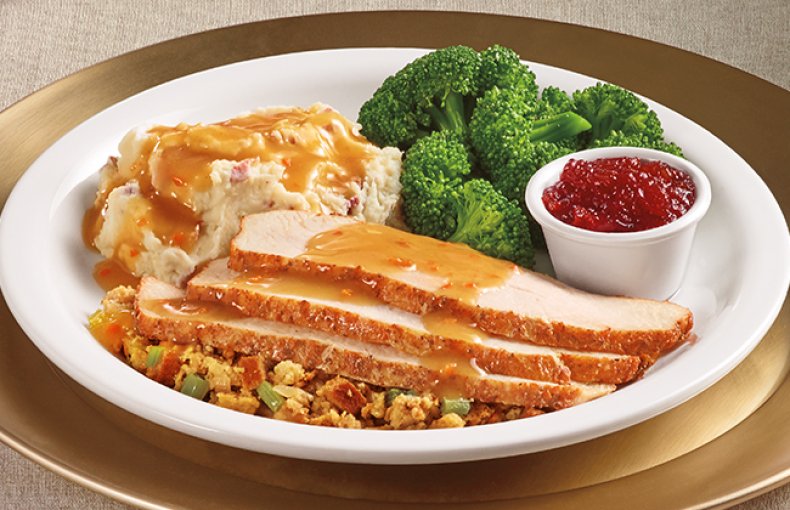 Additionally, Denny's is offering customers a Turkey and Dressing Dinner Pack as a carryout order for both Christmas and Thanksgiving. This dinner pack feeds up to six people and comes ready to heat and serve.
It will only be available for carryout at participating restaurants while supplies last. Customers should order online at Dennys.com at least 24 hours before their desired pickup time.
For Thanksgiving, orders can be placed between 8.30 a.m. on November 22 through 6 p.m. on November 27. Orders can be picked up between November 23 and November 28. Christmas order dates and times are yet to be confirmed but will likely be available to order from 8.30 a.m. on December 18 through 6 p.m. on December 22. Orders will likely be available for pick up between December 19 and December 23.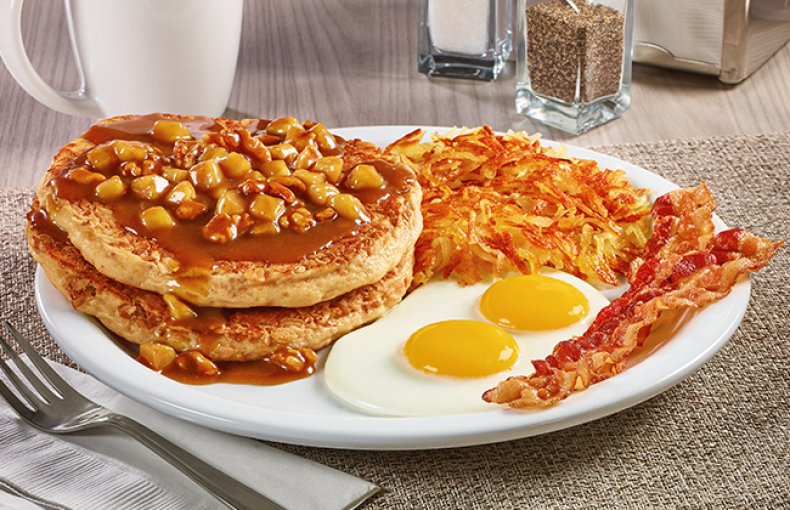 John Dillon, chief brand officer for Denny's, said in a statement: "We are entering one of our favorite seasons and we look forward to serving our guests meals and experiences that exceed expectations.
"Our new Sweet Holiday Delights menu and Festive Holiday Feasts menu offers premium entrees and comforting flavors so whether guests are gathering around a cozy booth in our restaurants or dialing up 'Denny's On Demand' for a hot meal delivered to their location, we're serving up holiday favorites and new flavors."
Denny's is a full-service family restaurant chain with more than 1,700 franchised, licensed and company-owned restaurants across the United States, Canada, Puerto Rico, Mexico, Philippines, New Zealand, Honduras, the United Arab Emirates, Costa Rica, Guam, Guatemala, the United Kingdom, Aruba, El Salvador, and Indonesia. Denny's has locations in all 50 states and Washington DC.
The holiday-inspired dishes are not the only changes Denny's is making to its menu. The chain recently announced it would be launching a burger made with a plant-based patty from Beyond Meat.
After a launch in Los Angeles, in which Denny's gave away burgers for free on Halloween, the Beyond Burger will be launched nationwide in Denny's restaurants in 2020.