Dentist Reveals What 'Shark Teeth' Look Like As They Treat Orphaned Girl
A dentist has wowed social media with a close-up look at an extreme example of the dental issue known colloquially as "shark teeth."
Also referred to as "cauliflower teeth," the issue occurs when permanent adult teeth begin to come through before baby teeth have fallen out. Most commonly found in children aged 5 to 7, this rare occurrence can result in the individual appearing to possess a double row of teeth.
Regular trips to the dentist are not just an important part of overall dental hygiene, they can also help to boost self-confidence.
A 2020 survey by worldwide health services organization Cigna highlighted the link between good oral health and confidence. The research, which was based on a poll of 1,000 U.S. adults, found 16 percent of respondents felt their smile impaired their overall self-confidence, while just over 21 percent felt less confident going into a job interview because of their oral health.
Dr. Ashley Brede Ciapciak knows the importance of good dental health. A general dentist based out in Needham, Massachusetts, Dr. Ciapciak and her family provide a free dental clinic to the 250 children at the Agape AIDS Orphanage in Hyderabad, India.
Founded by Lynne Guhman Voggu of Massachusetts in 2003, Agape AIDS Orphan Care was set up to provide vital medical care, education and support to those children from the lowliest segments of society who end up orphaned as a result of AIDS in India.
Without this kind of support, the orphan charity estimates that 80 percent of orphans born with HIV will die before the age of 5 if not treated.
Part of Agape AIDS Orphan Care's remit includes organizing dental check-ups, which Dr. Ciapciak's family have been providing since 2008. It was during one of these recent check-ups that she encountered the young girl with the double row of teeth.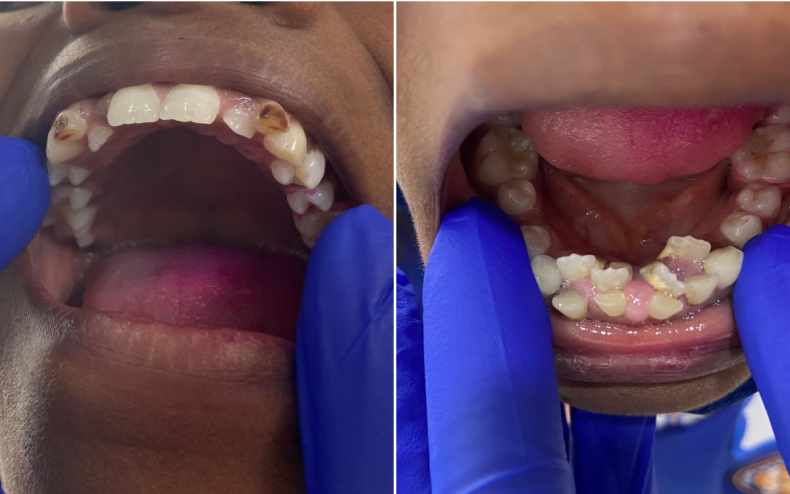 The resulting encounter was filmed in a video that quickly went viral on TikTok, amassing over 7 million views. It makes for an extraordinary watch, partly because of the sheer number of baby teeth the young child still has in place.
Dr. Ciapiak told Newsweek: "Six of her lower primary teeth were retained longer than they should have been. Typically, adult teeth erupt directly under primary teeth, causing the roots of the primary teeth to resorb and eventually allow the primary teeth to loosen and fall out. In this case, her adult teeth erupted lingual to her adult teeth, so they did not resorb the roots of her primary teeth. This left six full-rooted primary teeth, and all of her adult teeth present together simultaneously."
She added: "In the U.S., children are unlikely to present like this because dentists typically catch the double-row of teeth early into the adult tooth eruption pattern. But this patient is orphaned, and had never had access to dental care before our team."
Dr. Ciapiak said that the treatment for the condition was relatively "easy" with all of the remaining baby teeth that did not naturally fall out removed. She said a total of six lower primary teeth and four upper primary teeth were removed to allow the adult teeth to "grow in naturally."
"Her remaining lower front teeth are misaligned due to the prolonged presence of the primary teeth," Dr. Ciapiak said. "But natural speaking and tongue position will help push those teeth into a better position as she grows."
She said that despite this intervention, it's likely that the girl will require orthodontics when she is older. However, at present, that's something Dr. Ciapiak said they are unable to provide.
"We don't have a realistic way of providing free orthodontics halfway around the world," she admitted. "So until we can partner with a local Hyderabadi orthodontist, we'll plan to focus on just getting our kids healthy."