Review: Denzel Washington Gives Top-Shelf Performance in 'Iceman Cometh' Revival
Eugene O'Neill's classic play The Iceman Cometh is getting a powerful revival at the Bernard B. Jacobs Theatre in New York City. At the center of the action is Denzel Washington, who plays Hickey, a role that has become the American equivalent of Lear or Hamlet, one that tests a performer's stamina as well as his acting talent. Hickey was made famous by Jason Robards in 1956 and has since been performed by the top stage actors of their generation, such as James Earl Jones, Kevin Spacey and Nathan Lane. And Washington is more than up to the test, giving a Tony-caliber performance.
Related: 'Angels in America' a drama whose time has come—again
Washington returns periodically to New York, but he doesn't make it easy on himself. Since 2005, he has performed the works of William Shakespeare, August Wilson, Lorraine Hansberry and now—arguably the toughest of them all—O'Neill.
Hickey is a salesman, the son of a minister, and he comes proclaiming the gospel of the freeing power of honesty to the barflies of Harry Hope's bar. Those flies—a couple of which might actually be insects of a lower order—have all but given up on life and are content to spend their time in a drunken stupor, living on pipe dreams. When Hickey arrives, they and the audience are captivated by his charm and charisma, and while Hickey soon wears out his welcome with those in the bar, Washington remains an honored guest of the audience.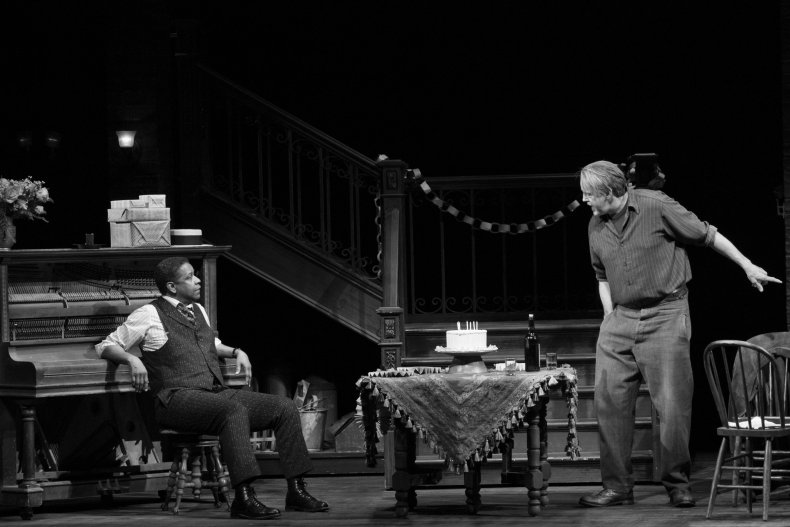 It's soon clear that Hickey too has a secret, and it's only a matter of time before we'll all find out. When that happens, it comes out in one long, mesmerizing speech.
And in that speech, Washington truly shines. Other actors who I've seen play Hickey emphasize his salesman side. Washington is more the minister, an evangelist in heat. He believes that gospel—or at least he thinks he does. One by one, Hickey rips everyone else's dreams apart, exposing them for the lies that they are. That is just about the last thing anyone in this place wants (and there are a lot of last things that anyone here wants). Hickey doesn't exempt himself. He is a prisoner to his own pipe dream. His confession (or apologia) is gut-wrenching—sad, pathetic and yet cathartic. Washington is the most sympathetic Hickey I have seen.
This Iceman is at once a star vehicle and an ensemble piece, and the ensemble here is stellar.
First among equals is David Morse, who battled the devil for his soul in The Seafarer in 2008. He plays Larry Slade, a former revolutionary who has claims to have no soul. He has given up on "the movement" (i.e., communism or socialism), people and, so he says, life itself. That is his pipe dream. Morse's performance is incredibly nuanced, masterfully depicting a man who doesn't care at all and cares too much, often at the same time.
It says a lot about a production that it can attract top-shelf actors to play much smaller roles, and Iceman has a bunch. Bill Irwin, who won a Tony Award playing George in Who's Afraid of Virginia Woolf? plays Ed Mosher, who, like Irwin, spent time as a circus performer. One has to think that somewhere in his future he will play Hickey. Neal Huff, who played the articulate ballplayer Kippy Sunderstrom in Richard Greenberg's Take Me Out, is Willie Oban—O'Neill's surrogate character in the play—and he gives us one of the most animated, even funny interpretations of the character I've seen. Frank Wood, who was riveting as Roy Cohn in the 2010 Signature Theatre production of Angels in America, is almost unrecognizable as the ineffectual Captain (aka Cecil Lewis). The interplay between Wood and Dakin Matthews as The General (Piet Wetjoen) is priceless. And Michael Potts—who was last seen on Broadway as Charrington in 1984—gives a standout performance as Joe Mott, funny, angry and quite deluded. His diatribe on race relations is truly a showstopper. Every featured actor in the play could probably be doing much larger roles, but their presence here adds weight to an already weighty production.
And that might be suffocating were it not for George C. Wolfe's briskly paced direction. The show does clock in at three hours, 50 minutes, but that is still about 40 minutes less than usual. And time does fly when you're in the presence of some top-flight artists at the top of their game.
Wolfe is one of the A-est of A-list theater directors today, and he has given us a production to remember. So raise a glass to this Iceman: There is still plenty of life in Harry Hope's no-chance saloon.
The Iceman Cometh is playing at the Bernard B. Jacobs Theatre, 242 W. 45th St., in New York, through July 1. For more information, visit IcemanOnBroadway.com.