After its 1993 Broadway debut, Tony Kushner's Pulitzer Prize-winning drama Angels in America was hailed as the best American play since Edward Albee's 1962 masterpiece Who's Afraid of Virginia Woolf? In breadth and depth of vision and in execution, the story of how a group of people cope with the AIDS epidemic in the 1980s had few competitors. Time has burnished that reputation, and 25 years later its peerless revival solidifies it.
Starring Nathan Lane and Andrew Garfield, Angels in America: A Gay Fantasia on National Themes, which opened Sunday at the Neil Simon Theatre after originating at London's National Theatre in 2017, has lost none of its impact. At seven-and-a-half hours and broken up into two parts—Millennium Approachesand Perestroika—the play is still unrivaled, thanks to a production directed by Marianne Elliott (War Horse, The Curious Incident of the Dog in the Night-Time) that brings out the best in the work.
Related: 'Angels in America' returns to Broadway: The very relevant revival stars Nathan Lane and Andrew Garfield
But it's the cast that makes this Angels soar. Due to roles like Max Bialystock in Mel Brooks's The Producers and Nathan Detroit in the 1992 revival of Guys and Dolls, Lane is normally pegged as a musical comedy star. But even if you've seen him in dramatic parts, such as Hickey in The Iceman Cometh, you will be unprepared for his powerful and affecting portrayal of Roy Cohn.
Lane displays a range that's revelatory. In the space of a few minutes, he is angry, impatient, patronizing, sympathetic and serious, changing from one emotion to the next on a dime. When he is funny, he is hilarious. When he is serious, he is scary. Lane has always been a top-shelf stage actor, and as Roy Cohn he is at the top of his game. Whoever thought to cast Lane as Cohn should be given a MacArthur "Genius Grant."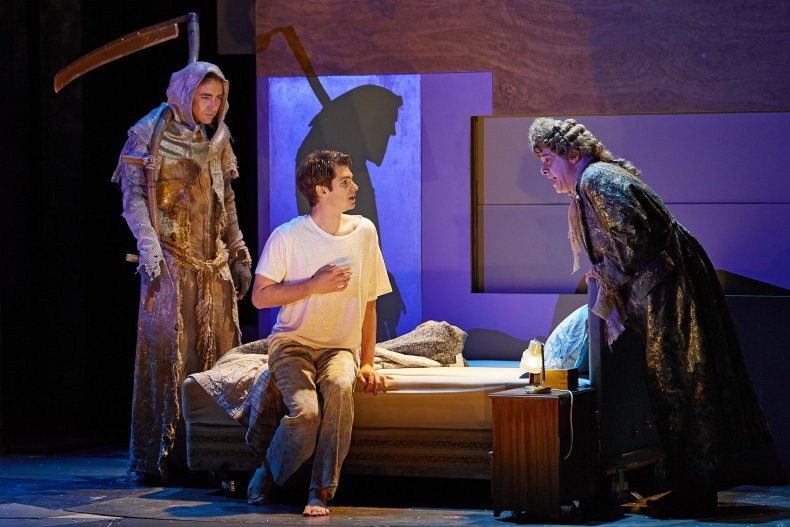 His Tony Award–worthy performance is matched by Garfield's own as Prior Walter, the heart of the play. Garfield is perhaps best known as a film actor (The Social Network, The Amazing Spider-Man), but he has made considerable waves on Broadway, especially with his 2012 performance as Biff in Death of Salesman opposite Philip Seymour Hoffman. And in Angels, he proves definitively he belongs here.
Like Cohn, Prior's journey runs an emotional gamut: He is funny, he is angry, he is off-the-charts crazy. After he reveals to his partner Louis that he has AIDS, Prior has an angry breakup and, soon, begins hallucinating. Or maybe he's having visions. It's tough to tell—in Angels, the line between hallucination and reality blurs. It's Garfield's exceptional skill at scaling the range of emotions that come with that kind of breakdown that allows the audience to feel as confused and shattered.
As strong as Lane's Cohn and Garfield's Prior are, Angels is hardly a two-character play. Denise Gough's portrayal of Harper Pitt, a Mormon woman married to a closeted gay man, is especially exceptional. In other productions—the 1993 original, the 2010 run at the Signature Theater, the HBO miniseries—Pitt has been played very convincingly as a drug-addled victim. Here, though, she's struggling as much against the drugs as she is against the problems of her failed marriage. That's thanks in no small measure to Gough, who brings a humanity to the character that can easily get lost.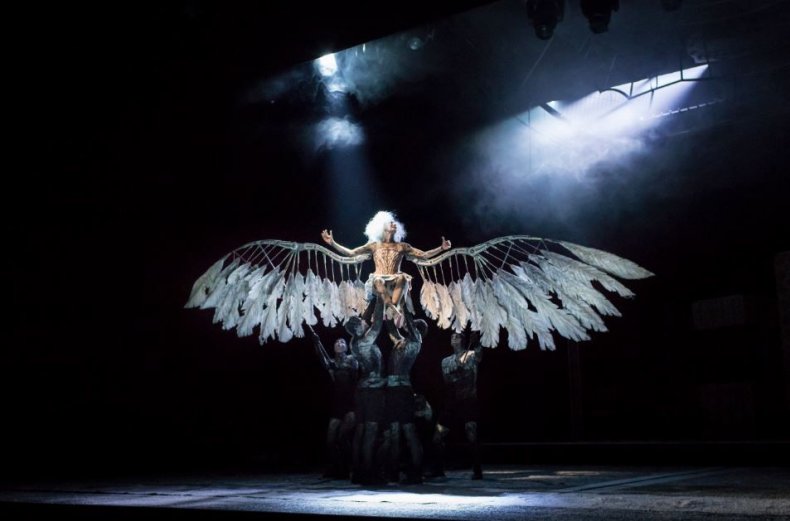 Then there's Belize, the former drag queen now working as Prior's nurse. Played wonderfully by Nathan Stewart-Jarrett, Belize is one of the play's more earthbound characters, more concerned with solving day-to-day—and minute-to-minute—problems than dealing with big issues. (He also has his share of bitchily hilarious lines.)
In contrast is Louis Ironson, Prior's lover and one of the play's least sympathetic characters. In some ways, it's a thankless role for James McArdle. Louis's abandonment of Prior is almost unforgivable, but he's also surrogate for the audience—or at least a mirror. We'd all like to think we would act better if we found ourselves in a similar situation, but would we? Louis forces us to face our own prejudices and willingness to sacrifice for another. McArdle's performance makes that confrontation potent and resonant, staying with us long after we leave the theater.
And let's not forget the Angel, who visits Prior during the course of the play. Amanda Lawrence wears the giant wings in the revival, and anyone who has seen the show will expect a spectacular entrance from the Angel. The audience at this Angels certainly gets that. In past productions, she has usually descended from the sky. Here she is a human puppet, ascending from below the stage on the shoulders of puppeteers, who manipulate her wings and fly her about the stage with seemingly little effort.
The Angel's introduction is as grand as the come, and that's fitting for such a grand revival of Angels in America. Twenty-five years ago, the play was important and relevant—and in the age of Trump, it might be more so, on both counts, today. But the reason it persists, the reason companies will stage this work for decades to come, is that it's first and foremost great, riveting drama. And its time has come—again.
Angels in America is now playing at the Neil Simon Theatre in New York. Part One: Millennium Approaches and Part Two: Perestroika run on consecutive nights, and twice a week both parts will be performed in one day with a dinner break in between shows. For more information, visit AngelsBroadway.com.