'Departure' Season 2: How Show Pays Tribute to Christopher Plummer
Christopher Plummer's last role onscreen is in Canadian drama Departure, the second season of which was released on August 5.
The actor plays Howard Lawson on the show, the former senior manager for the Transport Safety and Investigations Bureau and mentor to lead character Kendra Malley (Archie Panjabi).
He filmed his final scenes for the second season from his home in Connecticut, adapting so he could still appear in the show amid the global COVID-19 pandemic.
The late actor's character was said to be under house arrest to explain why he was only seen in one location while helping Kendra investigate a derailed train.
Howard was written off for future seasons when Howard and Kendra discussed him suffering from an illness that left him "close to the end."
Plummer passed away peacefully at his home on February 5 at the age of 91, with his wife Elaine Taylor by his side.
How does Departure season two pay tribute to Christopher Plummer?
Despite the fact Departure is his final TV role, Plummer was not given a title card tribute during the six-episode second season.
Instead, the actor takes part in a moving final scene with his co-star Panjabi, in which they bid each other an emotional farewell.
After revealing he has been battling a secret illness, Howard tells Kendra that she was the "closest to a family [he] ever had."
He also said that when a person is "close to the end" it makes them think about who they care about and how they have impacted the people around them.
Kendra also takes the opportunity to reflect on how his mentorship is the reason she is where she is today, and suggested she was ready to forgive him for being involved in the crash they were investigating in season one.
While it is not a traditional tribute, the emotionally-charged scene certainly feels like a touching farewell to Plummer.
Newsweek has contacted Peacock representatives for further comment.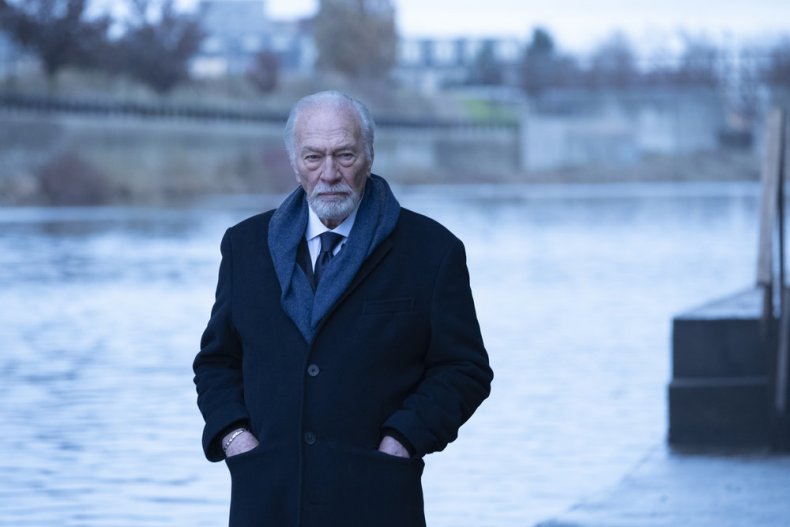 What has Christopher Plummer's Departure co-star Archie Panjabi said of their final scene together?
Panjabi has discussed working with the late Plummer in the second season, saying she could feel there was "real bonding" between them that reflected their onscreen counterparts.
In an interview with TV Insider, she said: "After Season 1, we had so many great discussions about the two of them.
"And what I love about the Howard and Kendra relationship is I feel that it really does mirror the kind of love and friendship that Christopher and I had. We stayed in touch after Season 1, during Season 2. He was just phenomenal to work with.
"Those phone calls, when I watched them—personally, it's hard for me to watch them—I see Christopher and Archie because I see this real bonding, this real friendship, this real love for one another."
Panjabi added that she and Plummer were not on the phone together when they filmed their farewell scene, but they called each other to discuss how the scene would play out before they shot it.
She explained that the scene was "very hard to do" for both of them, and she felt like a "wreck" when she heard him say goodbye to her whilst filming.
When Plummer was posthumously given the award for Best Supporting Actor in a Drama for his role in Departure at the Canadian Screen Awards on May 20, Panjabi also paid tribute to him.
Panjabi wrote on Twitter: "#ChistopherPlummer is one of the best I have worked with. I miss him. Beautiful speech."
Departure season one and two is available to stream now on Peacock.