Police Issue April Winter Weather 'Warrants' For Meteorologists, Punxsutawney Phil
Law enforcement officials throughout northern portions of the U.S. are fighting back against one of this year's most persistent problems: winter.
Ranging from meteorologists to groundhog Punxsutawney Phil, police departments in upstate New York and Massachusetts issued tongue-in-cheek arrest warrants as winter weather continues into mid-April. "Pessimistic" snowy forecasts and winter's charge of "loitering" were among the several warnings put out by authorities through their social media pages since the first day of the month. In an era filled with weather buzzwords such as "bomb cyclone," "snowmageddon" and "Four'easter," these law enforcement agencies have also jumped into meteorology marketing.
Oneida, New York's Troop D branch of the state police issued a warrant for WRBG-TV meteorologist Alyssa Caroprese Tuesday for "snow flurries, sleet, rain, clouds and never-ending winter." And Cambridge Police in Massachusetts put weathermen Eric Fisher of WBZ-TV and Kevin Lemanowicz of WFXT-TV "on notice" for their "crimes."
"If Kevin forecasts any more snow the remainder of this spring, warrants for Kevin's arrest may be sought," the Cambridge Police Department tweeted, showing a "Wanted" post of Lemanowicz. "If you witness a white forecast, please contact Cambridge Police Criminal Investigations."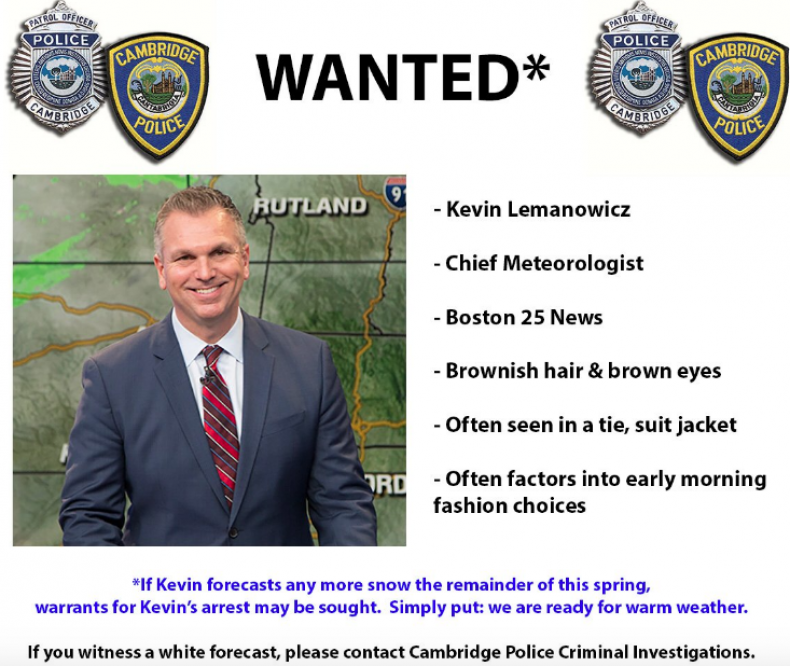 "Baseball is back and snow is melting. If Eric forecasts any more snow the remainder of this spring, warrants for Eric's arrest may be sought," Cambridge Police tweeted on April 1 after the Red Sox opening day.
The Depew Police Department in upstate New York decided to take out their frustration on the most famous of all weather predictors: Punxsutawney Phil. The Pennsylvania groundhog predicted six more weeks of winter on February 2, but that March 16 cutoff date proved flagrantly incorrect as bitter cold winds and snowfall continued to hamper the Northeast and mid-Atlantic regions into the first week of April.
"Dear Winter, You are hereby placed under arrest," the Depew Police Department posted Friday. "You have the right to remain silent and out of sight, but apparently not the ability. Any further snow you produce will be held against you in a court of law. You have the right to an attorney, but only if you turn in the groundhog that predicted six more weeks of winter."
Despite the seriousness of the charges against the groundhog, the Depew Police Department also used their Facebook page to promote a bunny, "Asst. Chief Rabbitnovich," and put up a photo of a chick alongside several Peeps in the same week for Easter. But these police departments may be forced to pardon or forgive these winter weather allies as forecasts in New York and Massachusetts both show temperatures finally rising into the low 70s for the weekend.