Depp v. Heard: Why Do We Need to 'Win' a Breakup?
One of the most high-profile breakups of all time, the Johnny Depp v. Amber Heard case, has been filling the news for the last seven weeks as their multi-million dollar defamation trial unfolds in a Virginia courtroom.
The stars' very public and messy divorce and Depp's subsequent defamation lawsuit against Heard has undoubtedly made us all examine how we handled our last breakup a little more closely. For many people, in the aftermath of a relationship ending, we feel the need to "win" the break-up.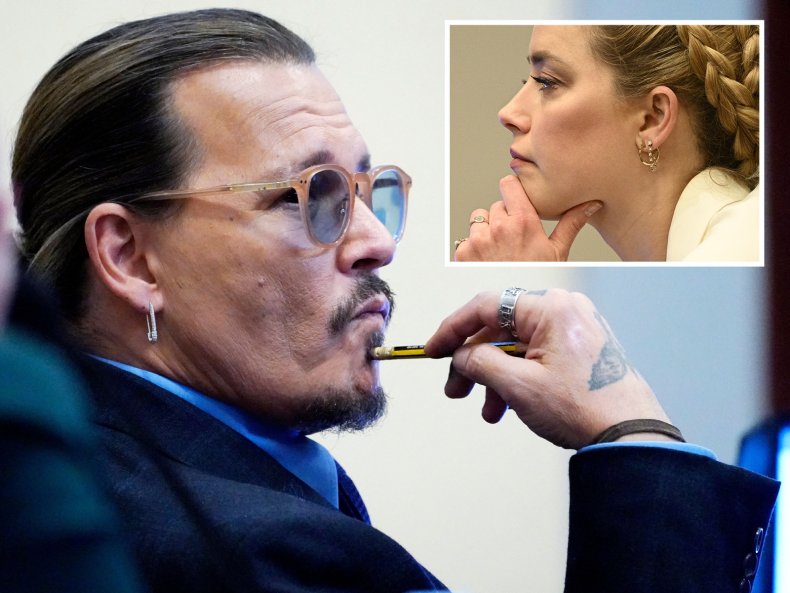 According to Alison Myers, a licensed mental health counselor and relationship expert, the desire to win in a breakup is about three main things: separating ourselves from uncomfortable feelings, managing the threat to our egos, and retaining our social status.
"Believing we are winning in a breakup helps us psychologically separate ourselves from feelings of failure we experience when we can't make a relationship work. It can be easier to blame an ex than taking responsibility for our part of the separation," she told Newsweek.
Break ups frequently are associated with resentment, desire for revenge, and a lot of regret, says Dr. Rhonda Mattox, a psychiatrist and medical media consultant from Arkansas. We don't always fight fair as we are transitioning out of relationships, and in the aftermath, shared resources including social networks and social capital are divided between you. When we break up, we often end up losing friends and acquaintances. "Winning" allows you to keep them, according to Mattox.
"Riling up everyone to hate our ex is a level of social revenge to rally people on our side of the breakup. It is seeking comfort from others who will support our mindset that we are better off without our ex and reinforce our ideas that even though we are hurt, our ex is in some way a 'bad person' whom we should no longer want to be with," Jennifer Klesman, a licensed therapist at Cityscape Counseling, told Newsweek.
Deep down, she says, we want to prove our ex wrong. As our friends join us in hating them, they are affirming our value and our judgment, which makes us feel better.
The satisfaction of "winning" a breakup is chemical: according to a 2014 study in the journal Psychoneuroendocrinology, we actually experience an increase in testosterone levels when we win.
"Winning increases testosterone, which in turn increases the chemical messenger dopamine, and that dopamine hits the reward network in the brain, which makes us feel better. That dopamine nails that part of the reward network in the brain, it literally makes us feel better. I suspect that is even true when we feel like we have won the prize, even when that prize is only the prize of favorable public opinion," Mattox told Newsweek.
Depp and Heard married in 2015, and Heard filed for divorce 15 months later, citing irreconcilable differences. They reached a $7 million divorce settlement in 2016.
Two years later, Heard wrote an op-ed for The Washington Post saying she was a survivor of domestic abuse. The article did not mention Depp by name, but Depp sued Heard for $50 million, claiming it damaged his career. Heard counter-sued Depp for $100 million.
Jury deliberations are set to continue after the Memorial Day weekend after closing arguments in the trial wrapped up on Friday.