Camille Vasquez addressed the jurors in the Johnny Depp v. Amber Heard defamation trial for the last time on Friday afternoon in a rebuttal closing argument before sitting down and embracing Depp.
In this roller-coaster of a trial, in which Depp sued ex-wife Heard for $50 million for defaming him in an op-ed she wrote in 2018, Vasquez has become somewhat of a celebrity, gaining a notable fan base online as she represented Depp in court.
Depp has developed a friendly relationship with several of his attorneys, including Vasquez, and clips of Depp hugging or joking with Vasquez or co-counsel Benjamin Chew have gone viral several times over the last six weeks.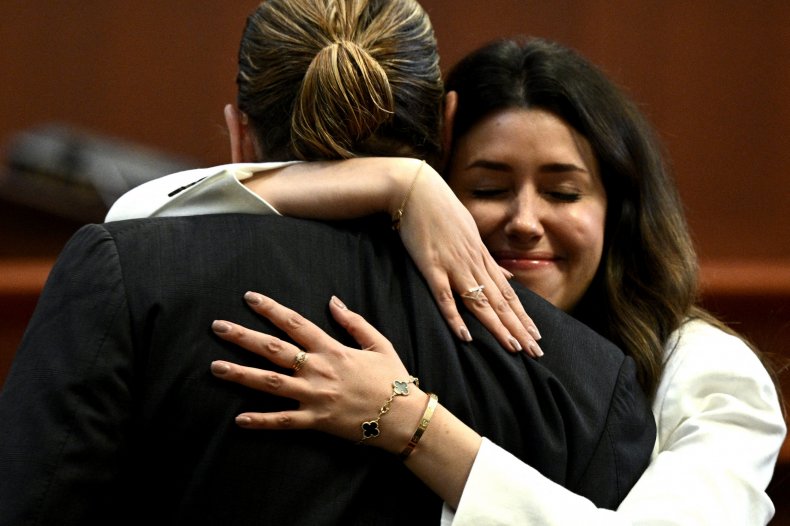 According to reporter Sierra Gillespie in a tweet, Vasquez finished the rebuttal closing argument by telling the jury, "While you deliberate, ask yourselves why Mr. Depp would put himself through this, expose every embarrassing detail of his life on national television. If he was guilty of anything, anything that Miss Heard accuses him of, we ask you, we implore you to render a verdict [for] Mr. Depp.
"We ask you to set the record straight that he is not the abuser she described and that she is not the heroic survivor she portrayed," Vasquez said.
After thanking the jury, she returned to her seat beside Depp, who quickly put his arm around her, and then gave her a small pat on the head.
Clips of Vasquez in court have gone viral several times over the course of the trial, one, in particular, gained her some praise after she told Heard to stop talking to the jury. Other moments have included her intense method of questioning and some other friendly moments with Depp. Depp fans have questioned her relationship with the Pirates of the Caribbean actor, some even convinced that the two are secretly dating.
Vasquez began the closing arguments, drawing a lot of praise for calling out Heard for "sobbing without tears" on the witness stand.
"It was a performance," Vasquez told the jury on Friday. "She told you what she thinks you need to hear to convict this man as a domestic abuser and a rapist. She wants you to believe she was abused countless times. Countless times over the entire course of their relationship. But as Mr. Chew and I promised you, the evidence just does not bear that out."
Heard's op-ed, which she published with The Washington Post, was titled: "I spoke up against sexual violence—and faced our culture's wrath. That has to change." Without naming Depp, the Aquaman actress claimed she was a victim of domestic and sexual violence. Depp's team argued that the piece was clearly about him regardless.
Depp has continuously denied the accusations, and the jury has heard many difficult retellings of incidents of domestic violence from both parties accusing the other of domestic abuse.
The jury has begun deliberations on Friday afternoon and if a verdict is not reached on Friday, deliberations will continue after the Memorial Day weekend.
Follow Newsweek's live blog for additional updates.
Update 5/27/2022 at 4:30 p.m.: This story has been updated to include more information about the trial.