Camille Vasquez's 'Subtle Gesture' to Comfort Johnny Depp Delights Fans
Johnny Depp's lawyer Camille Vasquez has been lauded for her performance in court over the past month amid the actor's ongoing legal battle with his ex-wife Amber Heard and now a clip of the attorney comforting Depp in the courtroom is delighting fans.
Depp 58, sued his ex-wife Heard for defamation over an op-ed published by The Washington Post in 2018, in which she said she was a victim of domestic abuse. While Heard didn't name her ex-husband in the piece, his legal team has argued it was obvious she was referring to him. Heard, meanwhile, has countersued for $100 million for damages.
In court on Wednesday, Norbert "Bryan" Neumeister, a metadata expert, was brought in as a rebuttal witness for Depp who testified about photos of Heard's bruising and said he believed several photographs were modified.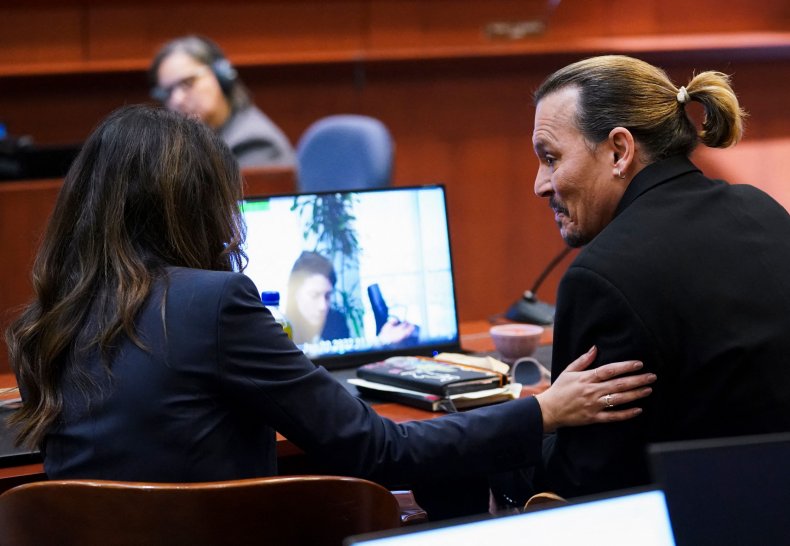 While Neumeister was being cross-examined by Heard's legal team, Depp appeared to become frustrated and stared angrily across the room at the defense.
His tense behavior at that moment prompted Vasquez to gently touch the actor's arm in what appeared to be a calming gesture and perhaps to indicate to him not to stare at Heard's lawyers.
The gesture has made it to social media where Depp fans are delighting in the moment.
One TikTok post, with more than 22,000 views, has the caption: "Stop Camille is so cute," while another with almost 3,000 views is captioned: "Truly has the best around him."
Another shared the clip with the caption: "Camille's subtle hand gesture to Johnny when she notices he is getting worked up at Amber's team."
This moment comes just a week after Vasquez was asked if she and Depp were romantically involved.
In a video obtained by TMZ, Vasquez was openly asked about the rumors while leaving Circuit Court in Fairfax County. She laughed off the reporter's question and refused to give an answer.
Vasquez also went viral last week when her courtroom tactics were compared to those of the character Elle Woods from the movie Legally Blonde.
Depp's team scored another victory in court on Wednesday when Kate Moss cleared up the rumor that the actor once pushed her down a flight of stairs when they were dating.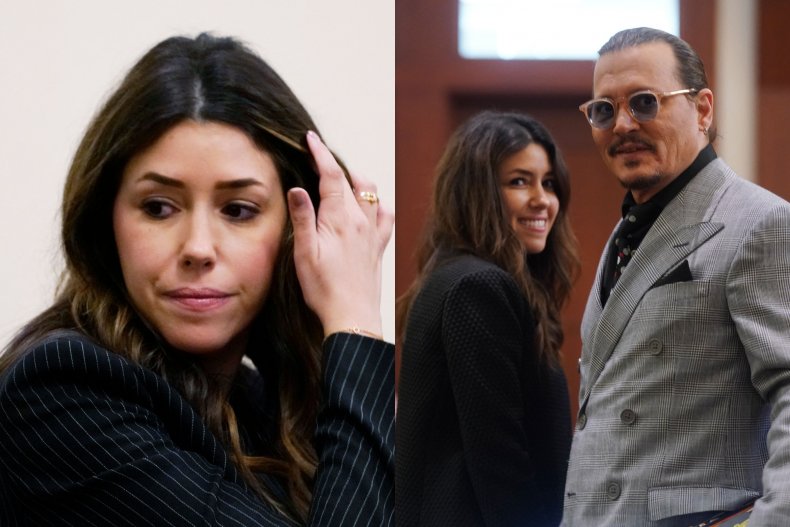 "No he never pushed me, kicked me, or threw me down any stairs," Moss said during questioning by Depp's legal team.
Depp later took the stand and was asked about the staircase incident. He once again recalled the incident in Jamaica as Moss had recalled it, and then said he told Heard about it.
"Miss Heard took the story and turned it into a very ugly incident, all in her mind," Depp testified. "There was never a moment where I pushed Kate down any set of stairs, yet she's spewed this three times before.
"That's the whole story. But then the rumor of it, I had never heard a rumor of that before Miss Heard grabbed hold of it. It's like that, I'm sorry."
Newsweek will be covering all the breaking stories from the Fairfax County courtroom on our live blog.