Amber Heard's Bruising Photos Were Used in Editing Program, Expert Says
A metadata expert questioned as a rebuttal witness in the Johnny Depp v. Amber Heard defamation trial testified that he analyzed several of Heard's photos that show alleged evidence of bruising and claimed that he had no way of authenticating them.
Norbert "Bryan" Neumeister brought in several demonstratives that showed the analytics of several photos that Heard submitted showing bruising on her arms or face.
Through Exif data analytics, some of the photos, Neumeister explained, showed that the software for the file was not from an iPhone, but that it was rendered in an editing program, as Law & Crime Network shared on Twitter.
One photo showed a bruise on Heard's arm, and Neumeister said that all three files "don't match forensically" and all "had to go through some type of transformation to change sizes."
In giving his opinion on the matter of the photos, Neumeister testified that there was "no way for any forensic expert to validate these photos," and said that he believed several photographs were modified.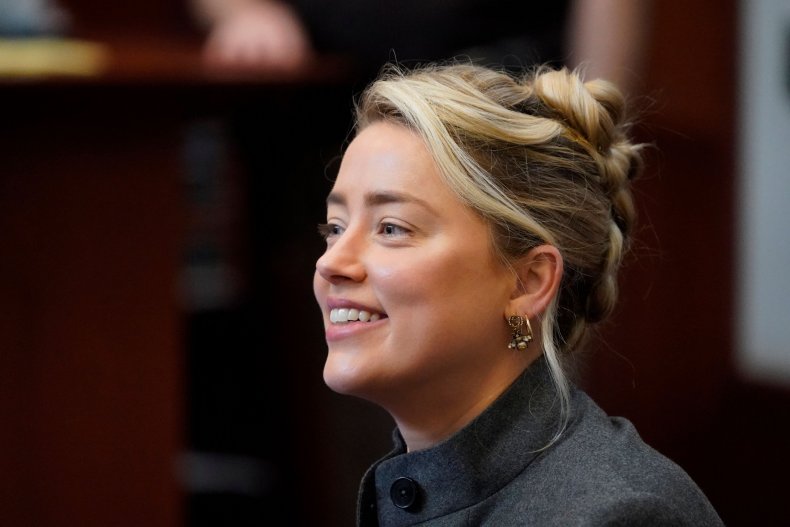 This is not the first time Heard has been accused of modifying photographs in court. Depp's attorney, Camille Vasquez, accused Heard of editing her injury photos in cross-examination last week.
When two pictures were presented side by side to the court, Heard claimed they were two separately taken photos with different lighting. "The light is on in both of these pictures though," Vasquez argued. Heard responded by saying one of the lights is a "vanity light."
"Isn't it true you just edited these photographs?" Vasquez said to Heard. "And you just enhanced the saturation from one of these photos to make your face look more red."
People on social media attempted to also point out that the photos were edited. One user on Twitter, @David_Horsemann, overlaid the photos on top of one another to show the different coloring.
"Amber Heard edited her photos so her face would look red," @David_Horsemann wrote.
A part of her testimony also went viral when she called a makeup palette her "bruise kit," before quickly correcting herself. As part of her emotional testimony recalling different incidents in which she was allegedly beaten by Depp during their relationship, she discussed the makeup palette she used to cover up bruises.
"This is what I was talking about as a color correction kit," Heard said, holding up the palette on May 17. "This is not, obviously, the exact one I used to carry, but I used to carry it with me all the time."
She explained, "And then if you want to cover up a bruise, you obviously put foundation first, concealer and then on top of that I use like a bruise kit," before quickly correcting herself. "Not a bruise kit, it's a theater makeup kit."
TikTok users discussed Heard's "bruise kit" comment when the video went viral, with one writing, "A 'bruise kit' for theater/acting would imply it's for making bruises not covering them up."
Depp is suing Heard for $50 million for defamation after she wrote an op-ed in 2018 claiming to be a victim of domestic violence. Depp and Heard have each denied the other's allegations of domestic abuse.
The trial is coming to a close on Friday. For more updates, check Newsweek's live blog.