Johnny Depp v. Amber Heard: Every Allegation of Physical Violence
Johnny Depp's ongoing court battle with his ex-wife, Amber Heard, has seen the former couple level a host of allegations at one another—from drug use, to infidelity and alcoholism.
But the overriding theme in the defamation trial, which has just concluded its fourth week, is violence, with both parties accusing the other of domestic abuse in their harrowing testimonies at the Fairfax County Courthouse in Virginia.
Depp, 58, filed a $50 million lawsuit against Heard, whom he has accused of defaming him in an op-ed published by The Washington Post in 2018.
Heard stated that she was a victim of domestic abuse in the article. While she didn't name Depp, the actor's lawyers have argued that it was obvious she was referring to him.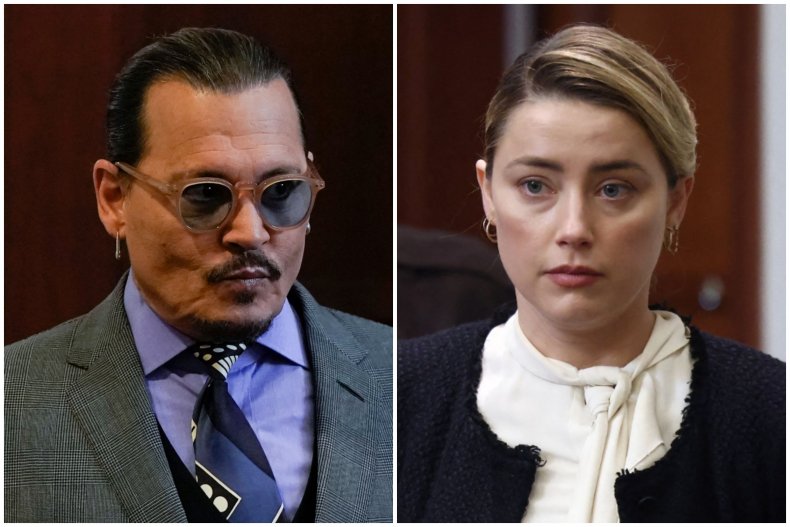 Heard has countersued for $100 million for nuisance, with her attorneys arguing that the op-ed was a matter of public interest.
With Heard having testified for two days this week, Newsweek has taken a look at the references to violence both parties made during their time on the stand.
Covering Up Bruises
During opening statements last month, Heard's attorney, Elaine Bredehoft, sparked a debate when she held up a makeup palette and said that it was what the actress had used to cover bruises allegedly sustained at the hands of Depp
"This is what Amber carried in her purse for the entire relationship with Johnny Depp," Bredehoft told the jury. "She's an actor. Do you honestly think she would have left her apartment ever without makeup? Do you think that she ever would have wanted other people to see her bruises and her cuts? This is what she used.
"She became very adept at it, and you're going to hear the testimony from Amber about how she had to mix the different colors for the different days of the bruises, as they developed in the different coloring, and how she would use these to touch those up to be able to cover those. She also used concealer foundation."
Depp Says He Was the Victim
As the first of the two to take the stand, Depp denied being violent when he testified on April 19, stating instead that he had been the victim of abuse from Heard.
"Nothing of the kind had ever happened," Depp told the jury. "Though [in] the relationship there were arguments and things of that nature...but never did I, myself, reach the point of striking Miss Heard in any way. Nor have I ever struck any woman in my life."
Depp went on to testify that his former wife had instead subjected him to "physical abuse" that was "constant." He also accused Heard of "bullying" himself and others.
"There was quite a lot of verbal abuse, there was quite a lot of name-calling," said Depp. "Bullying. You know, making fun of whatever defect one might have...My brother wore glasses, so of course, he was 'four eyes.'"
Heard Admits to Hitting Depp
On April 20, the court was played a secret recording that captured Heard admitting that she hit Depp, while explaining that she was not certain of all the details due to being "on an Ambien."
In the recording, Depp could be heard asking his former wife whether she had "lost memory" about "kicking" in the door of a bathroom that he had retreated to, before allegedly hitting him "in the skull."
"I was upset, there was a lot going on and I was on an Ambien," Heard responded. "Why are you obsessing over the fact I cannot remember the way you are remembering it? I said I was sorry. I'm not denying it."
Later in the recording, Heard admonished Depp for repeatedly retreating to bathrooms when they have confrontations, arguing that he did not "escape the fight," but avoided "the solution" and efforts to "work it out."
When Depp accused her of punching him, she disputed the specific claim but admitted to "hitting" him instead.
"You didn't get punched, you got hit," Heard said in the recording. "I'm sorry I hit you like this, but I did not punch you. I did not f***ing deck you. I f***ing was hitting you. I don't know what the motion of my actual hand was. But you're fine. I did not hurt you. I did not punch you. I was hitting you."
Depp's Fingertip Severed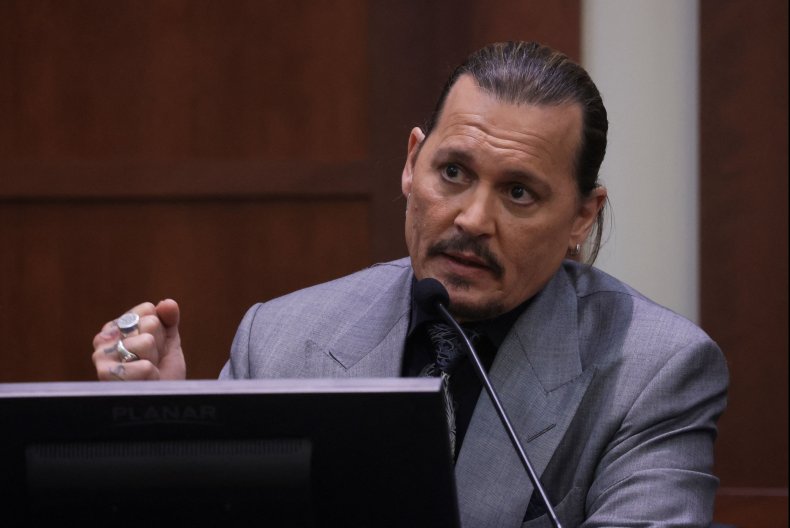 Also on April 20, Depp testified about a fight where Heard allegedly threw a large bottle of vodka at him, resulting in injuries that included the severing of part of his fingertip.
"She threw the large bottle and it made contact [with the bar] and shattered everywhere. I honestly didn't feel the pain at first," Depp said. "I felt heat, and I felt as if something were dripping down my hand and then I looked down and realized the tip of my finger had been severed and I was looking directly at my bone sticking out."
"I don't know what a nervous breakdown feels like, but that's probably the closest I've ever been," the actor added. "I knew in my mind and my heart, this is not life. This is not life. No one should have to go through it."
When asked what he told the medical professionals had happened, Depp said, "I lied to him. I said that I had smashed it in these large accordion doors," adding that he lied because he didn't want to disclose that Heard was the one who allegedly caused the injury.
"I didn't want to get her in trouble. I tried to just keep things as copacetic and as easy as possible for everyone," he said in the Virginia courtroom. "I did not want to put her name in that mix."
Heard has disputed the claim, saying that Depp cut his fingertip himself while being intoxicated for three straight days. She also alleged that Depp hit her, choked her and sexually assaulted her during the fight in question.
Cigarettes, "Bloodbath"
During cross-examination on April 25, Heard's attorney, J. Benjamin Rottenborn, played a series of audio recordings, capturing Heard and Depp in heated arguments.
Heard was heard saying "go put your f***ing cigarettes out on someone else, you f***ing have consequences for your actions!" Depp replied "shut up fat a**."
On the stand, Depp called the recording a "grossly exaggerated moment" and denied putting a cigarette out on Heard.
In another, Depp told Heard that walking away was "necessary." "I'm not asking you to have a bloodbath walking away," Heard replied, asking Depp to "work it out."
Rottenborn told Depp that audio wasn't the first time he referred to an argument as a bloodbath. The dates and locations of the recordings were not disclosed.
Smacked
In another audio recording played in court, Depp said he wanted to end his marriage to Heard, while trying to walk away from an argument they were having. Heard was heard begging him to stay.
In the audio, Depp asked Heard if she wanted to smack him in the ear. On the stand, Depp said Heard had "given him a good chop in the ear"—the kind that "leaves you ringing"—shortly before this argument.
Depp said he asked Heard if she wanted to hit him again because he thought it would maybe make her happy, or feel better, or stop.
"I would have done anything to stop it, outside taking anything to a physical level," he said.
"Fair Fight"
In further recordings, Heard was heard saying that she feared for her life and that Depp might accidentally kill her.
Depp said he lost a finger during a fight and had a bottle of mineral spirits thrown at his nose. Heard then told Depp he can tell people it was a "fair fight" and "see what the jury and judge think"
"Tell the world, Johnny. Tell them, 'I Johnny Depp ... am a victim of domestic violence,' ... and see how many people believe or side with you," Heard told Depp in the recording.
When his lawyer asked Depp what he said in response to what Heard said about him being a victim of domestic abuse, Depp said he responded: "Yes, I am."
Domestic Disturbance Call
On the ninth day of court proceedings, Los Angeles Police Department Officer Melissa Saenz testified that she answered a call regarding a domestic disturbance at the Eastern Columbia penthouse in downtown Los Angeles on May 21, 2016.
According to the incident report from that day, someone called the police to report that their friend "Amber" was assaulted by her boyfriend "Johnny."
Saenz said she met with the victim, checked the location and determined that the husband was not there. She said the victim, Heard, told her that there was an argument but would not give the officers any more details. Saenz said she did not identify a crime but gave Heard her business card if she wanted to cooperate later.
The officer further said she did not recall seeing any injuries on Heard or damaged property in the penthouse that night. Either would require a police report.
Neither Heard nor anyone else in the penthouse at the time would speak with Saenz. "All parties were uncooperative," she said, adding that no one provided their name.
"I determined there was no crime," Saenz said. "There was no probable cause of any sort of crime."
Spitting
Depp's bodyguard, Travis McGivern, alleged during the 12th day of proceedings that there was a "volatile" argument between Depp and Heard in their Los Angeles penthouse in 2015 where Heard threw a Red Bull can at Depp and spat on him.
Both were yelling and were angry, McGivern said, at one point, Heard threw a Red Bull can that "struck Mr. Depp in the back."
The verbal "onslaught" continued and Depp was "giving as good as he got at that point," McGivern alleged, as he was "angry and agitated."
Heard then allegedly threw another item, a purse or bag, but McGivern was able to knock it away so it didn't hit Depp. Heard later spit on Depp, McGivern said, as the verbal "vitriol" continued.
She was saying "anything and everything," McGivern claimed, calling Depp "f***ing washed up "f***ing c**t—which he said Depp called her as well—a "dead beat dad." McGivern said there were so many f-bombs, it made him uncomfortable.
Depp was especially upset after Heard allegedly spit on him, said McGivern. Heard left the penthouse and Depp "rearranged" her closet, McGivern said, throwing down "probably" every rack of clothes and shoes.
Punched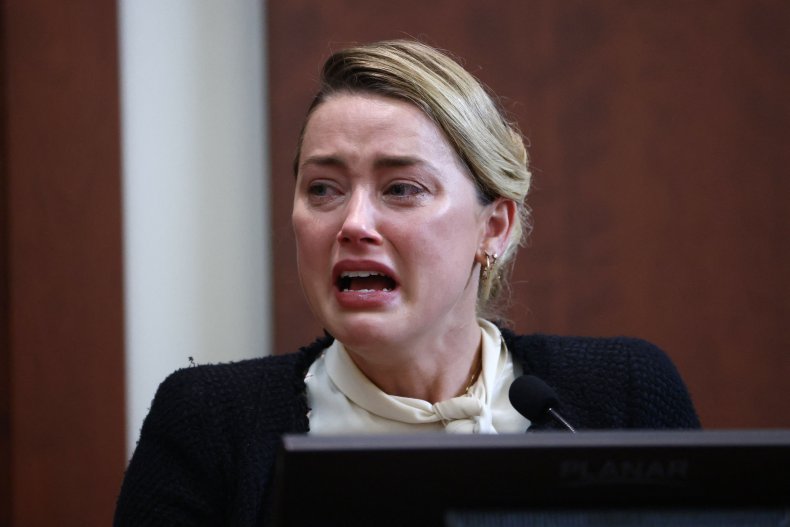 McGivern also testified that he saw Heard allegedly punch Depp in the face during an argument in their penthouse.
The bodyguard said Depp had a "nice little shiner," during the couple's confrontation, describing his face as red and swollen but not yet black and blue.
Depp did not throw anything at Heard nor did he respond physically to Heard, McGivern testified. He added that he never saw Depp physically abuse Heard.
When asked if Heard physically abuse Depp, McGivern said he saw her grab his arms and push Depp to prevent him from leaving a space.
Sexual Assaults
The court heard on the 14th day of the trial how notes from Dr. Bonnie Jacobs, Heard's former therapist, were significant in showing "contemporaneous reports" of what Heard was going through during her relationship Johnny Depp at the time, said forensic psychologist Dr. Dawn Hughes.
Hughes said the notes showed when the alleged violence started, how it unfolded, three instances of purported sexual assaults, constant pleading about Depp's substance abuse, claims of controlling and obsessive behavior and police calls.
"It really shows how this relationship is unfolding over time and really gets worse," Hughes said.
Heard Testifies
Heard recalled the first time allegedly Depp hit her during her first day of testimony on May 4, saying she "will never forget it, it changed my life."
She said the two were sitting on the couch and having a conversation, while Depp had been drinking and, she believed, may have used cocaine as there was a "jar" of cocaine on the table.
Heard said that she asked him about a tattoo on his arm that looked like black marks. He told her it said "wino," and she laughed, believing he was joking.
Depp then slapped her "across the face," Heard testified. She again recalled laughing because she thought Depp was joking and waited for him to laugh too.
He then hit her two more times, she said, the third time he alleged slapped her "hard." She recalled thinking: "God did he just hit me?"
Heard added that Depp was "different" depending on which drugs he was on at the time, from cocaine, to Adderall, speed and Quaaludes.
Backhanded
Heard further alleged that Depp had accused her of having an affair with a musician and her friend in Spain. Depp called the friend and "screamed" at him, she said. While in the loft, Heard said Depp "backhanded" her.
"He wears a lot of rings," Heard testified. "I remember feeling like my lip went into my teeth and it got a little blood on the wall."
She said she was "so caught up" in the relationship and defending the accusations that she didn't make a "big deal" of it, she said. She said that the best way to cope was to "minimize it," making sure Depp knew she was tough and can "deal with it."
Photos of Bruises
Heard sent a photo of a bruise on her arm to her mother in March of 2013. The actress said she was lonely and wanted help and advice about "how to make it stop," referring to the alleged abuse she faced from Depp.
She said after Depp slapped her, she tried to walk away and engaged in a screaming match with Depp.
"I could tell he would hit me again," she said, based on the way his body was "gearing up."
She said she threw a vase in Depp's direction, saying she "got away before he got me."
Then, Heard alleged that Depp grabbed her by the arm and held her on the floor while screaming at her.
"I don't know how many times he hit me in the face," Heard said, adding that she only remembers thinking "how could this happen to me again."
Cavity Search
Heard accused Depp of performing a "cavity search" on her in May of 2013, as he allegedly believed that she was in possession of his cocaine.
During an argument in a trailer they were staying in during a visit to Hicksville, New York, Heard alleged that Depp began smashing things inside the trailer, throwing an item into a glass cabinet and screaming at Heard.
Heard went into the bedroom area and asked Heard where she was hiding "it." She recalled Depp no longer making sense and asked what he was talking about. Depp said he was looking for his cocaine.
Heard says Depp then ripped her dress and performed a "cavity search," she testified, adding: "I just stood there staring at the stupid light, I didn't know what to do."
Plane Incident
Heard also detailed an incident between her and Depp on a plane from Boston where they got into an argument, and he allegedly kicked her in the back.
In May 2014, Heard was filming The Adderall Diaries with actor James Franco in New York, while Depp was filming Black Mass in Boston.
Heard said Depp was "mad at" her for taking the job because he "hated" Franco and accused heard of "secretly having a thing with him in the past" when she was filming Pineapple Express with the actor.
Depp was upset with Heard and accused her of not telling him about romantic scenes with Franco, she said. When she did tell him, he was even more upset.
When Heard went to pick up Depp in Boston to fly back to Los Angeles for his daughter's birthday, the actress said Depp asked her if she enjoyed the romantic scenes with Franco, using sexually explicit language, she testified.
Heard said all of this happened in front of security and assistants on the plane.
She said she slowly got up from sitting across from Depp and moved away, trying not to aggravate him. She said she was afraid he might "pounce" on her or "flip a switch and get worse."
Then, Depp began throwing ice cubes and utensils at Heard and called her "an embarrassment," she testified.
Heard said she was sitting down, not answering him. Depp then came up to her and slapped her in the face, she alleged.
"It didn't hurt my face, I felt embarrassed," she said, adding that this was "the first time that anything like that had happened in front of somebody."
Then, as she walked away, Heard said she felt a boot in her back as Depp allegedly kicked her to the ground.
Tokyo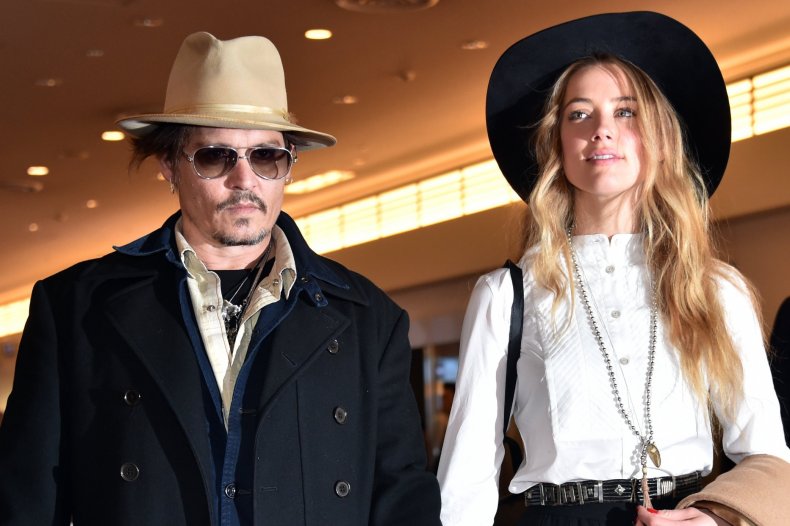 Heard further testified that at the end of January 2015, shortly before they wed, she and Depp went to Tokyo for the premiere of his movie, Mortdecai. She told the jury about an argument in the hotel room, where she alleged Depp grabbed her by the arm and slammed her against the wall.
As she walked away, he grabbed her by the hair, wrestled her down the floor and was loudly screaming, saying he hated her, it was over and he didn't want to marry her, Heard testified. She said that during the struggle and putting his knee on her back.
"It broke my heart, I wanted to marry him so bad," she said. "Yes it was awful at times, but I loved him."
They proceeded to the red carpet for the Mortdecai premiere. She testified that at the time she checked to make sure bruises or markings weren't visible.
Penetrated With a Bottle
Heard recalled an alleged altercation she had with Depp in Australia while he was filming the fifth Pirates of the Caribbean movie.
The actress said Depp was drinking and taking drugs while they were at the house and accusing Heard of having affairs with her previous co-stars. She said he was "belligerent" and was throwing things and screaming.
Depp, Heard testified, slammed her head against a wall and called her a "wh*re," a "sl*t" and "fat a**," and repeatedly "whacked" her in the face.
Heard alleged that Depp hit her to the floor and held a broken bottle against her neck, saying he could "carve up her face." She also said he threw soda cans at her as she moved behind a wall.
Then, Heard recalled being held down on the counter and Depp allegedly penetrating her with a bottle.
Through tears, she said she thought Depp was punching her and that she felt pressure on her pubic bone.
Heard said she remained still. She said she couldn't feel the bottle inside her and couldn't feel any pain. She said she just saw "so much broken glass."
"I just remember thinking, 'Please God, please. I hope it's not broken,'" she said.
Heard later testified that she remembered Depp saying, "I'll f***ing kill you," and then bleeding from her vagina.
Fearing Death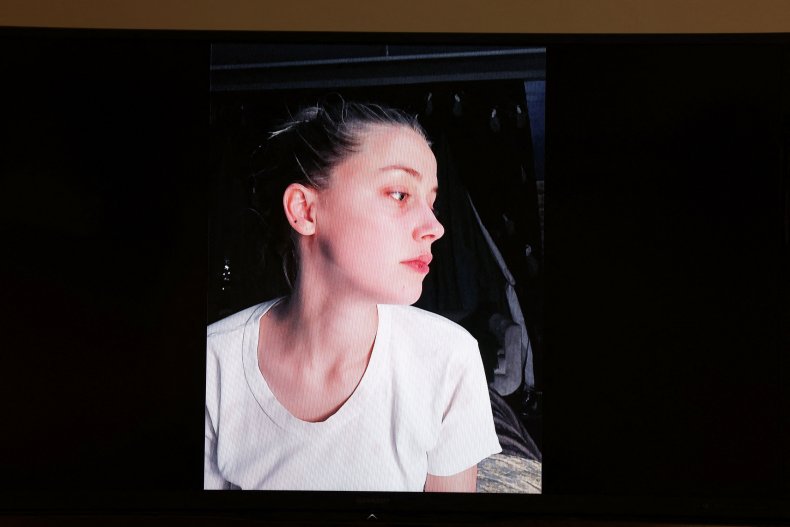 On May 5, Heard recalled the time she believed Depp was going to kill her, during a fight in December 2015. She said that Depp was chasing her and dragging her around their apartment by her hair.
"We had an argument that was a shoving I was losing," she said.
Heard's lawyer presented photos Heard claims to be pieces of her hair on the floor of her apartment that Depp allegedly pulled out. They also showed a photo of Heard's scalp.
She testified that Depp was challenging her to get back up after he hit and shoved her down. After she stood back up, Heard said Depp "balled up his fist, leaned back and head-butted me square in the nose."
Heard said she felt instant, searing pain and told Depp she was leaving him that night.
He then threw her on the bed and kneeled on her back with one leg and punched her, Heard said.
She said he was screaming, "I f***ing hate you" over and over again, each time sounding louder as he "pounded" her in the back of the head.
In that moment, Heard said she thought Depp was going to kill her.
"I thought this is how I'm going to die," she said. "He's going to kill me now. And he wouldn't even realize it."