Amber Heard Fans Flood Twitter With Support as She Testifies at Trial
Social media showed their support Wednesday for actress Amber Heard as she took the witness stand in a defamation trial.
Heard took the stand to give her side, and many began showing their support for the "Aquaman" star as #IstandWithAmberHeard soon began trending on Twitter.
Her former husband and fellow actor Johnny Depp filed a $50 million lawsuit against the actress, claiming she defamed him in a 2018 Washington Post essay. The trial is currently in its fourth week.
One person showed her support for the star by posting a clip of Heard on the stand along with the message, "you've heard his side. Now listen to her speak."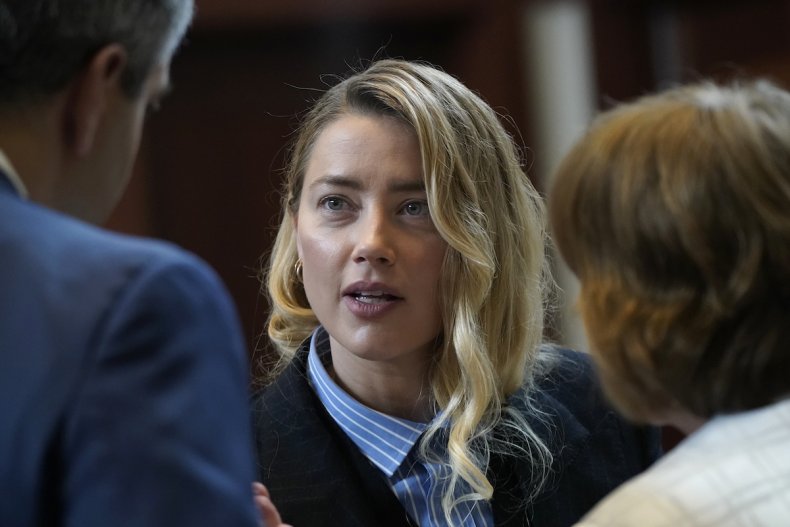 A second person, who also posted under the hashtag and shared a video of Heard giving testimony, said listening to the actress evoked an emotional reaction from her, going on to refer to the actress as an inspiration.
"I'm already reduced to tears while she's up there defending herself, reliving the most traumatic times of her past life from 6-10 years ago while the world watches on. She's the voice for the voiceless survivors everywhere. Truly inspirational."
Another individual posted about feeling proud of the actress and made mention of Depp reacting to his former wife on the stand.
"Proud. He hasn't looked at her once."
Another person posted about the trial and commented on a move from Depp's legal team.
"So in things that surprise no one: Depp's team opposing to all the evidence that he was abusing Amber since early on their relationship
Including what seems to be a pic we haven't seen before, 2012?"
Someone else posting under that hashtag commented that the Depp and Heard trial is a prominent display of one of the power dynamics at work in society: "the way society continues to treat survivors and women who speak out about those in power needs to change. Watching the public's reaction to this trial has been truly disturbing."
Twitter user @MCJPeel posted that "It is sick that a woman has to repeatedly open about her assault, her abuse, her threats of rape and harm to back it up with ample evidence only for the world to tell her she's doing it for fun & money. Does she look happy to you?"
Depp, in his lawsuit, claims that Heard, in her essay in which she detailed her experience with domestic violence, damaged his career, making it difficult for him to find work.
Heard is countersuing the "Pirates of the Caribbean" star for $100 million.
Newsweek reached out to a representatives for Heard and Depp for comment.