Fan Asks Camille Vasquez If She's Dating Johnny Depp in Viral Clip
Depp's lawyer Camille Vasquez has been asked up front if she's dating her client Johnny Depp.
Vasquez is part of Depp's legal team representing him in court as he sues his ex-wife Amber Heard for $50 million over a 2018 op-ed she wrote stating that she was a survivor of domestic abuse.
Depp was never mentioned by name in the article but, he argues, the insinuation has resulted in a massive loss in career earnings. Heard, 36, is counter-suing her former partner for $100 million.
Throughout the ongoing trial, which is being viewed by millions daily, Depp's legal team and specifically Vasquez has come to the attention of viewers for her performance in the Virginia courtroom where the trial is taking place.
Social media users have started to discuss and praise Vasquez online, but some have started to suggest that she's actually dating her client, Depp.
In a video obtained by TMZ, Vasquez was openly asked about the rumors while leaving Circuit Court in Fairfax County. She laughed off the reporter's question and refused to give an answer.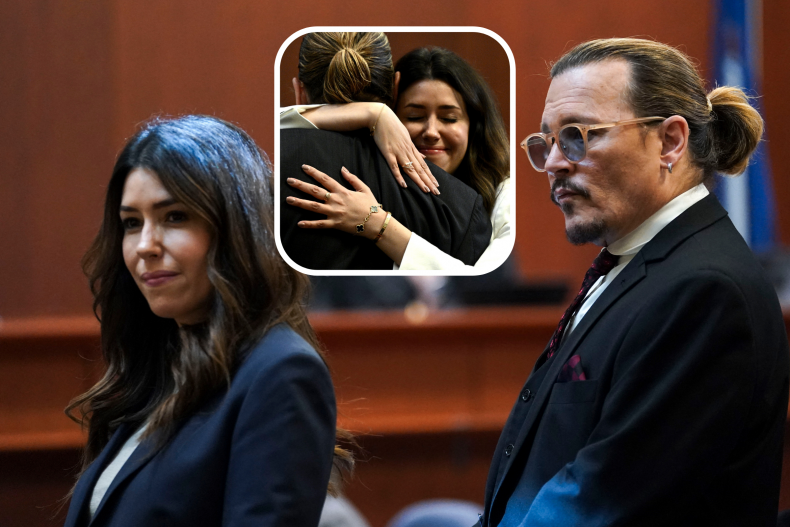 The video has been widely shared across social media.
TikTok user @tam.editsxox posted the video and commented on how "inappropriate" the question is and how it makes Vasquez look "uncomfortable."
As one of the commenters on that video points out, Vasquez is actually wearing an engagement or wedding ring.
Multiple sources online have confirmed there is nothing going on with Depp and Vasquez, but that hasn't stopped the internet from speculating and creating memes exaggerating their relationship.
A fan account created on TikTok for Depp's lawyer has posted several videos during the ongoing trial, with the video clips getting millions of views.
One of the videos posted by the account @camillevasquez shows Depp and Heard sitting next to each other and the user adds a romantic filter and music to add implication.
Other videos posted online used editing tricks and added audio to create fictional scenarios in the courtroom.
One posted to TiKTok by another user suggests Heard is watching Depp and Vasquez together, with the caption reading, "When you see your ex and his new girlfriend at a restaurant."
This video posted on Wednesday already has 2.7 million views.
The speculation about Vasquez and Depp continues on Twitter. Users have been praising the pair as well as sharing short videos which add meaning to their relationship.
Twitter user @TheTypewriterQ posted a short video of the pair saying goodbye, once again with added filters on top.
"Johnny Depp and Camille Vasquez are cute together," they wrote.
The Depp v. Heard trial continues on Thursday and Newsweek will be covering all the breaking stories from the Fairfax County courtroom on our live blog.