Amber Heard Says Johnny Depp Did Drugs With Her Dad at Engagement Party
Actress Amber Heard said on Thursday in court that her father and ex-husband Johnny Depp did drugs together at Heard and Depp's engagement party.
Thursday marks day two of Heard's testimony on the witness stand in the defamation suit Depp filed against her. The actor is suing Heard after she published an op-ed in The Washington Post in 2018, in which she said she was a victim of domestic abuse.
Her testimony has been filled with stories of chaotic interactions with Depp while he was either drunk or high, and on Thursday, Heard testified that Depp and her father did drugs together at the pair's engagement party in 2014.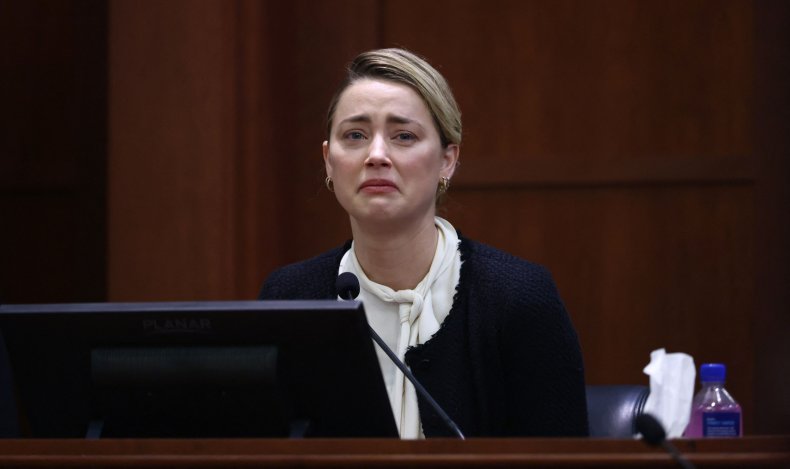 She said that for almost the entire party, Depp had "disappeared upstairs," saying, "he only came down at the end when we were leaving, and came down once because he was at the time sharing drugs with my dad."
When Depp's lawyers called an objection of speculation, Heard added, "I was there. I watched it."
She testified, "My dad at the same time was addicted to the same thing Johnny was."
Heard testified on Wednesday as well that Depp had been doing cocaine and other drugs while they were in a relationship.
She recalled that either her father or Depp had "ran out" of drugs while at the party. "My dad actually left with Johnny's security," she said. Her father and Depp's security went out and came back with drugs, "and everything was okay," she testified.
"Shortly after that, I tried to get Johnny to come downstairs, and he just snapped at me, just verbally told me to shut the f*** up. And I remember talking to my mom about the irony of it," the actress said. "That was pretty much it for the engagement party, and I went downstairs and entertained guests and smiled and took pictures and put on a face and you know, went about my eating."
Later in her testimony on Thursday, Heard once again mentioned her family's drug use when discussing Depp's struggles with drugs, saying, "Even though I had experience with drug use in my family, I hadn't seen anything like this and it was so dramatic."
Heard and her attorneys have argued throughout the high-profile trial that Depp's issues with drugs and alcohol were severe. During opening statements earlier in April, Heard's attorney described Depp as "delusional" and "paranoid," claiming that the Pirates of the Caribbean actor would drink and do drugs before allegedly "assaulting" Heard on multiple occasions.
Newsweek reached out to representatives for Heard and Depp for comment.