Johnny Depp vs. Amber Heard Trial: Every Time Drugs, Alcohol Were Mentioned
As Johnny Depp and Amber Heard's defamation trial continues, jurors have listened as a host of allegations are dished out from both sides—including several mentions of purported drug and alcohol use.
Depp, 58, filed a $50 million lawsuit against his ex-wife Heard, 36, alleging that she defamed him in an op-ed published by The Washington Post in 2018, in which said she was a victim of domestic abuse.
While Heard didn't name Depp in the article, his lawyers have argued that it was obvious she was referring to the actor. Heard has countersued for $100 million for nuisance, with her attorneys arguing that the op-ed was a matter of public interest.
And as attorneys for each side present their arguments in a Fairfax, Va., courthouse, allegations of both stars using drugs and alcohol have been a recurring theme throughout testimonies and statements.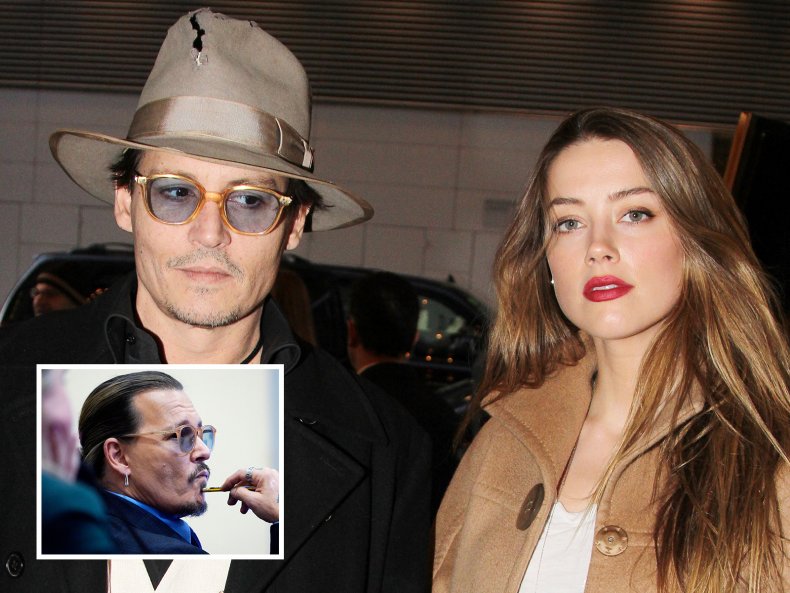 Under the Influence
During opening statements earlier this month, Heard's attorney, Elaine Bredehoft, spoke about Depp's "crushing" drug and alcohol abuse, alleging that he would become a "monster" when he was under the influence of substances.
The attorney described Depp as "delusional" and "paranoid," claiming that he would drink and take drugs before allegedly "assaulting" Heard on various occasions.
"He came off the sofa, got on his knees and started crying, 'I thought I had put the monster away for good,'" Bredehoft said. "Amber made a mistake millions before her and millions after who are victims of domestic abuse—she chose to stay. She thought she could fix him."
On the fourth day of court proceedings, Heard's former personal assistant, Kate James, said in her video deposition that Heard told her she didn't enjoy hanging out with her husband's friends because they were "boring and all old men playing guitars and it wasn't interesting to her."
During her testimony, James alleged that Heard once spit in her face while discussing the possibility of a pay raise.
She also said that Heard often exhibited "manic episodes ... similar to if someone was on some kind of amphetamine drug. Moving fast, not making a lot of sense. Hyper-organizing" and described the actress as "belligerent and abusive."
Recreational Drug Use
Depp himself testified about using recreational drugs with musician Marilyn Manson and WandaVision actor Paul Bettany, the latter of whom he exchanged text messages with that became a taking point of the trial.
Heard's attorney, Ben Rottenborn, showed the court text exchanges between Depp and Bettany, including one where the actors joked about killing Heard.
"Let's burn Amber!!!" Depp wrote in a text from 2013. "I'm not sure we should burn Amber," Bettany wrote back. "She is delightful company and pleasing on the eye. We could of course do the English course of action and perform a drowning test. Thoughts? You have a swimming pool."
Depp replied: "Let's drown her before we burn her!!! I will f*** her burnt corpse afterwards to make sure she is dead."
Ambien
On April 20, the court heard a secret recording that captured Heard admitting that she hit Depp while explaining that she was not certain of all the details due to being "on an Ambien."
Heard made the admission during an argument surreptitiously captured by Depp while the couple was still married.
In the recording, Depp can be heard asking his former wife whether she had "lost memory" about "kicking" in the door of a bathroom that he had retreated to, before allegedly hitting him "in the skull."
"I was upset, there was a lot going on and I was on an Ambien," Heard responded. "Why are you obsessing over the fact I cannot remember the way you are remembering it? I said I was sorry. I'm not denying it."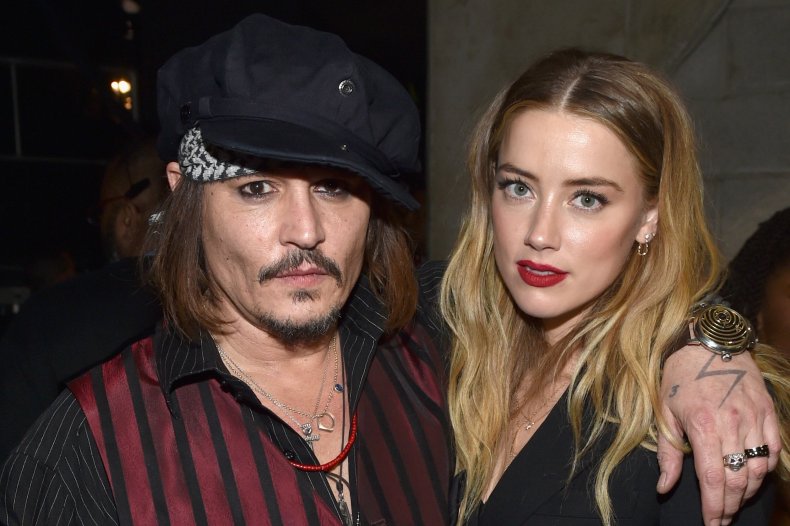 Vodka
Also on April 20, Depp testified that Heard threw a large bottle of vodka at him during a fight, resulting in him cutting off his fingertip.
Heard has disputed those claims, saying that Depp cut his fingertip himself during a three-day bender.
During proceedings, a picture was shown of Depp passed out on a couch with melting ice cream on his jeans. Per The Sun, the image was shared to illustrate the actor's drink and drug use.
On Day 8, Depp's attorney, Ben Rottenborn showed jurors a text message the actor sent to Heard's mother in August of 2014 when he was detoxing from Oxycodone. He praised Heard for supporting him.
"I don't need to explain the horrors to you," Depp wrote to her mother. "Your daughter has risen far above the nightmarish task of taking care of this poor old junkie. Never a second has gone by that she didn't look out for me or have her eyes on me to make sure that I was OK."
Wine Consumption
Also up for discussion on that particular day in court was Aquaman star Heard's daily alcohol consumption.
Ben King, who managed properties overseas where Heard and Depp stayed as he filmed in London and Australia, spoke about Heard's drinking.
King said Depp and Heard were initially "loving" towards each other in London, he recalled Depp taking care of Heard, seeing him pour her wine. As part of his duties of preparing the residence daily, King was responsible for stocking alcohol. Heard drank "one to two bottles" of red wine daily, he said, and did not observe Depp drinking wine.
In a moment that became viral across social media, Depp was asked by one of Heard's lawyers about his wine drinking.
A video of the former couple arguing was shown to the court, during which Depp is seen pouring wine while angrily asking: "Want to see crazy, I'll give you [expletive] crazy. I got your crazy. All your crazy."
Following this, one of Heard's attorneys asks Depp if he was drunk when the video was taken and added: "You poured yourself a mega pint of red wine, correct?"
"A mega pint?" Depp replied, laughing. "I poured myself a large glass of wine. I thought it necessary."
"Dinner, Dancing, Drugs, Music"
On the ninth day of proceedings, Tara Roberts, who had served as Depp's island estate manager in the Bahamas, spoke about the former couple's visits.
Roberts said Depp came to the island about two or three times a year, adding that she was there during Depp's detox and Depp and Heard's wedding in 2015.
Roberts said she was given a specific schedule and detailed plan for the rehearsal dinner and wedding ceremony that included "dinner, dancing, drugs, music."
She added that everyone was drinking at the wedding, but at the time, Depp was only drinking Dr. Pepper and sugar-free Red Bull.
"Very High" Tolerance to Substances
On Thursday, Depp was seen laughing as his personal bodyguard, Malcolm Connolly, said during his remote testimony that the actor has a "very high" tolerance for "any substance."
"I think Jack Sparrow's more drunk than Johnny Depp," Connolly said under questioning, prompting laughter from Depp as he watched in the courtroom.
In the more than 20 years he's known Depp, Connolly said he had only seen him drunk twice. Connolly recalled that Depp used to "like the wine," but doesn't drink as much anymore. He testified that he did not notice much of a change in his behavior when he drank.
Connolly said that he had seen Depp smoke marijuana. When asked what changes he noticed in Depp's behavior, Connolly answered: "To be honest, a bit more relaxed, not so uptight."
He also shared suspicions that Depp may have gone to the bathroom to do cocaine, but had never seen him do so. Connolly said Depp would never "do a line" in front of him and compromise his license.
When he had suspected Depp to have done cocaine, he said that the actor appeared a "bit happier, not so down." Depp would possibly pick up his guitar but he wasn't leaping around "kicking his heels or anything."
Another bodyguard for Depp, Travis McGivern, said during his May 2 testimony that marijuana and cocaine make the actor "chill" and "super mellow."
"Chill, for a lack of a better word. Mellow... just super mellow," McGivern said when asked about Depp's demeanor when using marijuana.
When asked about Depp's demeanor when using cocaine, McGivern responded: "The same... I feel like it levels him out. I haven't noticed any difference when he's used it."
McGivern said during his virtual testimony he worked as Depp's personal security guard for several years and first met Heard in 2013.
MDMA, Magic Mushrooms
Depp testified earlier in the trial that Heard had taken recreational drugs MDMA and magic mushrooms, as well as other illicit substances, according to The Mirror.
Author and journalist Nick Wallis, who is reporting on the trial, said in a series of tweets shared on Thursday that Depp's executive chauffeur and personal security, Starling Jenkins, alleged drug use on Heard's part.
While discussing allegations that Heard had purposefully defecated on Depp's bed, the actress went to the Coachella music festival where, Wallis quoted Jenkins as saying, she "got sick," because "she was eating magic mushrooms and drinking red wine on an empty stomach."
Heard Takes the Stand
During her testimony on Wednesday, Heard alleged that Depp performed a "cavity search" for cocaine while they were spending time in Hicksville, New York, in 2013.
She said that after they took mushrooms with a group of friends, Depp accused her of hiding his cocaine and he began searching her for it.
"He ripped my dress. The strap top part of my dress," she said, and then went on to allege that the screen star performed a "cavity search."
"I just stood there staring at the stupid light, I didn't know what to do," Heard testified. "I just stood there while he did that."
The trial continues.
Update 5/3/22, 2:40 a.m. ET: This article was updated to include testimony from Travis McGivern.
Update 5/5/22, 11:50 a.m. ET: This article was updated to include testimony from Amber Heard.