Johnny Depp 'Mega-Pint of Wine' Testimony Spawns Meme
A phrase from the Johnny Depp/Amber Heard multimillion-dollar defamation trial has created a new meme as the highly-publicized court proceedings continue to dominate social media discourse.
The Pirates of the Caribbean star, 58, is suing his ex-wife for defamation and the trial is currently taking place in Fairfax, Virginia. Heard, 36, meanwhile, is countersuing for $100 million, accusing Depp of defamation.
One moment from the court proceedings that has become a source of internet memes and jokes is an instance when one of Heard's lawyers asked Depp about his wine drinking.
A video of the former couple arguing was shown to the court, during which Depp is seen pouring wine while angrily asking: "Want to see crazy, I'll give you [expletive] crazy. I got your crazy. All your crazy."
Following this, one of Heard's attorneys asks Depp if he was drunk when the video was taken and added: "You poured yourself a mega pint of red wine, correct?"
"A mega pint?" Depp replied, laughing. "I poured myself a large glass of wine. I thought it necessary."
The phrase "mega-pint of wine" has sparked a wave of jokes and memes on Twitter while audio from the clip has also been widely shared and used on TikTok.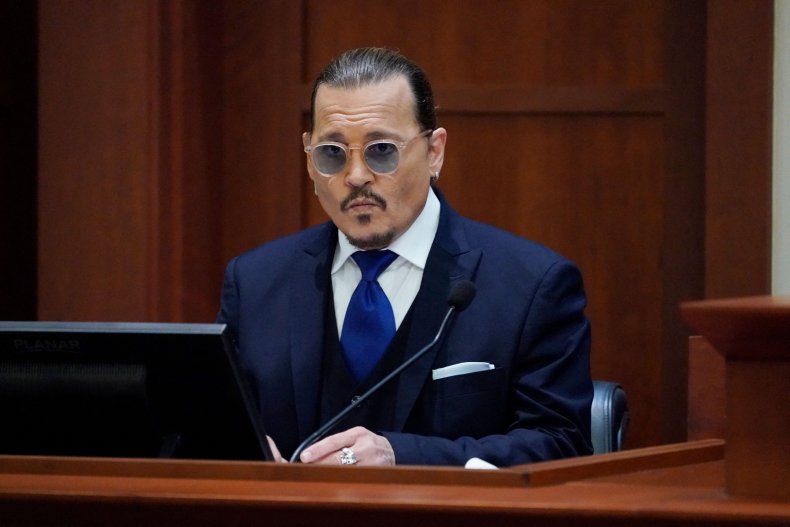 "If 'mega pint of wine' isn't on a brunch menu by this Sunday, we have failed as a society. #megapintofwine #DeppvHeard," read one tweet.
While another added: "Hi who wants a mega pint of wine? I just woke up and its my happy hour now."
Another joke shows a forced perspective gigantic glass of wine with the caption: "Johnny Depp's 'mega pint' of wine according to attorney Rottenborn #amberturd #mepoo #dispersforamber."
On TikTok, several users are using the audio to make videos of them drinking so-called "mega pints of wine."
One person already made a novelty wine glass with the phrase on it.
On the flip side, a number of people are criticizing others for making memes about an active court case that includes depictions of alleged domestic violence.
"Can we all agree that making edits about a domestic abuse court case is very weird," reads one tweet with more than 250,000 likes.
While another added: "fancams are an insane response to a trial highlighting domestic abuse."
Social media is playing a huge role in the court of public opinion in relation to the Depp/Heard trial.
Last week, a clip of Depp reacting to a recording of Heard admitting to hitting him went viral.
Meanwhile, footage of Depp reacting to and pre-empting Heard's lawyers' "hearsay" objections is also going viral.