Joe Rogan Weighs In on Johnny Depp, Amber Heard Bot Claims
Joe Rogan has shared some thoughts on the Johnny Depp, Amber Heard trial with the podcaster commenting on new research about the reaction to the former couple on social media.
New research shows that almost 11 percent of Twitter accounts engaging in commentary around the trial are "inauthentic."
Cyabra a tech company dedicated to detecting fake social media accounts shared their analysis of 2,300 Twitter profiles engaging in the Depp/Heard discourse and found that most authentic accounts are supportive of the Pirates of the Caribbean actor, while the inauthentic ones were supportive of his ex-wife.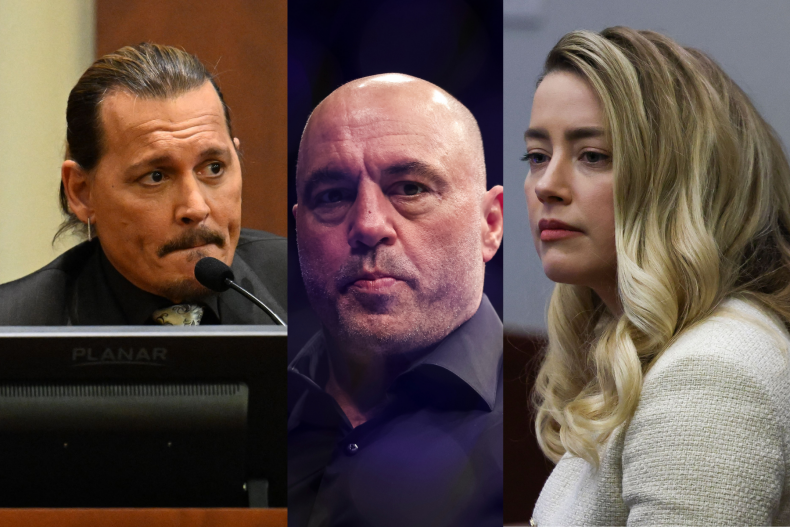 The findings were published in a report by Fox News which Rogan shared to his Instagram account on Sunday.
"I'm surprised it's only 11 percent," the host of The Joe Rogan Experience said in his caption.
Cyabra elaborated on their findings telling Fox News that they also examined accounts using the hashtags #IStandWithAmberHeard, #BoycottJohnnyDepp and #JusticeForJohnnyDepp.
Cyabra CEO Dan Brahmy told the outlet that their findings show a "very clear distinction between" inauthentic accounts supporting either pro-Depp or pro-Heard sentiments.
The company said that the figure of 11 percent of Twitter accounts commenting about the trial being inauthentic is about three to four times higher than the percentage of other inauthentic accounts commenting on trending topics.
These findings come after it was reported last week that Depp is currently being more vocally backed on Twitter.
The actor, 58, is suing his ex-wife for defamation over an op-ed she wrote about domestic violence in The Washington Post in 2018. While Depp was not named in the article, his lawyers argue that Heard's implication is obvious.
Heard, 35, is counter-suing for $100 million for nuisance with her attorneys set to argue that the essay in question was a matter of public interest and she should therefore be protected from a defamation suit.
From the beginning of Depp's defamation case against Heard, the hashtag #JusticeForJohnnyDeppVirginia2022 emerged on Twitter with a near-consensus among Twitter users to side with Depp against Heard.
Some key findings in the trial include Depp testifying that Heard threw a large bottle of vodka at him during a fight while the former couple was in Australia, which resulted in the tip of his finger being severed.
Another key moment was when the court was shown text exchanges between Depp and WandaVision star Paul Bettany, including one where the actors joked about killing Heard.
Depp also accused Heard of defecating in their bed, and Heard admitted to hitting her then-husband while she was "on Ambien."
Ambien is a medication primarily used for the short-term treatment of sleeping problems.