Johnny Depp has been drawing laughs in the courtroom as Amber Heard's lawyers keep objecting on the grounds of hearsay.
The Pirates of the Caribbean actor has been testifying in court in his $50 million defamation case against his ex-wife, who in turn is countersuing for $100 million for nuisance.
Ugly details of the former couple's tumultuous relationship have been aired in the Fairfax, Virginia, courtroom with the trial expected to last about seven weeks.
Court proceedings have been televised, leading to numerous clips from the trial being widely shared. Social media is playing a huge role in the court of public opinion.
Last week, a clip of Depp, 58, reacting to a recording of Heard, 35, admitting to hitting him went viral.
Now a new aspect of the trial is going viral and that's Depp reacting to and pre-empting Heard's lawyers' "hearsay" objections.
TikTok user @SaraLianneX shared a compilation of Heard's lawyers' hearsay objections and Depp's reactions in a video that had amassed more than 5 million views at the time of writing.
"I can't😭 he's so done with those lawyers," the caption on the viral post reads.
In the clip, Depp appears to be holding back laughter and smirks as he is repeatedly interrupted by Heard's lawyers who repeat the phrase "hearsay."
At one point a smiling Depp asks: "I look at papers—maybe they're hearsay papers?" This draws laughter from the courtroom.
Another moment shared in the clip comes when Depp is giving evidence about a chef cooking Heard her favorite meal for her 30th birthday.
Partway through giving evidence, Depp paused in anticipation of an objection to his testimony.
"That's hearsay, I guess," Depp told the court, which prompted laughter again.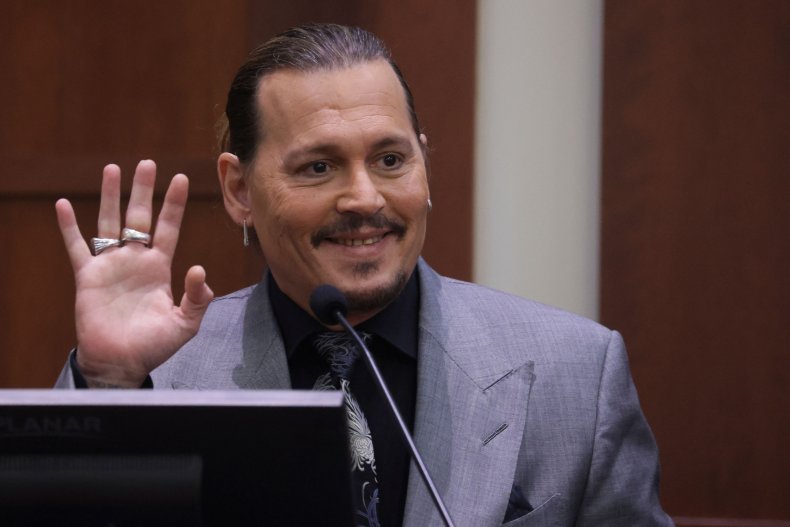 According to FindLaw.com, "the rule against using hearsay evidence is to prevent out-of-court, second-hand statements from being used as evidence at trial given their potential unreliability."
Last week, a clip of Depp reacting to the audio recording of Heard admitting to hitting him went viral.
You told me to do it. You told me 'go do that'," Heard is heard saying on one of the longer recordings.
"You punched me in the f****** thing," Depp responds in the viral clip.
Shared by Twitter user @johnnyhellodepp, the video had racked up more than 4 million views on Twitter by the time of writing.
The trial continues.