Johnny Depp Laughs at Bodyguard Comparing His Drinking to Jack Sparrow
Johnny Depp appeared to laugh after his bodyguard compared the actor's use of alcohol and other substances such as marijuana, to the fictional Pirates of the Caribbean character Jack Sparrow.
On Thursday, Depp's bodyguard, Malcolm Connolly, took the stand during the actor's hearing for the lawsuit he filed against his ex-wife Amber Heard. During the hearing, Connolly was asked about Depp's use of marijuana and if he noticed any changes in Depp's mood when under the influence of the substance.
"He's got a very high tolerance for any substance," Connolly said. "I think Jack Sparrow is more drunk than Johnny Depp."
Shortly after the comment, Depp, who played Sparrow in the Pirates of the Caribbean series, was seen laughing. Connolly said that he worked as a private security guard for Depp and his family since 2006.
Connolly's comments come during the ongoing trial after Depp filed a lawsuit against Heard because of a 2018 op-ed she wrote for the Washington Post, which alluded to alleged domestic violence she experienced around the time of their marriage, though Depp was not named in the op-ed. Heard has filed a counter-lawsuit against Depp for $100 million for nuisance.
As Connolly's testimony continued, he was asked about Depp's use of alcohol, to which he responded by saying that the actor "used to like wine."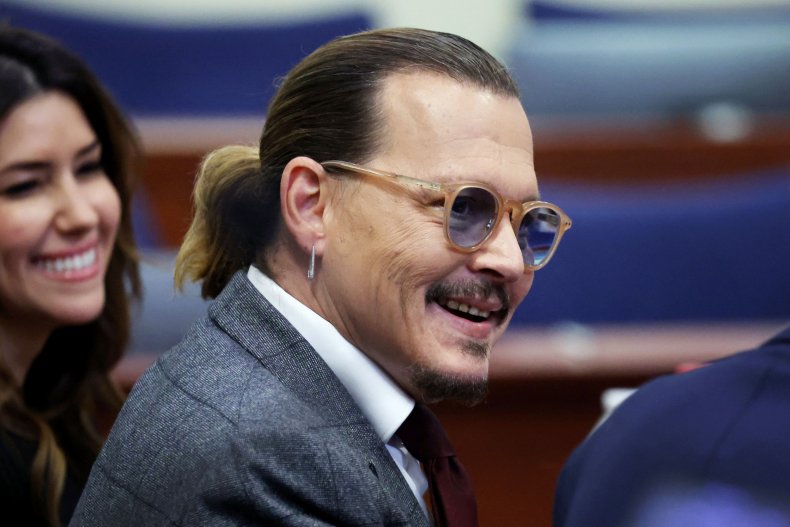 "I would say in the last couple of years, that's dropped drastically as well," Connolly said. "He's not a big boozer now....in 25 years I've been with Johnny, I think I've seen him drunk twice."
Connolly added that he never noticed Depp's behavior change drastically when he was drinking alcohol or smoking weed.
During his testimony, Connolly also spoke about times that he witnessed Heard and Depp get into arguments. While Connolly mentioned that he noticed Heard yelling at Depp often, he never witnessed any physical violence between the two.
"That is not the kind of thing people would do in front of security," Connolly said. "It just wouldn't happen."
Connolly also said that he sometimes noticed physical injuries on Depp's face, such as scratches, noting that the injuries were "getting more regular."
Last week during the trial, a recording of Heard admitting that she physically struck Depp was played.
"You didn't get punched, you got hit," Heard said in the recording. "I f****** was hitting you. I don't know what the motion of my actual hand was. But you're fine. I did not hurt you."
Newsweek reached out to reps for Depp for comment.