'Elle Woods Vibes': Fans Think Camille Vasquez Tricked Amber Heard in Court
Johnny Depp's lawyer Camille Vasquez continues to receive praise online with the latest wave of appreciation coming as a result of a trick she seemingly used on Amber Heard.
Social media users have suggested she deployed a "Legally Blonde" tactic while cross-examining Heard during the ongoing trial. Depp is suing his ex-wife Heard for $50 million in loss of career earnings after she posted a 2018 op-ed which stated she was a survivor of domestic abuse.
Vasquez has been the subject of a lot of attention during the ongoing trial at the Fairfax County courthouse in Virginia. She's gone viral for a number of moments and her relationship with Depp has even been questioned by some.
The latest moment to go viral was taken from Heard's time on the witness stand as she's being questioned about dates by Vasquez. A Depp fan on TikTok, @tam.editsxox has received 3.3 million views for sharing the moment.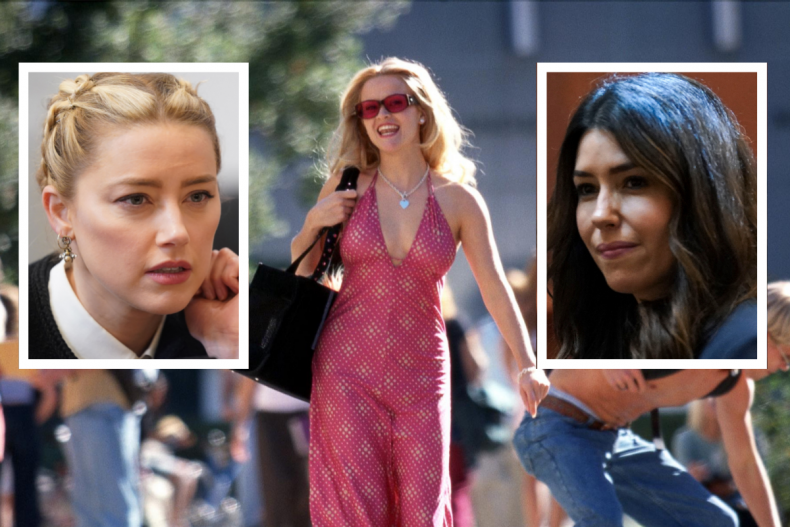 "You were not called upon to provide a detailed account of all physical and sexual abuse by Mr. Depp until February 2020, is that correct?" Vasquez asks Heard.
The Aquaman actress agreed with that date. "I testified that I had not been able to do so until February 2020, outside the context of a cold deposition," she told the jury.
Vasquez then admitted she misspoke and that the actual date was February 2022. "Right, sorry. I did the same thing you did," Heard said.
Many in the comment section questioned the significance of Vasquez "tricking" Heard, to which many replied that it raises doubts over Heard's testimony in the jury members' minds. As California-based attorney Jeff Lewis told Newsweek recently, Heard's "credibility with the jury is on the line."
On the TikTok video, @tam.editsxox adds running commentary onscreen for comedic effect. They captioned the video, "it's clever if it was on purpose" followed by over 20 hashtags relating to the trial, some of which are openly critical of Heard.
The comment section is filled with praise for Vasquez with many calling it a "clever" move by Depp's attorney. Others compared the move to famous lawyers from pop culture.
"Literally giving me Elle Woods vibes omg slay Camille," one commenter wrote in a reference to Reese Witherspoon's character in Legally Blonde. Another said they were "getting Saul Goodman vibes from this"⁠—a reference to Bob Odenkirk's character in Better Call Saul and Breaking Bad.
Continuing the comparison to Elle Woods, another wrote "She did a Legally Blonde!!!" Comparing it to a pivotal moment from the movie, one enthusiastic fan wrote, "This was a 'and your boyfriends name is?' Moment!!!!!!"
The praise continued with thousands of comments on the video, the majority of which support Depp and Vasquez. "Camille is a genius," one said, while another wrote, "Damn she's good."
The defamation trial involving Depp and Heard will continue this week for what is expected to be the final week. This week's proceedings will begin on Monday May 23 at 9 a.m. ET and final statements are due to be given on Friday May 27.