Clips of Camille Vasquez Giving Amber Heard 'Dirty Looks' Go Viral
Footage of Johnny Depp's lawyer Camille Vasquez has gone viral after the attorney seemingly gave Amber Heard "dirty looks" in court during the multi-million dollar defamation trial in Fairfax, Virginia.
The lawyer has become something of an overnight star thanks to her performance in the courtroom, with Depp fans praising her on social media.
The trial is now in its fifth week and Heard's cross-examination came to an end on Tuesday (May 17).
Depp, 58, is suing Heard for $50 million, while Heard, 36, is counter-suing her former partner for $100 million. The lawsuit stems from a 2018 op-ed Heard wrote for The Washington Post in which she said she was a domestic abuse survivor.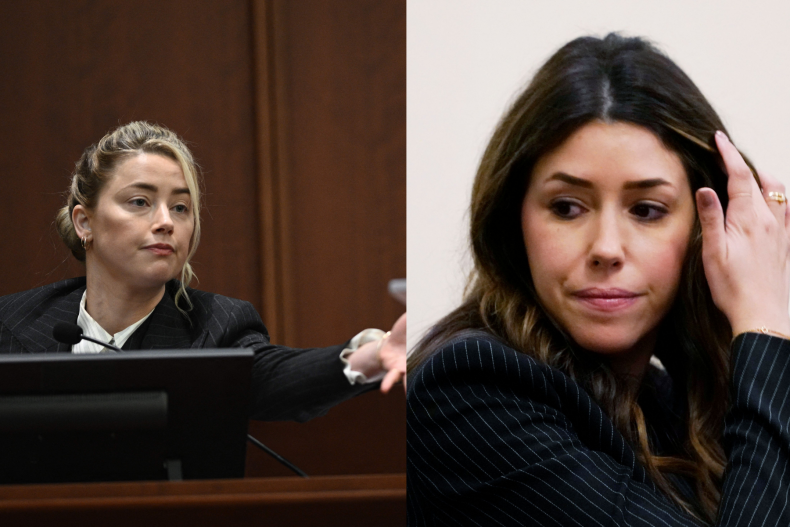 The piece never mentioned Depp by name but his legal team argue the insinuation resulted in reputational damage and extensive financial losses.
Both parties have alleged that the other was violent towards them throughout their marriage, which ended in 2016.
A TikTok user shared footage of Vasquez handing items to Heard while she was being cross-examined on the stand with the caption: "I can't get enough of this! amber Heard Vs Camille vasquez dirty looks, hates her."
In the edited clips, Vasquez can be seen approaching Heard, with thousands of viewers seeming to agree that she is giving the actress a "dirty look."
The TikTok footage, shared by user @hicowbag, has been viewed more than 900,000 times at the time of writing.
"It's the side eye as she turns away," reads one comment, while another added: "that look was so sharp it could cut diamonds."
Vasquez is an associate at Brown Rudnick LLP and in 2021 was named as "One to Watch" by the publication Best Lawyers in the area of commercial litigation.
Her work on the current trial has seen dozens of fan accounts created about her online.
Another clip of Heard has attracted a lot of attention this week too, with footage of the actress seemingly snubbing her lawyer viewed by millions.
After the judge had told Heard to go and sit with her counsel, the actress was shown choosing not to sit with her lawyer Elaine Bredehoft, exiting the courtroom instead.
The clip has gone viral on TikTok where it has amassed more than 2.5 million views at the time of writing, with creator @that1girl143 writing: "It was at this moment she knew she lost the case."
Newsweek's live blog will bring you all the latest updates from the Circuit Court of Fairfax County, Virginia.