Video of Johnny Depp's Lawyer Camille Vasquez Objecting Goes Viral
A video of Johnny Depp's lawyer, Camille Vasquez, objecting to Amber Heard's legal team during the redirect session on Tuesday has amassed more than 17 million views on TikTok.
Many moments in the high-profile defamation trial between Depp and ex-wife Amber Heard have gone viral in the last six weeks, and both actors' legal teams have been thrown into the spotlight.
As the cross-examination of Heard, who is being sued by Depp for $50 million, came to a close on Tuesday, footage of Depp's lawyer objecting to Elaine Bredehoft's redirect questions to Heard went viral.
Posted on TikTok by user @mculokii, the nearly two-minute video has been viewed at least 17.4 million times, and showed Vasquez repeatedly objecting to questions that Bredehoft was attempting to ask her client.

The basis for most of the objections included hearsay, leading the witness, and lack of foundation. Most of the objections were sustained by the judge.
In several instances, Bredehoft struggles to rephrase a question, and at one point, pauses and says, "I'm trying, I'm trying."
The video gained nearly 3 million likes by publication time and over 20,000 comments from TikTok users.
There were several other instances in the redirect in which Bredehoft and Vasquez approached Judge Penney Azcarate.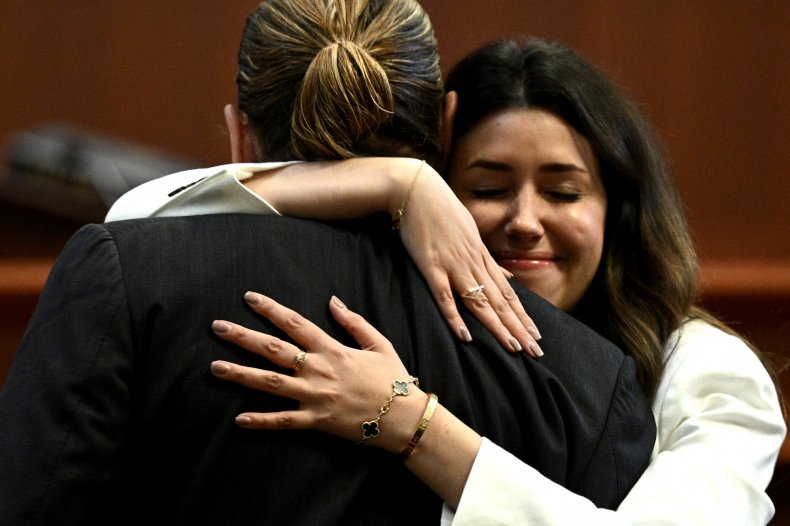 Her performance in the courtroom gained Vasquez many fans, and she received numerous compliments from Depp fans on social media for leading the cross-examination of Heard.
In a video posted to TikTok, a user under the name @cbatogivename shared a clip from the trial of Heard answering a question when Vasquez had yet to ask one. The video also went viral and currently has 4.3 million views.
Vasquez explained a piece of evidence to the court, and Heard responded, "Yes, I was asking for support. That's correct."
Vasquez replied, "There's no question yet, Ms. Heard."
After finishing the cross-examination, Depp and Vasquez embraced before the court took an afternoon break.
Vasquez is an associate at Brown Rudnick LLP and in 2021 was named "One to Watch" by the publication Best Lawyers in the area of commercial litigation.
Depp is suing Heard for $50 million for defamation after Heard wrote an op-ed for The Washington Post in which she stated she was a victim of domestic violence. Heard is countersuing her former husband for $100 million for nuisance. The trial has taken place in Fairfax, Virginia, and closing arguments are expected on May 27.
Update 5/18/2022 at 1:10 p.m.: This story has been updated to include more information about Vasquez, the trial and the increased number of views the video has received.