Video of Depp's Entourage Laughing Uncontrollably During Trial Goes Viral
A video appearing to show two of Johnny Depp's entourage laughing uncontrollably during court proceedings has gone viral on social media.
The footage emerged online this past Tuesday, May 17, as the cross-examination of Amber Heard came to its conclusion, in what is now the fifth week of the multi-million dollar defamation trial taking place in Fairfax, Virginia.
Footage of the two men sitting bent over at the back of the courtroom covering their faces while seemingly shaking with laughter was shared to multiple TikTok and Twitter accounts in the past 24 hours.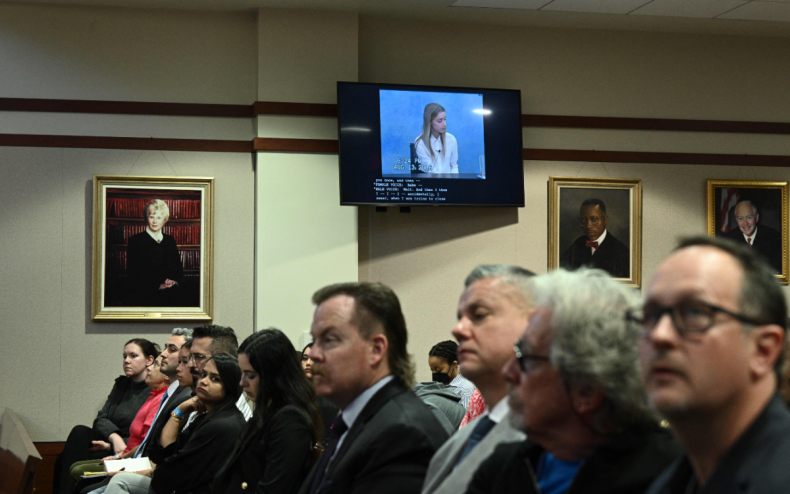 At one point, one of the men, who is wearing a dark suit can be seen sporting a mullet-like hairstyle, appears to wipe away tears and, in certain longer versions of the video, is seen excusing himself from the proceedings. Another man, dressed in a gray suit, can also be seen laughing in the clip.
Several other attendees in the courtroom can be seen smiling in the direction of the two men during the video. Neither has been formally identified, however, they were both filmed escorting Depp into court in at least one video shared to YouTube.
A TikTok user posting as mculokii shared the video of the men laughing in court on social media, where it has already racked up 7.1 million views. It can be viewed here.
Another version of the footage was also shared to Twitter by dailylaney having also been posted online by the TikToker grubby halo.
None of the courtroom discussion is audible in any of the clips, with the footage instead set to the song Frolic by composer Luciano Michelini, which is familiar to many as the soundtrack to the hit HBO comedy series Curb Your Enthusiasm.
A third version was also uploaded by Tam Edits and has already racked up 2.4 million views.
Depp, 58, is suing Heard, 36, for $50 million. The lawsuit was filed in relation to the publication of a 2018 op-ed in The Washington Post, in which Heard identified herself as a domestic abuse survivor.
Though Depp was never named in the piece, his legal representatives have put forward the claim that the piece damaged his reputation and led to significant financial losses.
Heard is countersuing Depp for $100 million in response to Depp's attorney Adam Waldman telling media outlets her domestic violence allegations were "fake" and a "sexual violence hoax."
There has been some speculation over what the two men could be laughing about in the video. Some claimed they were reacting to the moment when Depp's lawyer, Camille Vasquez, repeatedly objected to the questions posed to Heard by her own attorney, Elaine Bredehoft.
Vasquez objected to the testimony on multiple occasions during Heard's deposition citing hearsay and a lack of evidence. Bredehoft was left to concede she had no more questions.
"Camille kept objecting to Elaine's redirect and Elaine started choking on water or air and they started laughing and then got kicked out lmao," one fan on Twitter claimed.
On TikTok, one of the account holders posting the footage, Grubby Halo, made a similar claim, writing: "Elaine couldn't get a word in with all of Camille's objections and even said 'I'm trying, I'm trying' it was so embarrassing."
However, others felt differently, with another TikTok user claiming the laughter erupted when "Elaine imitated Johnny's voice" during questioning. In any case, at this time, the source of their outburst has yet to be confirmed.
The trial continues on Wednesday, May 18.
Newsweek's live blog will bring you all the latest updates from the courtroom