Derek Carr's Contract With New Orleans Saints Explained After Raiders Trade
Derek Carr has begun the inevitable NFL quarterback merry-go-round, leaving the Las Vegas Raiders for the New Orleans Saints.
A number of teams have hinted that signing a QB will be their priority, but some are deciding whether to act or not depending on who becomes available. The Tampa Bay Buccaneers have lost legendary quarterback Tom Brady to retirement, and Green Bay Packers leader Aaron Rodgers is expected to be leaving the Pack.
The Saints decided to make their move and signed Carr in a deal that could be worth $150 million over four years.
Why Did Carr Leave the Raiders?
In April 2022, Carr signed a three-year deal contract extension with the Raiders that was worth $121.5 million. This gave the QB $24.9 million guaranteed on signing, and the remaining $40.4 million of guaranteed money was going to be paid after February 15.
Last season, it became apparent that the Raiders were going to look beyond Carr for the quarterback position, and with the money being paid if he became injured or stayed after the February date, Carr was benched for Jarrett Stidham as the Raiders looked to protect their asset.
What Is Carr's Contract With the Saints?
Carr has signed a four-year deal that has been structured to fit the Saints' pay cap. This means that the QB gets guaranteed payments in the first three years of his deal.
There is $60 million fully guaranteed across his contract, with the possibility of that rising to $100 million if he is there for the duration.
The total value of the contract is thought to be around $150 million, giving him an average annual wage of $37.5 million.
Contract length: 4 years
Total value: $150 million

Average annual value: $37.5 million
Total guarantees: $100 million
Fully guaranteed: $60 million
Additionally, Carr has a no-trade clause, giving him the ability to move to any other team if he decides to leave the Saints.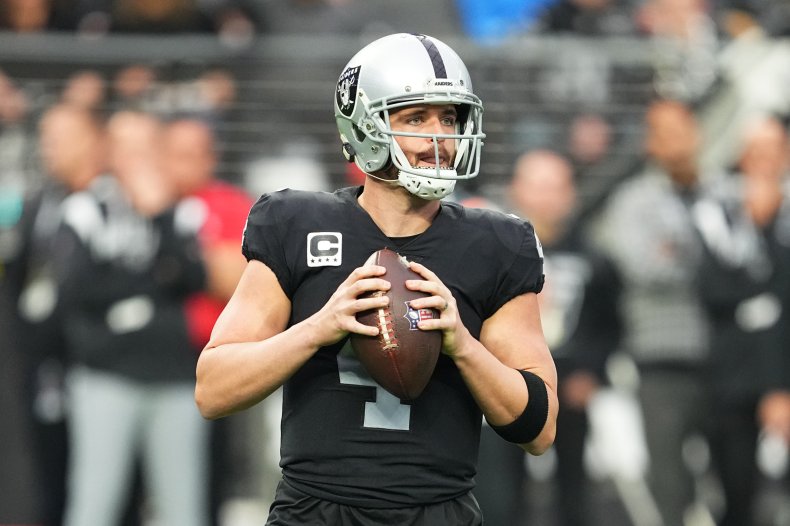 What Has Been Said About Carr's Contract?
Mike Garafolo, speaking on the NFL Network, said that the contract is good for Carr, as he now has guaranteed money coming in over three of the four years in the deal and won't be cut after just a year.
Speaking as the news of the contract broke, Garafolo said: "That actually worked to his advantage because it allows him guarantees...in year three. You don't have to front-load this the way some other teams may have front-loaded this. Why don't you offset that by giving me some guaranteed money in the third year?"
Garafolo went on: "Derek Carr has made a lot of money throughout his career. What he wanted was the commitment to know that this is not going to be a one-and-done here and that it is going to be multiple years, which will be safe for Derek Carr. That is the guarantee that he got from them contractually."
What Is Carr's Net Worth?
Carr has done well in his NFL career so far, earning $135.6 million so far.
If he sees his Saints contract to the end, that will raise his career earnings to $285.6 million. It is estimated that his current net worth is in the region of $80 million to $85 million.
Do you have a tip on a sports story that Newsweek should be covering? Do you have a question about the NFL? Let us know via entertainment@newsweek.com.