Reports of violence against protesters have been emerging during a night of clashes across cities nationwide in the wake of the killing of George Floyd.
Although many demonstrations sparked by Floyd's death at the hands of ex-Minneapolis policeman, Derek Chauvin, were peaceful or at least started peacefully, a number of them ended up pitting protesters against police and national guard troops in cities including Denver, Louisville, New York, Atlanta and Washington DC.
In Denver, police resorted to flash grenades and tear gas to deter protesters who had made a number of attempts to breach the Capitol on Friday, USA Today reported.
The previous night, one protester appeared to be hit deliberately by a car, the publication reported, and tensions continued to spike throughout Friday evening and into Saturday morning, with some demonstrators targeting storefront windows.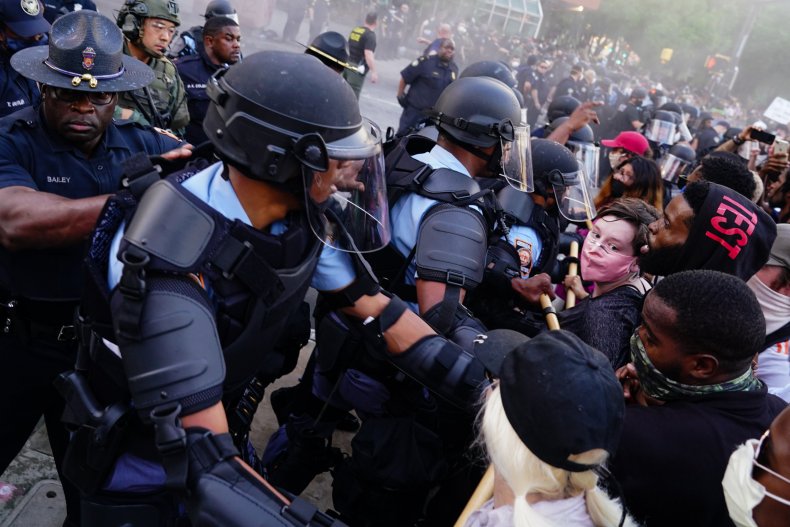 There were also clashes in Indianapolis as a peaceful protest turned violent during the evening leading police to use volleys of tear gas and rubber bullets to disperse the crowds.
Meanwhile, the Louisville Metro Police Department apologized after one of its officers was caught on camera firing what appeared to be pepper balls at a news crew from WAVE-TV during a live broadcast of demonstrations over the death of Breonna Taylor, a black woman killed by police in her home.
A confrontation on Thursday night in the same city between officers and protesters resulted in a shooting that left seven people injured. There was no respite to the tensions at the site of the incident on Friday, with police firing volleys of tear gas at protesters who had gathered there, according to The Washington Post.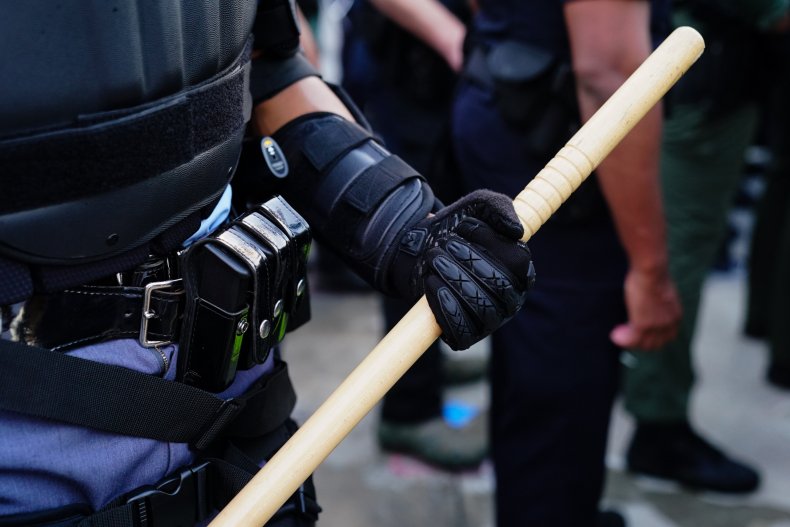 Exacerbating the fragile atmosphere was speculation on social media of the methods being used against the protesters. Footage shared from Dallas by Elijah Schaffer tweeting to his 56,000 followers, carried the message that "rubber bullets (it appears), tear gas, flash bangs" were being used and rioters were "throwing rocks and fireworks back at police."
Meanwhile as a symbol of the rancor felt during the demonstrations, few images were more striking than footage of a bulldozer on the streets of Oakland, California, making its way through the groups of protesters amid the pops of fireworks and screams, being shared on social media by the East Bay Times.
In New York, there were skirmishes across Brooklyn and Lower Manhattan which left protesters and police injured, following a demonstration by the Barclays Center in Brooklyn.
Some hurled bottles and debris at police officers, who responded with pepper spray, The New York Times reported. One person tweeted footage of officers rushing toward protesters.
In Atlanta, a peaceful protest turned violent and police cars were smashed, set on fire and bottles thrown at police officers, according to The Guardian, with one person tweeting unverified footage of what he described as "multiple gun shots" as well as "people screaming and yelling."
Police in Georgia's state capital also fired bean bag rounds into the crowd to disperse protesters from on top of armored vehicles, WSB-TV reported. Keisha Lance Bottoms, Atlanta's mayor, said at a news conference: "This is not a protest. This is not in the spirit of Martin Luther King Jr. You are disgracing our city."
Her invoking of the civil rights leader underscored the racial context of the unrest and the reignition of anger toward the continued police killings of black Americans.
Race was the motif of a demonstration taking place near the White House, which was placed on temporary lockdown, with crowds holding pictures of Floyd and chanting "I can't breathe," the BBC reported, which were the poignant last words of both him and Eric Garner, a black man who died from a police chokehold in 2014.
On Friday, Chauvin was charged with third-degree murder and manslaughter over the death of Floyd, Hennepin County Attorney Mike Freeman announced.