Derek Chauvin Indicted for Allegedly Holding Black 14-Year-Old by Throat, Kneeling on Neck in 2017
Former Minneapolis police officer Derek Chauvin could face another trial for using a similar tactic that landed him in prison for the murder of George Floyd, a Black man who died during his arrest last year.
An indictment filed in a Minnesota court on Thursday alleged Chauvin held his knee on the neck and upper back of a Black 14-year-old who was lying prone, handcuffed and unresisting during a 2017 arrest. Chauvin was recently found guilty of three charges that could land him in prison for decades for kneeling on Floyd's neck while he said he couldn't breathe.
The new indictment also alleges Chauvin held the 14-year-old by the throat and struck him "multiple times in the head with a flashlight."
Chauvin was charged with depriving the 14-year-old of his constitutional rights during the arrest.
As prosecutors were gearing up for Chauvin's murder trial, they received numerous videos allegedly showing Chauvin striking the Black teenager so hard he needed stitches, according to ABC News. He then allegedly held the boy down for 17 minutes, ignoring complaints that he couldn't breathe.
"Those videos show a far more violent and forceful treatment of this child than Chauvin describes in his report [of the incident]," Matthew Frank, a 21-year veteran of the Minnesota attorney general's office and one of the prosecutors in Chauvin's trial, wrote in a court filing.
Newsweek reached out to the Minneapolis Police Department for comment but did not receive a response in time for publication. Eric Nelson, who represented Chauvin in the George Floyd trial, declined to comment.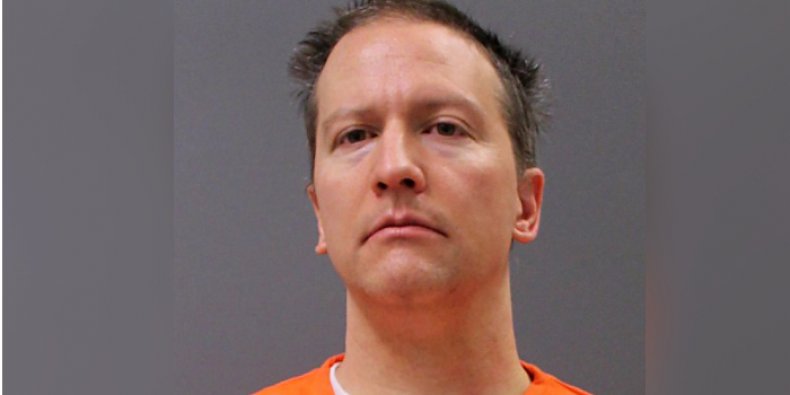 In a court filing, prosecutors said Chauvin responded to a domestic assault call on September 4, 2017, with another officer. When the teen resisted, Chauvin applied a neck restraint, rolled him onto his stomach. He then used his own body weight to "pin the juvenile male to floor." Because he used the restraint beyond the point where that amount of force was needed, prosecutors argued that it proved a "modus operandi," given what occurred in Floyd's arrest.
According to ABC News, Frank wrote in another filing that the call stemmed from a woman claiming she had been attacked by her 14-year-old son and young daughter. The prosecutor wrote that after Chauvin hit the 14-year-old with the flashlight, grabbed his throat and caused him to lose consciousness with the neck restraint, the mother pleaded for the two officers to "not kill her son."
"About a minute after going to the ground, the child began repeatedly telling the officers that he could not breathe, and his mother told Chauvin to take his knee off her son," Frank wrote, according to ABC News.
After eight minutes—about a minute less than the time Chauvin kept his knee on Floyd's neck—he moved his knee to the teenager's back, where it remained for nine more minutes, according to court filings.
Nelson disputed that the incidents with the 14-year-old and Floyd were comparable. The defense attorney said that Chauvin was using a neck restraint against someone "actively resisting" arrest, in compliance with Minneapolis Police Department (MPD) policy.
"It was reasonable and authorized under the law as well as MPD policy," Nelson wrote in a filing.
Ultimately, a judge rejected the prosecutors' request to bring up the 2017 incident at the Floyd trial and agreed with Nelson that jurors should not hear about the previous arrest.