Derek Chauvin Sentenced 22 Years in Prison After Prosecution Requested 30
Former Minneapolis police officer Derek Chauvin was sentenced Friday to 22 and a half years in prison for the murder of George Floyd, a Black man who was killed last year after Chauvin kneeled on his neck for over nine minutes.
Prosecutors had asked Judge Peter Cahill to impose a sentence of 30 years. In April, almost a year after Floyd's death sparked nationwide outrage, Chauvin was found guilty of all three counts against him following a jury deliberation of about 10 hours.
Cahill provided only brief remarks before announcing his decision, saying that he chose to issue a 22-page memorandum instead. The judge said the goal of the memorandum was to highlight that sentencing is based on a legal analysis that involves applying the rule of law to an individual case and not emotion.
"I'm not going to attempt to be profound or clever because it's not the appropriate time," Cahill said. "I'm not basing my sentence also on public opinion, I am not basing it on any attempt to send any messages."
Ahead of sentencing, the defense shared several victim impact statements and the court heard from Floyd's 7-year-old daughter, Gianna. Although her father's gone physically, she said he's still around in his spirit and she's excited to play with him again.
"I miss you and I love you," Gianna said in a message to her dad.
The judge also heard from Floyd's nephew and his brothers Philonise and Terrence Floyd. Terrance said the family's become part of a group of people who have lost a loved one to police violence, noting that it's a fraternity that no one wants to be a part of.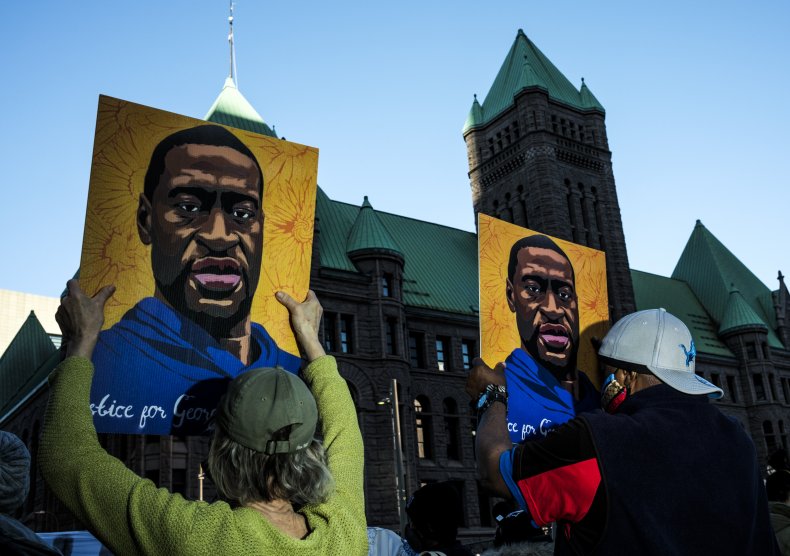 Chauvin, who was found guilty of second-degree unintentional murder, third-degree murder and second-degree manslaughter, hoped he would avoid jail time. In court documents, his attorney, Eric Nelson, asked Cahill to sentence his client to probation. He argued that his client was the model defendant for probation and raised concerns about how he would be treated in prison.
Nelson also credited Chauvin for the respect he showed the judicial process and Cahill in the face of "unparalleled public scorn."
Carolyn Polenty, Chauvin's mother, was the only person to speak on behalf of her son, telling the judge that it was difficult to deal with the characterization of Chauvin during the trial and in the media. She called her son a "good man," denied that he was racist and told the judge she supported him "100 percent" and "always will."
"Derek has played over and over in his head the events of the day. I have seen the toll it has taken on him," Polenty told Cahill. "When you sentence my son you will also be sentencing me."
Chances that Chauvin would avoid jail time were extremely slim given that in May, Cahill found "aggravating factors," including Chauvin's abuse of his position of trust and authority, warranted a potentially stronger sentence than the guidelines.
In the event Cahill didn't agree with giving Chauvin probation, Nelson argued in a court filing that because Chauvin had a criminal history score of zero, the appropriate maximum sentence was 15 years with a "presumptive duration" of about 12 and a half years. Sentencing guidelines suggest a sentence of 10 to 15 years but the maximum sentence for second-degree murder, the most serious charge he was convicted of, is 40 years.
Nelson said Chauvin wasn't aware he was committing a crime and described his crime as an "error made in good faith reliance on his own experience" as a police officer.
Prosecutors didn't see it that way, though, and Assistant Attorney General Matthew Frank called it "so outside the realm of possibility." The state asked for double the maximum sentence the guidelines set forth given the existence of four aggravating factors and the "extreme nature" of Chauvin's conduct.
"Defendant brutally murdered Mr. Floyd, abusing the authority conferred by his badge," prosecutors told the judge. "No sentence can undo the damage Defendant's actions have inflicted. But the sentence the Court imposes must hold Defendant fully accountable for his reprehensible conduct."
Floyd's death sparked nationwide protests and the trial drew international attention. During the two weeks of testimony, jurors heard about the guilt witnesses, including Darnella Frazier, who filmed the arrest, felt for not intervening. They also heard Donald Williams, a mixed martial arts fighter who witnessed Floyd's death, call it a "murder" on a 911 call and liken Chauvin's positioning as a "kill choke" in MMA.
After the guilty verdict was handed down, Floyd's family expressed relief and gratitude and Ben Crump, their attorney, called it a "historical moment" for the legacy of "trying to make America for all Americans."