Derek Chauvin's Third-Degree Murder Charge Dropped in Connection to George Floyd's Death
The third-degree murder charge filed against former Minneapolis police officer Derek Chauvin in connection with the death of George Floyd was dismissed by a Minnesota judge on Wednesday.
The decision issued by Hennepin County District Court Judge Peter Cahill said that charges against Chauvin of unintentional second-degree murder and second-degree manslaughter will remain.
In the decision—which was made public on Thursday—Cahill wrote that "probable cause does not exist" for the third-degree murder charge that was filed against Chauvin, but said there is probable cause for the other charges Chauvin face.
The three other former officers who face charges in connection with Floyd's death—Tou Thao, Thomas Lane and J. Kueng—also submitted requests for dismissals, but Cahill's decision said those requests were denied.
The judge's decision continued to say that there is probable cause to suggest that the three aided and abetted both unintentional second-degree murder and second-degree manslaughter.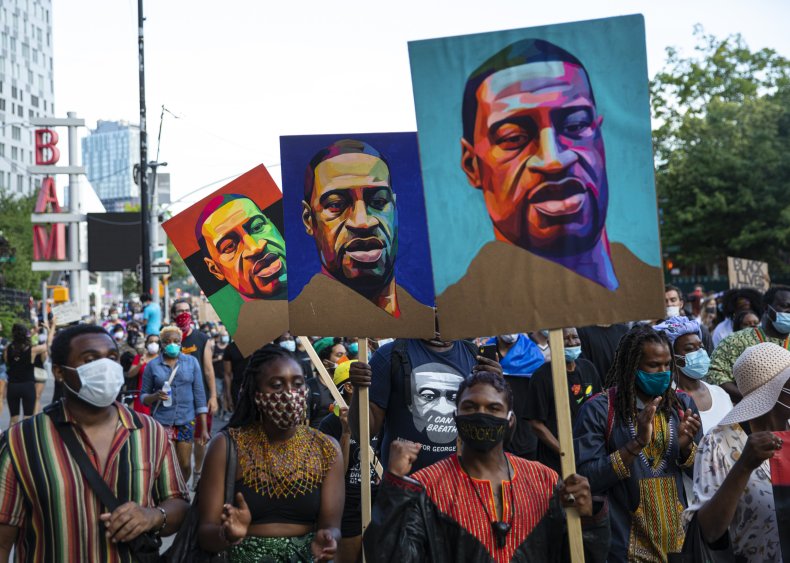 Floyd, a 46-year-old Black man, died while in Minneapolis police custody on May 25. Video captured of the minutes leading up to his death quickly spread online and sparked a summer of protests demanding an end to systemic racism and alleged incidents of violence against Black Americans.
The May 25 incident started with Lane and Kueng trying to arrest Floyd for allegedly attempting to use counterfeit currency at a small grocery store. Lane and Kueng called for backup, and Chauvin and Thao arrived to assist. As the incident intensified, Chauvin placed his knee on Floyd's neck and held him down for several minutes. The Hennepin County medical examiner later labeled Floyd's manner of death a homicide.
According to Cahill's decision, all four former officers issued motions to dismiss charges filed against them. The third-degree murder charge against Chauvin was the only charge that Cahill decided to dismiss based on the evidence presented in the case so far.
"In this Court's view, with one exception, the State has met its burden of showing probable cause that warrants proceeding to trial against each of these Defendants one each of the criminal charges the State has filed against them," Cahill's decision said.
Chauvin's attorney, Eric Nelson, has previously said that Chauvin's intentions were not to kill Floyd, according to the Associated Press. Nelson on Thursday declined Newsweek's request for comment about the third-degree murder charge dropped against his client.
Ben Crump, the attorney for George Floyd's family, celebrated Cahill's decision to retain other charges against Chauvin in a statement shared with Newsweek.
"We are gratified that the court preserved eight of the nine charges against Derek Chauvin, including the more serious second-degree murder charge for which we expect a conviction, based on the clear and evident use of excessive force that we all saw on video," Crump's statement said.
"We will continue to fight for justice in the civil courts and will advocate both for justice in the criminal system and for meaningful police reforms. The family of George Floyd has confidence that Minnesota Attorney General Keith Ellison will make sure that the officers are held accountable to the full extent of the law based on the evidence that we witnessed on that video tape."
Updated 2:35 PM ET: This story has been updated with additional information, background and responses from attorneys Eric Nelson and Ben Crump.