As the trial of Derek Chauvin for the murder of George Floyd proceeds, feelings of fear, devastation and anger amongst Black Americans continue to resurface. And these feelings, all too familiar to many of us, are on full display for anyone following the trial. It's written on the faces of the witnesses. It's etched into their testimonies. It's an inescapable part of the trial.
Darnella Frazier was 17 at the time of George Floyd's death. She took the video that went viral, of Derek Chauvin's knee on Floyd's neck for over nine minutes. Floyd "was begging for his life and Chauvin did not care," she wrote on Facebook. And still, Darnella spoke of her own guilt. "It's been nights I stayed up apologizing and apologizing to George Floyd for not doing more and not physically interacting and not saving his life," she said.
She was not alone. Christopher Martin, a 19-year-old who worked at Cup Foods and handled the $20 bill George Floyd gave him, says he feels guilty. "If I would have just not taken the bill, this could have been avoided," he said.
Charles McMillian, who lives in the neighborhood where Floyd was killed, broke down in tears while watching footage of Chauvin kneeling on George Floyd. "I feel helpless," he wept from the witness stand.
Mixed in with the trauma of watching a Black man killed before their eyes, each of the witnesses expressed feelings of guilt, horror, and grief. Even Darnella's 9-year-old cousin was not spared. "I was sad and kind of mad ... cause it felt like he was stopping his breathing and kind of like hurting him," she testified.
Meanwhile, Derek Chauvin, the man responsible, has yet to express remorse. When McMillian confronted Chauvin after the incident, expressing his dismay at what happened, Chauvin dismissed him.
"That's one person's opinion," Chauvin callously replied.
But these witnesses do not stand alone. For Black Americans across the country, the trial, the footage, the testimony, is serving to retraumatize us, reminding us of the violence and brutality we can expect to encounter at the hands of law enforcement.
Alton Sterling was gunned down by police for selling CDs. Officers mistook Amadou Diallo's wallet for a gun before firing 41 shots at him. Michael Brown was murdered by police for allegedly shoplifting. Botham Jean was shot to death by a police officer for sitting in his apartment. Breonna Taylor, too, was killed in her own home.
To see Chauvin on trial for Floyd's death only serves to retraumatize a marginalized population that has never had the chance to heal from the abuse that is constantly inflicted upon us.
Chauvin is charged with second-degree murder, third-degree murder and second-degree manslaughter. Though Floyd's killing was captured on film, the officer's guilt is still up for debate. It's triggering for folks who remember the infamous 1991 Rodney King episode, where there was video of the motorist being beaten within an inch of his life by a group of police officers. Even though the harrowing footage of the assault was presented at trial, the officers were acquitted. The 1992 Los Angeles riots soon followed, giving voice to the outrage the verdict had sparked.
Even when the killer isn't law enforcement but a self-appointed vigilante—as with Trayvon Martin's murder at the hands of George Zimmerman in 2012—justice is still denied to the victim. Like with Floyd's trial, the world waited with bated breath for a verdict that would show the life of 17-year-old Martin was worth honoring. But Zimmerman walked away scot-free. Then there was Eric Garner, choked to death on camera like George Floyd in 2014 at the hands of a police officer. The chokehold that was used on Garner was deemed illegal, but the cop who killed him—Daniel Pantaleo—lost nothing but his job.
The Chauvin trial thus far has given little reason to hope for a different outcome. The defense has already sought to blame Floyd for his own death by bringing up his drug use and his size as possible justifications for Chauvin's actions.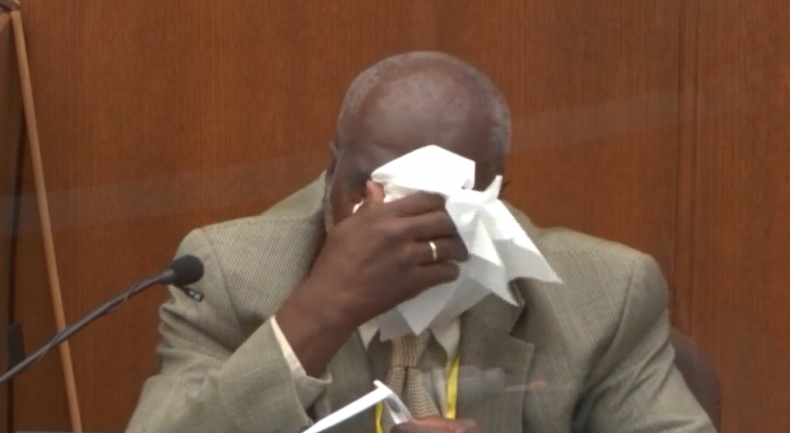 Derek Chauvin being convicted of Floyd's murder is sadly a long shot. And for Black folks watching the trial, it dredges up trauma that no one should be subjected to. Witnesses are forced to relive watching a man go unconscious and lose his life at the hands of someone whose job it was to protect him; teenagers in Minneapolis are still processing Floyd's death and what it means to be Black in America.
Chauvin's trial is dangling justice in front of a group of people starving for it. And it comes at the cost of our mental health.
Candace McDuffie is a culture journalist whose work has appeared in places such as Al Jazeera, Entertainment Weekly, Glamour and MTV News.
The views in this article are the writer's own.