Dershowitz Is a Fan of Jackson, Blasts Pundit for Calling Her 'This Chick'
Supreme Court nominee and Harvard Law graduate Ketanji Brown Jackson deserves more respect from conservative critics, according to former law professor Alan Dershowitz.
Dershowitz made the remarks Wednesday during an appearance on Newsmax TV's Spicer & Keith as the Senate Judiciary Committee held its first week of hearings on Jackson's nomination. The celebrity attorney gave a full-throated defense of Jackson after she came under withering criticism from conservative commentators and Republicans.
"I enjoyed very much watching Judge Jackson," Dershowitz told hosts Sean Spicer and Lyndsay Keith, predicting Jackson will be confirmed with Republican votes.
He added "she's not dumb and she's not a 'chick.' And I think it was very insulting that some of your prior guests really demeaned her in that way."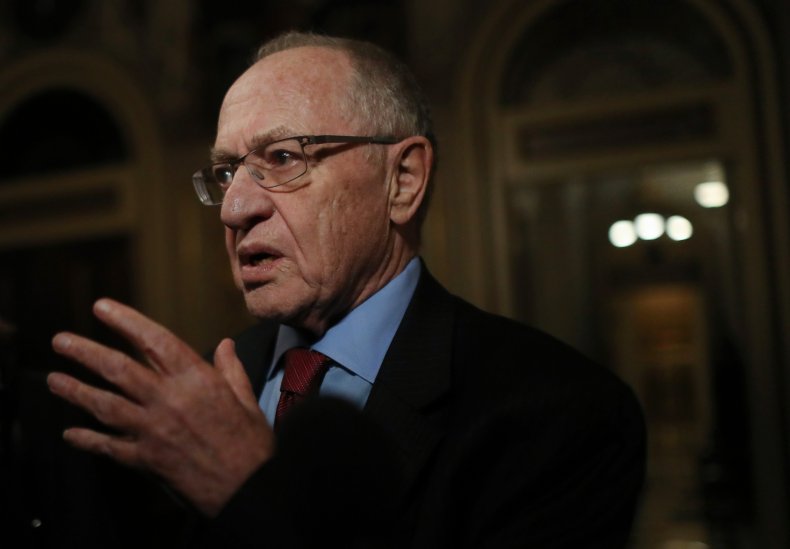 Dershowitz was referring to how earlier in the show conservative podcaster Stacy Washington said there has been too much attention on Jackson's race. Jackson would be the first Black woman to serve on the Supreme Court.
But Washington, who is also Black, said she wasn't impressed with Jackson. In particular, Washington took issue with an exchange that occurred during the confirmation hearing Tuesday where Republican Senator Marsha Blackburn asked Jackson to define the word "woman." Jackson's response: "I'm not a biologist."
"She's a woman, or maybe not since she doesn't know what women are," said Washington on the show. "And she's Black, and we happen to have the same hair. We both have sisterlocks, so I was thinking to myself, there's got to be something I can find to say nice about this chick, but she really angered me yesterday with that lackluster performance."
Dershowitz, speaking later during the the show, also defended Jackson's response to question of what defines a woman.
"Yeah, it's difficult to define," said Dershowitz. "What is a woman these days?"
The increasing visibility of transgender people has become a culture war flashpoint and has caught the attention of conservative lawmakers. The rights of transgender people have also become an issue for the courts. Notably, the Court ruled in 2020 that transgender workers are protected from workplace discrimination.
Dershowitz said, "If you have somebody who was born a woman and the age of 18 or 19 transitioned and had surgery and has lived the life of a man or vice versa for 10 or 15 years—these are not easy questions to answer these days. And these are questions that might come before a judge."
Washington told Newsweek in a voice message that Dershowitz's concerns were a distraction from what she described as serious problems with Jackson's record as a federal judge.
"It's interesting to have Alan Dershowitz, a preeminent attorney and respected thought leader across the country, commenting on my use of the word 'chick'—which is not a derogatory term, it's just another slang term for a woman—instead of focusing on the light sentences that Judge Brown Jackson has meted out to convicted child pornography consumers," she said.
Update (3/25, 7:15 p.m.): This story has been updated to include a response from Washington.