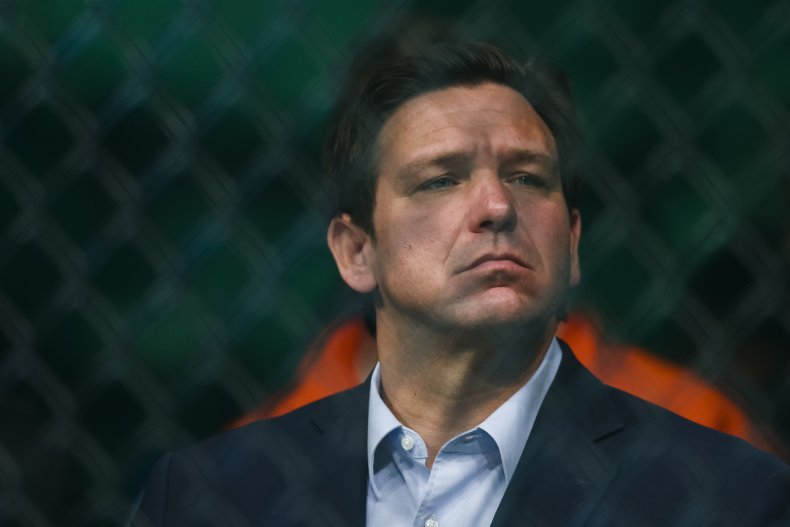 Republican Florida Governor Ron DeSantis is likely to soon strip Walt Disney World of its special governing status following the state Legislature's passage of a bill that he suggested.
The state's GOP-controlled House passed a bill that would dissolve the Reedy Creek Improvement District as well as a handful of similar sectors by a vote of 70-38 on Thursday. The state Senate, also controlled by Republicans, approved companion legislation in a 23-16 vote on the previous day. The bill will become law if signed by DeSantis and take effect on June 1, 2023, although Disney could still launch legal challenges.
In a separate move, the House also punished Disney along party lines on Thursday, voting to include the company in a law that targets social media platforms over "censorship," although the law is not currently being enforced due to a federal court ruling that it is unconstitutional. Democratic state representatives chanted in protest as both of the anti-Disney bills passed, according to Florida Politics.
DeSantis urged the Legislature to consider the "termination of all special districts that were enacted in Florida prior to 1968" on Tuesday. The move marked an escalation in DeSantis' culture war battle against Disney. The dispute caught fire last month after the company criticized what some have dubbed the "Don't Say Gay" law, which limits teachings related to sexual orientation and gender identity in Florida schools.
The Reedy Creek district currently allows the company to appoint the government responsible for regulating the Disney World property, including the ability to impose taxes on the land and run its government services with the revenue it gains from those taxes. The resort also operates independent fire protection, utilities and planning, and security services.
Critics of DeSantis have blasted the governor for retaliating against one of the state's largest employers and sources of revenue, seemingly over a political disagreement. Florida state Senator Gary Farmer, a Democrat, warned on Tuesday that the move could also make residents of Orange and Osceola counties responsible for a bill of between $1 billion and $2 billion.
"It's clear to me that this is not about corporate accountability," Florida state Representative Anna Eskamani, a Democrat, told Orlando-area NBC affiliate WESH. "It's purely about petty politics and a performance by the governor that is so impressive, he should be hired by Disney."
DeSantis himself appeared to confirm that his targeting of the entertainment giant was motivated by politics in a fundraising pitch on Wednesday, according to CBS News.
"Disney and other woke corporations won't get away with peddling their unchecked pressure campaigns any longer," DeSantis reportedly wrote. "If we want to keep the Democrat machine and their corporate lapdogs accountable, we have to stand together now."
Criticism of DeSantis' war against Disney has not been limited to those on the political left. Jenna Ellis, a former attorney for ex-President Donald Trump, said on Twitter that DeSantis was "over the line" for moving to punish the company in a political dispute.
"Imagine if [Democratic California Governor Gavin] Newsom was doing this to Chick-fil-A," Ellis tweeted on Wednesday. "Policy and law must be fair and reasonable. Not vengeful."
Newsweek reached out to DeSantis' office and The Walt Disney Company for comment.
Update 4/22, 5:25 p.m. EST: This article has been updated to correct a reference to Florida state Senator Gary Farmer as "Florida Senate Minority Leader," a title he formerly held.