DeSantis Hits Disney for Cruise in Country Where Homosexuality Is Illegal
Republican Florida Governor Ron DeSantis on Tuesday criticized The Walt Disney Company for speaking out against his state's Parental Rights in Education bill, noting the Disney's cruise line features a stop in a nation where homosexual intercourse is illegal.
DeSantis made the comments during an appearance on Fox News' Tucker Carlson Tonight. DeSantis hit out at Disney for recently taking a stand for LGBTQ+ rights after employees protested the company's silence about Florida's so-called "Don't Say Gay" education bill, which prohibits teaching kids lessons on sexuality, gender identity and sexual orientation in ways that are deemed inappropriate.
After DeSantis signed the education bill into law on Monday, Disney released a statement that said its "goal as a company is for this law to be repealed by the legislature or struck down in the courts..." The statement also proclaimed the company is dedicated to standing up for LGBTQ+ people across the nation.
DeSantis told Carlson he felt Disney only offered public pushback to the legislation after the "woke mob" came after the company. He also implied Disney was being hypocritical since its cruise line operation offers stops and activities on the Caribbean island nation of Dominica, where same-sex relations is punished with prison terms.
"It's just an odd manifestation of their corporate values that they actually do Disney cruises, Tucker, to the nation of Dominica, which criminalizes homosexuality," DeSantis said. "So they're fine doing that and lining their pockets."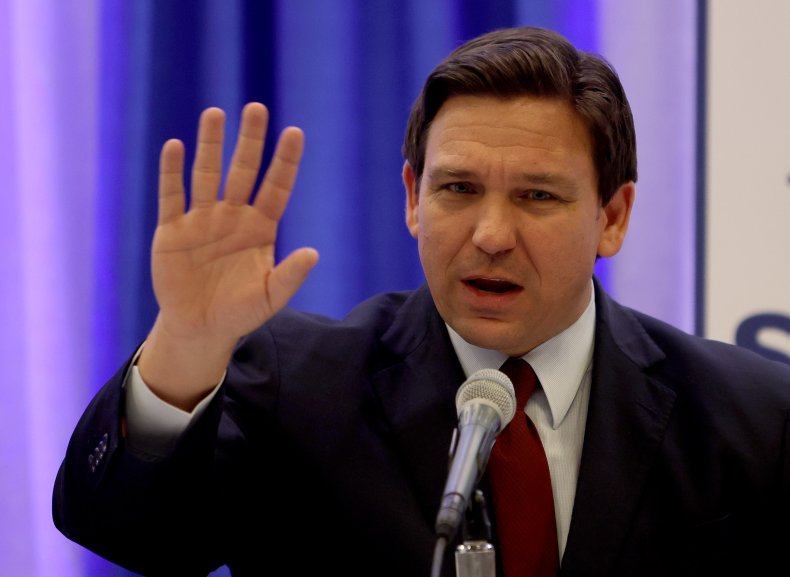 Carlson played a video for the governor he said was obtained by the conservative journalist Christopher Rufo. The clip showed Disney corporate president Karey Burke talking about how she felt Disney hadn't offered a sufficient amount of LGBTQ+ lead characters and narratives.
"I don't understand why an entertainment company that makes animated movies gets to control legislation in your state," Carlson said after the video played.
"You got to wonder like why is the hill to die on [is] to have transgenderism injected into kindergarten classrooms or woke gender ideology injected into second grade classroom," DeSantis said. "Meanwhile, if we had done a bill that prohibited talking about the abuse of Uyghurs in China, Disney would have supported that legislation because they don't want to say a word about that."
DeSantis stated he would not be bowed by pressure from Disney, which he called a "California-based company" that was trying to "take those California values and overturn a law that was duly enacted."
"They don't run this state," the Republican leader said. "They will never run this state as long as I'm governor."
Disney has a major presence in Florida and Walt Disney World Resort in Orlando is the biggest of its parks around the world.
DeSantis said that the new law is not against homosexuality or gay marriage, insisting that people who characterize it as being "don't say gay" legislation are wrong.
"The word 'gay' is not in the legislation. They say it's banning a word that literally isn't even in the legislation," DeSantis said. "It's a fake narrative. It's a lie, but it's a lie because they have to lie, because if they admitted what they were really for—sexualizing kindergarteners and first graders—they know that would not fly with the public."
DeSantis' office declined to comment further on the governor's comments when contacted by Newsweek.
Newsweek also contacted Disney for comment but did not hear back in time for publication.