Disney's 'Goal' Now to Repeal 'Don't Say Gay' Bill as DeSantis Signs It
The Walt Disney Company has officially condemned the controversial Florida legislation known as the "Don't Say Gay" bill, which was signed into law by Governor Ron DeSantis on Monday.
The condemnation, which comes from a Disney spokesperson and was obtained by Deadline, comes after the company faced backlash from its employees and customers over its complicated response to the bill. After Disney CEO Bob Chapek refused to give a direct statement on the bill, the company's employees staged walkouts demanding action.
"Florida's HB 1557, also known as the 'Don't Say Gay' bill, should never have passed and should never have been signed into law," said a Disney spokesperson in the statement released Monday. "We are dedicated to standing up for the rights and safety of LGBTQ+ members of the Disney family, as well as the LGBTQ+ community in Florida and across the country."
However, Disney has now taken things one step further by saying that the company has a new commitment to striking down the legislation.
"Our goal as a company is for this law to be repealed by the Legislature or struck down in the courts," the spokesperson explained, "and we remain committed to supporting the national and state organizations working to achieve that."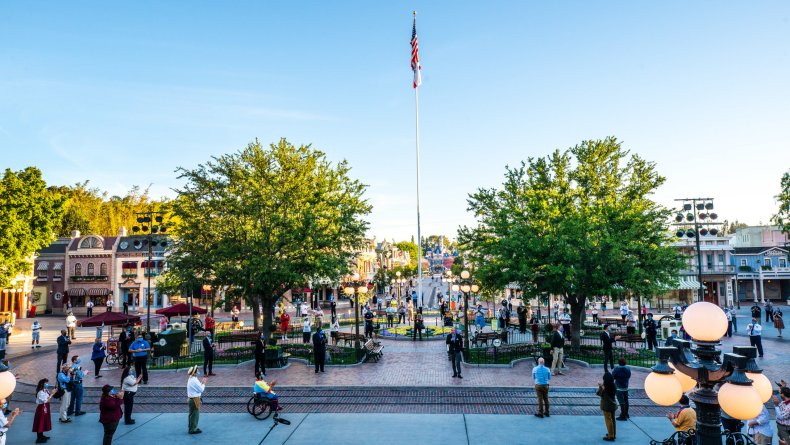 However, DeSantis maintained that he will not be swayed by Disney's new statement. In a comment sent to Newsweek, a representative for DeSantis said that the Florida governor will not back down from his defense of the bill, regardless of whether or not the company approves it.
"Corporations do not have veto power over laws passed by a duly elected state legislature, signed by the governor, and supported by Floridians," said the spokesman.
"As Governor DeSantis said today at the bill signing, to members of Hollywood, the media, and executives at woke corporations who advocate for instruction on sexuality and gender ideology for young children: 'Here, I stand.' He will keep standing in their way and standing for the rights of parents and families in Florida."
Schoolchildren were in attendance during DeSantis' signing event on Monday. The governor promised that the legislation will allow parents to "send their kids to school to get an education, not an indoctrination," the Associated Press reported.
According to the bill's official text, HB 1557 establishes into law that "classroom instruction by school personnel or third parties on sexual orientation or gender identity may not occur in kindergarten through grade 3 or in a manner that is not age appropriate or developmentally appropriate for students in accordance with state standards."
While HB 1557 is specifically designed for kindergarten through third-grade classrooms, activists have condemned the bill for potentially being gateway legislation for stricter laws against the LGBTQ community in schools.
"We're staring at a new reality where LGBTQ+ students may wonder if they're allowed to even acknowledge their own sexuality or gender identity," wrote Human Rights Campaign interim President Joni Madison in a statement emailed to Newsweek, "a reality where young people with LGBTQ+ family members may be forced to remain silent while others can speak freely; a reality where LGBTQ+ school staff may be forbidden from so much as mentioning their loved ones."
Update 3/29/22, 9:21 a.m. ET: This story has been updated with an official statement from the office of Florida Governor Ron DeSantis.