Disney Workers List Demands as They Stage Walkout Over 'Don't Say Gay' Bill
A number of Disney employees are planning to stage a week of virtual 15-minutes walkouts over the company CEO Bob Chapek's handling of Florida's controversial 'Don't Say Gay' bill.
A number of staffers have now created a website called WhereIsChapek.com, where they have expressed their gratitude for Chapek's apology, but have reprimanded Disney for failing to "match the magnitude of the threat to LGBTQIA+ safety represented by this legislation."
Chapek announced on Friday that Disney is pausing all political donations in Florida following a week of backlash against the company's initial silence.
Named the "Don't Say Gay" bill by activists, the recently passed legislation in Florida bans "classroom discussion about sexual orientation or gender identity" in certain grade levels in schools.
Also known as the Parental Rights in Education Bill, the legislation will prohibit the discussion of sexual orientation or gender identity in schools for children under the age of 10.
Disney owns numerous properties in Florida, such as Disney World in Orlando, and the firm is a significant political donor to the state's politicians.
"Due to the lack of compassion and advocacy, TWDC's LGBTQIA+ community and their allies are determined to take a stand via multiple direct actions, including both virtual and in-person protests," the group wrote in the open letter on WhereIsChapek.com.
The first walkout took place on Tuesday, 15 March.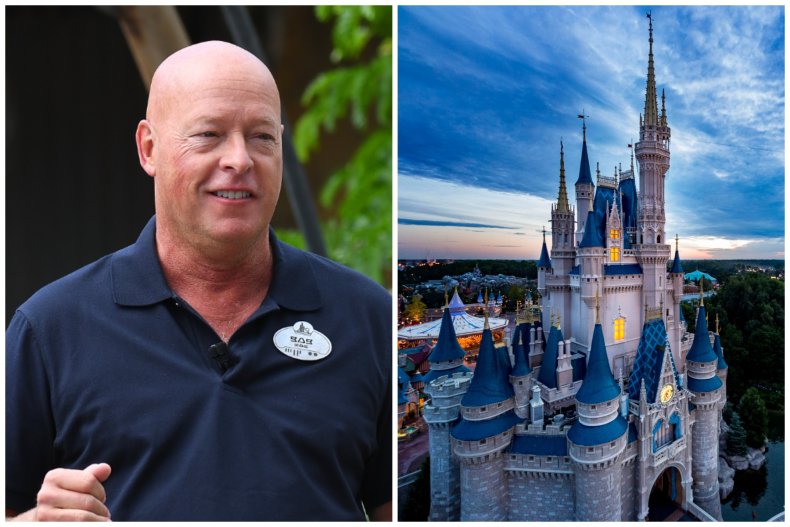 The Demands Listed By Employees Are:
1. TWDC [The Walt Disney Company] must immediately and indefinitely cease all campaign donations to these politicians involved in the creation or passage of the 'don't say gay or trans' bill.
The group then lists a number of politicians, including Florida Governor Ron DeSantis and Republican Senator Kathleen Passidomo.
2. TWDC must publicly commit to an actionable plan that protects employees from hateful legislation.
The employees state that the action plan must include "stopping construction and investment in the state of Florida until hateful legislation is repealed" as well as "guaranteeing no employee will be terminated when denying relocation to FL."
3. The company must "reaffirm the company's commitment to protecting and advocating for its LGBTQIA+ staff, even in the face of political risk."
The group said this demand "must include full transparency into political and organizational contributions" and that "full accountability is not negotiable."
4. The employees demand that The Walt Disney Company "take responsibility for its inaction to protect the rights of LGBTQIA+ children and their families by making substantial contributions to The Trevor Project, Trans Life, and other human rights advocacy groups in an effort to regain our trust in the company's inclusion and equality efforts."
5. The company is also being urged to "allocate content spending and outline how it will expand its content catalog to represent the LGBTQIA+ as well as transparent reporting on methods of community inclusion in content creation and inception."
6. Lastly, the group wants its employer to commit to creating an LGBTQIA+ brand that focusing on LGBTQ+ creators and underrepresented voices, and cites The Onyx Collective as an example.
The Onyx Collective is a content brand for creators of color on Hulu that launched last year.
Read the full details of the demands at WhereIsChapek.com.
"As a community, we have been forced into an impossible and unsustainable position and must now take action to convince TWDC to protect employees and their families in the face of such open and unapologetic bigotry," the employees' letter reads.
"The LGBTQIA+ community is no stranger to advocating for ourselves—Pride is a protest, after all. Our community in TWDC is no different and we will show you how strong we are together."
Newsweek has contacted Disney for comment.