Ron DeSantis has hit back at Disney after the company's CEO Bob Chapek publicly opposed Florida's "Don't Say Gay" bill.
Dubbed the "Don't Say Gay" bill by activists, the recently passed legislation in Florida prohibits "classroom discussion about sexual orientation or gender identity" in certain grade levels in schools.
The bill, also known as the Parental Rights in Education Bill, will ban the discussion of sexual orientation or gender identity in schools for children under the age of 10.
The Florida governor slammed the entertainment and media conglomerate and criticized its links to China.
"You have companies, like at Disney, that are going to say and criticize parents' rights, they're going to criticize the fact that we don't want transgenderism in kindergarten, in first-grade classrooms," DeSantis said at an event with supporters in Boca Raton, per a video obtained by Fox News.
"If that's the hill they're going to die on, then how do they possibly explain lining their pockets with their relationship from the Communist Party of China? Because that's what they do, and they make a fortune, and they don't say a word about the really brutal practices that you see over there at the hands of the CCP."
Disney has faced criticism for filming its Mulan reboot in Xinjiang, the region in China where Uighur Muslims are oppressed.
DeSantis added: "First graders shouldn't have 'woke' gender ideology imposed in their curriculums."
After being passed by the Florida Senate this week, the bill headed to DeSantis' desk. The Republican governor has voiced support for the bill and is expected to sign it into law.
Chapek confirmed earlier this week that he had reached out to DeSantis to meet with him along with LGBTQ+ leaders at Disney to discuss the bill after he faced a backlash from employees for not publicly condemning the legislation.
"I called Governor DeSantis this morning to express our disappointment and concern that if legislation becomes law, it could be used to unfairly target gay, lesbian, nonbinary and transgender kids and families," the CEO said during Disney's annual shareholder meeting.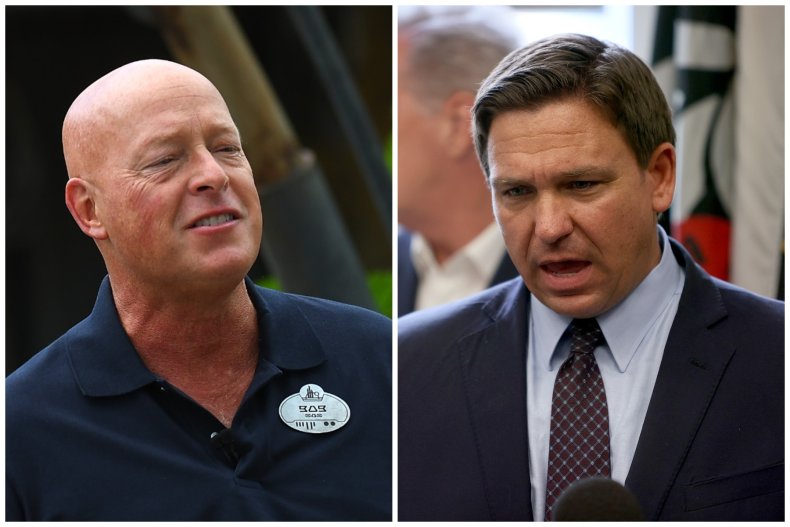 "The governor heard our concerns and agreed to meet with me and LGBTQ+ members of our senior team in Florida to discuss ways to address them."
Following this, the governor's office issued a statement saying DeSantis' position "has not changed" and that no in-person meeting has been arranged with Chapek as yet.
At the Boca Raton event, DeSantis went on to say that "companies that have made a fortune off being family-friendly and catering to families and young kids" should "understand that parents of young kids do not want this injected into their kids' kindergarten classroom."
"They do not want their first graders to go and be told that they can choose an opposite gender," he said.
Newsweek has reached out to Disney for comment.
Disney owns several properties in Florida, such as Disney World in Orlando and the firm is a major political donor to the state's politicians.
The company continues to be criticized by staff, including employees of animation studio Pixar, who say that moments and stories that include same-sex affection are consistently cut by Disney's corporate executives.