Less than a week after quarterback Deshaun Watson was traded to the Cleveland Browns, the 26-year-old who's been the center of multiple sexual misconduct lawsuits could be facing new charges in relation to a 10th accusation against the football player.
A Texas grand jury in Brazoria County is considering another criminal complaint against Watson in the final case pending against the athlete, Tony Buzbee, the complainant's lawyer, according to Fox 8 WJW in Cleveland.
The possibility of a new complaint comes just two weeks after a grand jury in Harris County declined to indict the quarterback on nine criminal complaints. The latest development is related to an incident that lies outside the jurisdiction of the Harris County District Attorney's Office.
Watson has denied any wrongdoing and the rejection of the other nine cases had given teams in the National Football League the confidence to begin discussing trades involving the player, who eventually scored a five-year, $230 million contract with the Browns last Friday.
"We spent a tremendous amount of time exploring and investigating the opportunity to trade for Deshaun Watson," the team said in a Sunday statement.
The Browns said in-depth conversations between the team and Watson, alongside the "extensive" evaluation process, "provided the foundation for us to pursue Deshaun."
The team noted in its statement that it was aware of "legal proceedings that are ongoing" and that it would respect due process. But the upcoming proceedings could differ from those in Harris County and result in an indictment for their new player.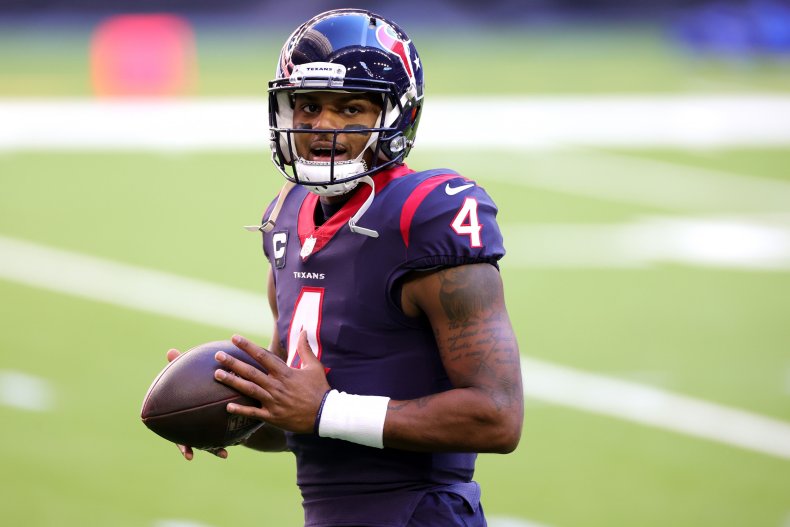 In a publicly available report, the complainant told Houston police that the quarterback "touched her with his penis and ejaculated causing semen to touch her arm and hand" during a massage appointment that took place in November 2020.
Her lawyer said they're expecting a decision from the jury as early as Thursday.
The complainant, whose name was redacted, is among the 22 women who have also filed civil suits against Watson.
In the first deposition session related to the civil suits—which was given before a decision from the Harris County grand jury came—Watson invoked his Fifth Amendment right against self-incrimination.
However, a week later—after the grand jury chose not to indict him—he waived those conceptional protections and answered questions under oath in subsequent depositions.
The NFL's own investigation into the allegations also remains ongoing.
Newsweek reached out to the Cleveland Browns for comment.