Second Grand Jury Declines to Indict Deshaun Watson on Sex Charges
A grand jury declined to indict NFL quarterback Deshaun Watson on Thursday after it had considered a criminal complaint against him accusing him of sexual misconduct.
The news comes just two weeks after another grand jury in Texas declined to indict the Cleveland Browns quarterback after hearing evidence from the police investigation into the claims of nine women who accused Watson of sexual assault.
A representative for the Brazoria County District Attorney's Office in Texas directed Newsweek to a statement on the latest grand jury decision.
"After a careful and thorough review of the facts and evidence documented in the
reports prepared by the Brazoria County Sheriff's Office and the Houston Police
Department, as well as hearing testimony from witnesses, the Grand Jury for Brazoria County has declined to charge Deshaun Watson with any crimes. Accordingly, this matter is closed," Brazoria County District Attorney Tom Selleck wrote on Thursday.
The complainant in the criminal case that was being considered by the Texas grand jury is among the 22 women who have also filed civil suits against Watson accusing him of sexual assault.
The Houston Chronicle reported last April that the women in those lawsuits have claimed that Watson exposed himself, acted inappropriately and in some instances sexually assaulted them during massages.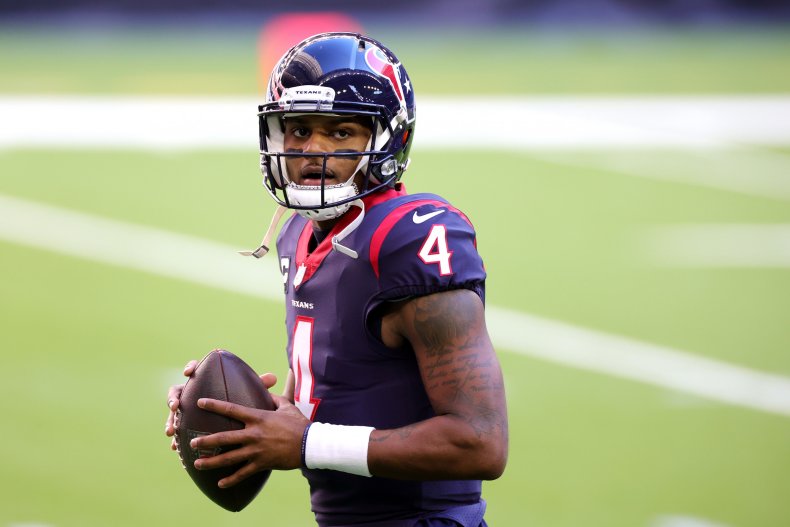 Watson has denied the sexual misconduct allegations against him. Just before the second grand jury declined to indict Watson on Thursday, his lawyer, Rusty Hardin told news station WJW that he believed the quarterback is innocent.
"This guy is a rock-solid young man," Hardin said. "The people of Cleveland should back up and let the judicial system run its course."
Watson, 26, was traded to the Cleveland Browns last week, and the team has been criticized for its decision to bring on Watson as he faces multiple sexual assault allegations.
In a statement released on Sunday, the Cleveland Browns said the team spent "a tremendous amount of time exploring and investigating the opportunity to trade for Deshaun Watson."
"Our team's comprehensive evaluation process was of utmost importance due to the sensitive nature of his situation and the complex factors involved. We also understand there are still some legal proceedings that are ongoing and we will respect due process," the statement from the NFL team read.
A decision by the Brazoria County grand jury had been expected on Thursday. The other grand jury that declined to indict Watson was based in Harris County, Texas.