'Desperate': Newsmax Host Blasted After Attacking Biden's 'Junkyard' Dog for Being Dirty
Newsmax host Greg Kelly is facing online backlash after attacking President Joe Biden's dog Champ for being dirty during a segment of his show.
With two guest historians on his show, the host on Friday's Greg Kelly Reports accused Biden of failing to adequately take care of his dog. "Did you see the dog?" Kelly asked viewers with a photo of Champ on the screen. "I want to show you something I noticed. Does he look a little rough?"
"I love dogs, but this dog needs a bath and a comb and all kinds of love and care. I've never seen a dog in the White House like this," he continued, before comparing Champ to former presidential dogs.
"I remember Buddy. I remember Millie," Kelly said, referring to former President Bill Clinton's dog Buddy and former President George H.W. Bush's dog Millie. "I remember lots of dogs, but not a dog who seems, I don't know. I don't know how much love and care he is getting. Let's bring in the historians. I'm having fun with this obviously, but I do want to talk about some stuff."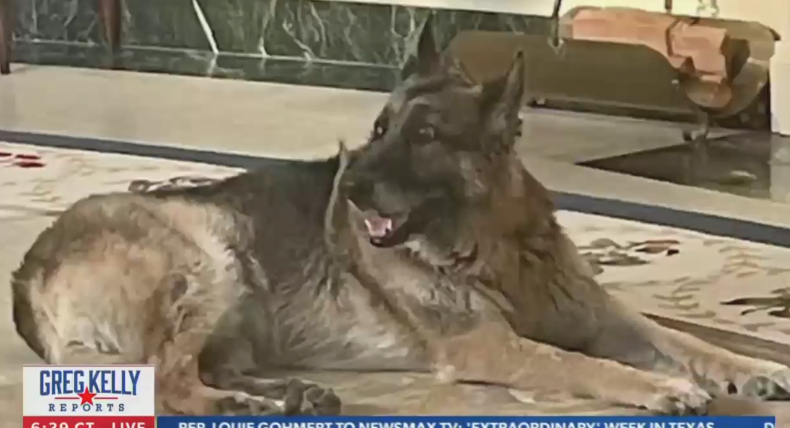 "Millie had like a staff, and they really took care of her. Very beautiful dog" the host added. "This dog looks like it's from—I'm sorry—from the junkyard. And I love that dog, but he looks like he's not been well cared for."
Guest historian Craig Shirley agreed with Kelly's assessment. "No, he looks very dirty and disheveled, and very unlike a presidential dog like Millie or Victory or something else in the past in the White House," Shirley said.
Critics quickly condemned Newsmax and Kelly for the segment.
American sports and political commentator Keith Olbermann tweeted: "Quick message to @gregkellyusa @newsmax @CraigSmpa and @DougWead : F*** ***. This is a 12-year old German Shepherd - a senior dog. And you're insulting his APPEARANCE? He's in better shape than any of you - and smarter than all of you combined."
"Biden's dogs > Newsmax's humans," tweeted Bill Kristol, who was the chief of staff to former Vice President Dan Quayle during the George H.W. Bush administration.
Citizen Lab senior researcher John Scott-Railton wrote: "@newsmax's crew taking swings @JoeBiden's dog for being 'dirty,' 'unlike a presidential dog' and 'from the junk yard.' Champ looks like a good boy to me."
"500k dead Americans, Texas has no power, global pandemic, food shortage crisis. But these 3 guys have concerns about a dog not getting a haircut. Hey @gregkellyusa @CraigSmpa @DougWead and @newsmax, you should be ashamed to be covering this as news at a moment like this. Ashamed," tweeted comedian Mike Birbiglia.
Twitter user Victoria Brownworth wrote: "Champ is 12. He's in his 80s in human years. Newsmax isn't doing real journalism. It's just mean-spirited and creepy."
"Newsmax attacked Champ, Joe and Jill Biden's ageing dog for being dirty. Yep, that's how desperate they are," tweeted Ian Seta.
Newsweek reached out to Newsmax for comment.