Despite 'Executive Time,' Donald Trump Works 'Harder for the American People Than Anyone in Recent History': White House Staffer
President Donald Trump's executive assistant has come to the U.S. leader's defense following reports that the president dedicates the majority of his hours in the Oval Office to unstructured "executive time."
"This POTUS is working harder for the American people than anyone in recent history," Madeleine Westerhout, who serves as the president's personal secretary, tweeted on Sunday.
Westerhout's statement came in response to a Sunday report from Axios revealing the details of Trump's "leaked private schedules," which suggested that Trump had been dedicating an average of 60 percent of each day to "executive time," including watching television, tweeting and taking phone calls.
In her tweet, Westerhout blasted the leak as a "disgraceful breach of trust."
"What these [schedules] don't show are the hundreds of calls and meeting @realDonaldTrump takes everyday," she continued, before adding that Trump works harder for the American people "than anyone in recent history."
According to Axios's analysis of Trump's schedule since the November 6 midterm elections through February 1, the president dedicated 297 hours and 15 minutes out of 502 hours to unstructured "executive time."
By comparison, the U.S. leader's diary had roughly 77 hours of scheduled meetings included, as well as around 51 hours of total travel time, as is noted in the below Statista chart. Meanwhile, nearly 40 hours were dedicated to eating lunch.
The president has long been known to dedicate a significant amount of time to watching television at the White House, in addition to taking time to read some newspapers and speak with members of Congress, aides and informal advisers about what he reads in the press.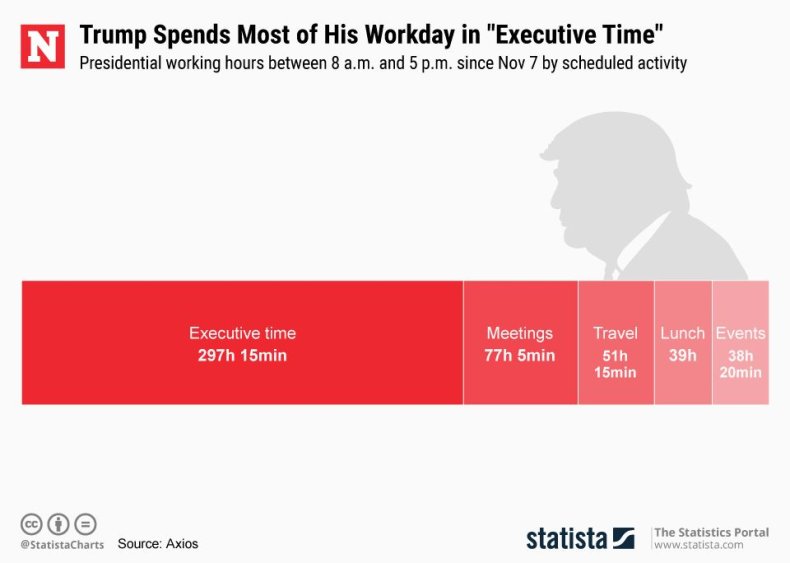 Six sources with direct knowledge of the U.S. leader's schedule told Axios that the president typically wakes up before 6 a.m. but rarely makes it into the Oval Office before mid-morning. In addition, they said that the president's first meeting of the day is typically held between 11 and 11:30 a.m. and is typically with intelligence officials or his chief of staff.
One senior White House official, who spoke on the condition of anonymity, told Axios that while Trump's private time still overlapped with work time, it was not the "typical" work one might expect.
"He's always calling people, talking to people. He's always up to something; it's just not what you would consider typical structure," the White House official told Axios.