Despite early polls that suggested he could be a favorite gubernatorial candidate, former New York City Mayor Bill De Blasio has officially ruled out a bid for the governor's race just weeks after leaving from the city's top post.
In a video statement posted to Twitter Tuesday morning, De Blasio said: "No, I am not going to be running for Governor of New York state, but I am going to devote every fiber of my being to fighting inequality in the state of New York."
For months, the two-term mayor had hinted at a possible campaign, seeking endorsements, putting together staff, filing paperwork to create a fundraising committee and reassuring supporters he was strongly considering to run.
A promising gubernatorial run was also fueled by early polling that indicated De Blasio would be well-received by New Yorkers, especially since Attorney General Letitia James's departure from the race last month as the most formidable opponent to current Governor Kathy Hochul.
A new poll released by Siena College on Tuesday found De Blasio to be the second-place choice behind Hochul, who led in a wide margin over the former mayor with 35 points.
Nonetheless, De Blasio still outpaced New York City Public Advocate Jumaane Williams and Long Island Representative Tom Suozzi.
The poll also found that De Blasio was the favorite among Black Democrats, even over Hochul, leading with 36 percent over her 26 percent.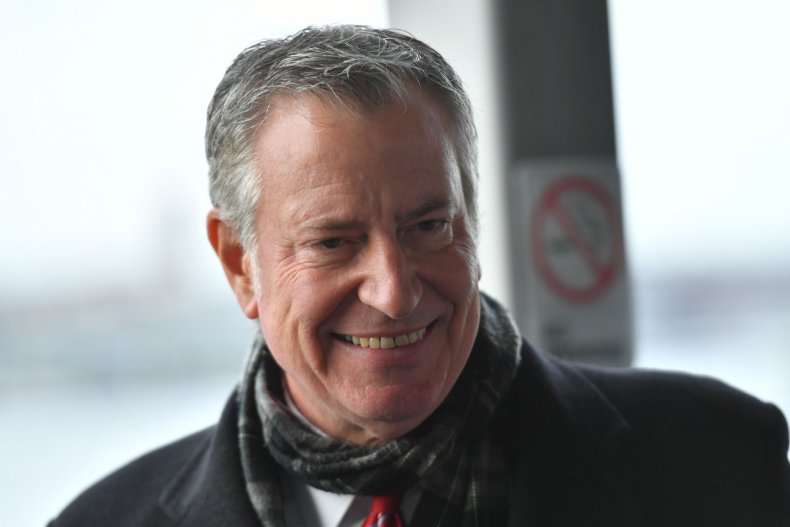 The recent 12 percent support behind De Blasio hinted that a campaign from the former mayor could likely have grown on voters.
An earlier December poll from Siena College found that only six percent of voters supported De Blasio and showed Williams with a slight four-point lead over De Blasio.
The latest figures could likely be from some of James' supporters, who were forced to pick a new candidate to back after she bowed out of the race. In December, 18 percent of likely voters said they would support the attorney general.
Instead of running for the position of his well-know rival, former Governor Andrew Cuomo, De Blasio announced that he would dedicate his future to fighting inequalities in the state, suggesting an end to his political career.
"This is my block right here in Brooklyn," De Blasio said in the video taped in his neighborhood. "This is where Chirlane and I raised our family. We love this place. We love our neighbors. And nine years ago, this is where we announced my campaign for mayor of New York City and we said we were going to take on inequality head on."
After touting some of his policy initiatives as mayor, including free universal pre-K, affordable housing and cutting carbon emissions, De Blasio said, "We got a lot to do together. I'm gonna share some more news with you in the days ahead. Let's keep this fight going cause we proved change can happen in New York. Good things ahead."