Despite Previous Cordial Ties, McConnell Hasn't Spoken to Biden Since Inauguration
Senate Minority Leader Mitch McConnell, a Kentucky Republican, said that he has not been invited to the White House or spoken to President Joe Biden since Inauguration Day, despite previous cordial ties between the two lawmakers.
Biden, who spent decades in the Senate and served in the legislative body alongside McConnell, stressed the importance of bipartisanship in his inaugural address on January 20.
But Democrats and Republicans have struggled to find common ground in the weeks since then, with Biden pushing through his $1.9 trillion American Rescue Plan without any GOP lawmakers voting in favor of the bill. During a Wednesday morning interview with Fox News, McConnell was asked about Biden's calls for bipartisanship.
"I haven't been invited to the White House. So far this administration [is] not interested in doing anything on a bipartisan basis in the political center," McConnell, the top Republican in Washington, D.C., said.
"They'd be more than happy to pick off a few of our members and do what they would like to do, but there's been no efforts whatsoever by the president nor the administration to do anything in the political center. He's been trying to jam everything through on the hard left."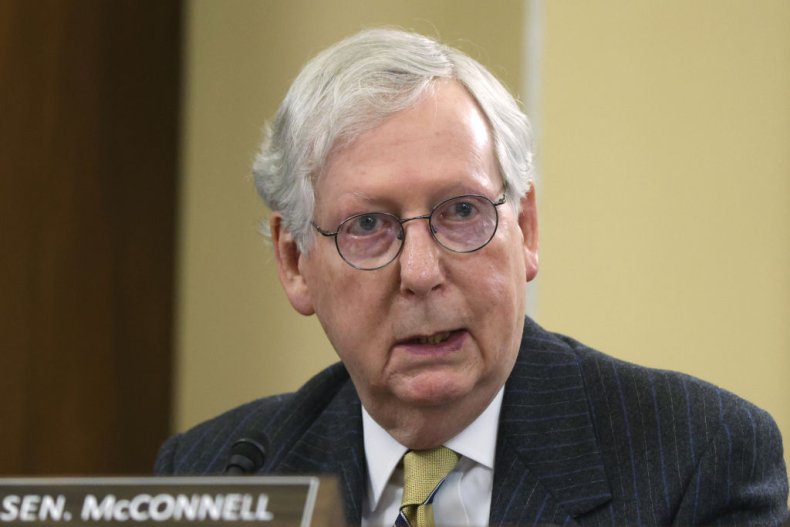 When he was asked whether he had spoken with Biden recently, McConnell appeared to think for a moment and then said he has not.
"I don't believe I have spoken with him since he was sworn in. We had a couple of conversations before then," McConnell said.
McConnell and Biden reportedly have had a positive working relationship in the past. McConnell wrote fondly of Biden in his 2016 memoir.
"Not only did I like Joe, but I also learned that he didn't only talk; he also listened. He was, therefore, someone I could work with," McConnell wrote.
When Biden served as vice president under former President Barack Obama from 2009 to 2017, he was often dispatched as the White House's top negotiator with senators. Biden served in the Senate from 1973 until he became the vice president in 2009, and many of the current senators previously served with him in the legislative body.
McConnell warmly touted Biden's and Vice President Kamala Harris' tenure in the Senate in remarks on Inauguration Day.
"I have to make one point of personal privilege on behalf of the Senate, with all due respect to our distinguished Speaker [of the House, Nancy Pelosi] and our colleagues from the House. I have to note, not only did we just swear in a son and daughter of the Senate to these high offices, but indeed both these former senators skipped the House altogether," the Kentucky Republican quipped at the time.
Biden touted his close ties with senators—including Republicans—to stress to the American people during his campaign that he would be able to govern on a bipartisan basis. He reiterated these views in his victory speech following the November election and again in his inaugural address. But since Biden took office, he has struggled to garner GOP support for his policy agenda.
Newsweek reached out to the White House for comment but did not immediately receive a response.