Israel may be the United States' closest ally in the Middle East, but the world's only majority-Jewish nation also enjoys a special relationship with Moscow, a relationship now under strain as a result of Russia's ongoing war in Ukraine and the competing narratives surrounding the conflict.
In one of the most toxic spats in recent memory, Israeli officials shared their outrage last week in response to Russian Foreign Minister Sergey Lavrov's suggestion during an interview with Italian television channel Rete4 that Ukrainian President Volodymyr Zelensky's Jewish roots were not an obstacle to Moscow's narrative of pursuing "denazification" against his government because Nazi leader Adolf Hitler "also had Jewish origins," and that "for some time we have heard from the Jewish people that the biggest antisemites were Jewish."
The theory of Hitler's alleged Jewish background has emerged from the mystery surrounding the identity of one of his grandfathers, but no evidence has ever come to light to support the claim, which many experts regard as an outright conspiracy theory.
Some of the harshest backlash to the comments came from Israeli Foreign Minister Yair Lapid, the son of a Holocaust survivor, who is poised to lead the nation in August 2023. This comes as part of a power-swapping deal that led to the formation of the current government last year under Prime Minister Naftali Bennett. Lapid called Lavrov's remarks "unforgivable and scandalous and a horrible historical error."
But forgiveness appeared to come rather swiftly, as Bennett's office announced that he had accepted a personal apology from Putin during a phone call between the two leaders that coincided with Israel's Independence Day last Thursday.
The Kremlin's readout made no mention of an apology, though it offered an extensive recognition of "the historical truth" of World War II, including the deaths of six million Jews at the hands of Hitler — as well as the Soviet role in defeating him.
While Israel and Russia would likely continue their balancing act of relations based on a range of mutual interests in the Middle East, any tensions between the two raise an uncomfortable truth for the former. Israel effectively needs Russia's approval to conduct operations freely against Iran and its allies in Syria.
Evgeny Buzhinskiy, a retired Soviet and Russian lieutenant general who serves as chairman of the executive board of the PIR Center in Moscow, acknowledged the importance of that relationship.
"I think that Israel is not dependent, of course," he told Newsweek, "but it realizes Russia's patience and Russia's neutrality in Israel's fight against Hezbollah and against Syria."
He noted that Israeli leaders would surely keep this dynamic in mind when dealing with Russia, particularly in the context of the ongoing war in Europe, "because the balance in the Middle East is too delicate just to ruin it because of Ukraine."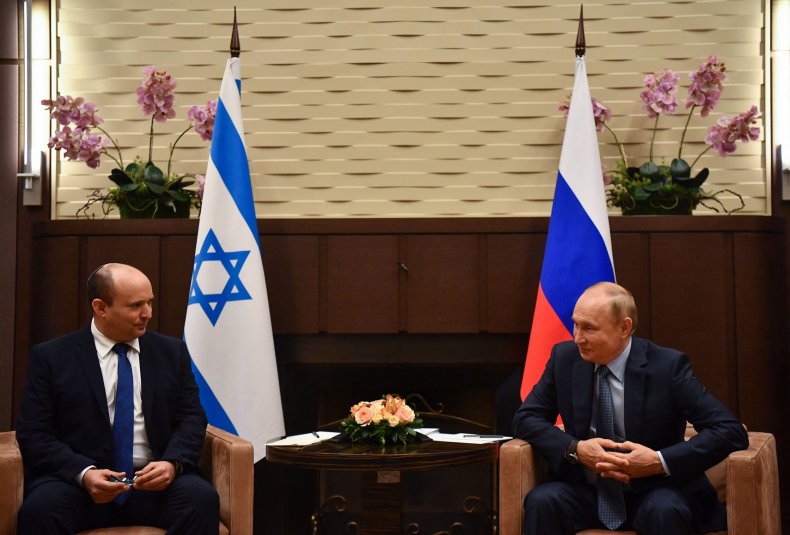 Russia also enjoys a strategic relationship with Iran that is bolstered by their joint support for Syrian President Bashar al-Assad in his ongoing battle against rebels and jihadis who first rose up against the government in 2011, with some receiving backing from the West and its regional partners. As the conflict dragged on with Assad emerging largely victorious, both Russia and Iran have become entrenched across much of Syria, and have operated near its disputed border with Israel.
The presence of Iranian personnel and various Iran-aligned groups, including Lebanon's Hezbollah, has prompted concerns for Israel, which has accused its foes of establishing forward operating bases and developing precision-guided munitions to be used in a potential conflict. Missiles and rockets have been fired from Syrian territory toward Israel on several occasions, while the Israel Defense Forces have mounted a years-long semi-covert campaign of frequent airstrikes across the neighboring country, targeting suspected Iran-tied sites as well as Syrian anti-air batteries.
Such raids often fall well within the range of Russia's advanced S-400 air defense systems and other platforms, including electronic warfare weapons, deployed to sites such as Hmeymim Air Base in the coastal province of Latakia. The nearby port of Latakia itself was hit by an attack attributed to Israel in December.
But Moscow's coordination with Tehran falls short of blocking such strikes, even after tense moments such as the accidental shootdown of a Russian military plane by Syria's air defenses trying to thwart an Israeli attack in September 2018.
To avoid such incidents, the IDF and Russian Armed Forces maintain a deconfliction mechanism in conducting operations in Syria.
Still, officials in Moscow have occasionally pointed out their opposition to Israel's campaign, including at a press conference late last month. After an alleged Israeli airstrike reportedly killed up to four Syrian soldiers and injured three others at that time, Russian Foreign Ministry spokesperson Maria Zakharova told reporters that such actions "are carried out in violation of the fundamental norms of international law," and called them "unacceptable."
"We firmly condemn irresponsible actions like this, which increase the number of victims among the military and civilians and pose a real threat of an uncontrolled escalation of tensions in the region," Zakharova said at the time. "We again point out that unprovoked attacks like this impair the Syrian armed forces' combat potential, having a negative impact on the effectiveness of the efforts to fight terrorism in Syria."
"We link the responsibility for the spread of terrorism in Syria directly to U.S. activities in this region," she added. "We demand that Israel abandon this vicious and dangerous practice."
Though few suspect Russia would turn its weapons on Israeli aircraft, brewing tensions between the two countries, paired with the West's broader pressure campaign against the Kremlin over the war in Ukraine, may serve as a catalyst for greater engagement between Moscow and Tehran.
Kirill Semenov, an independent analyst and non-resident fellow of the Russian International Affairs Council in Moscow, noted that most Israeli attacks in Syria were carried out from Israeli airspace or that of neighboring Lebanon, which reports near-daily intrusions of Israeli warplanes in its skies. He argued that, rather than disrupt Israel's operations in the air, Russia could deliberately complicate the situation on the ground.
"It is likely that we will see that Russia will be able to start interacting with Iran on the Syrian track to a greater extent," Semenov told Newsweek, "for example, by agreeing to the deployment of pro-Iranian groups near the borders with Israel."
U.N. peacekeepers first deployed to the boundary between Syria-controlled and Israeli-occupied stretches of the Golan Heights in 1974 in the wake of the two countries' last war, and there have been periodic flare-ups since, most notably in 2014 and 2018, brought on by the rise of militant groups in the area. Russia has remained influential in the country, given its large military footprint in helping the government retake the southwest, and in January began joint air patrols with its Syrian counterparts.
About a month later, one day before Putin announced the onset of the so-called "special military operation" against Ukraine in February and shortly after Israel issued its first statement in support of Ukraine, Russian first deputy permanent representative to the U.N. Dmitry Polyanskiy said that Russian officials were "concerned over Tel Aviv's announced plans for expanding settlement activity in the occupied Golan Heights, which directly contradicts the provisions of the 1949 Geneva Convention."
"We stress Russia's unchanging position," he added, "according to which we do not recognize Israeli sovereignty over the Golan Heights that are an inalienable part of Syria."
And when Israel announced it would begin providing field hospital equipment to Ukraine one month into the war, Russia's ambassador to Syria Alexander Efimov went as far as to warn that IDF strikes in Syria were effectively "provoking" Russia to react.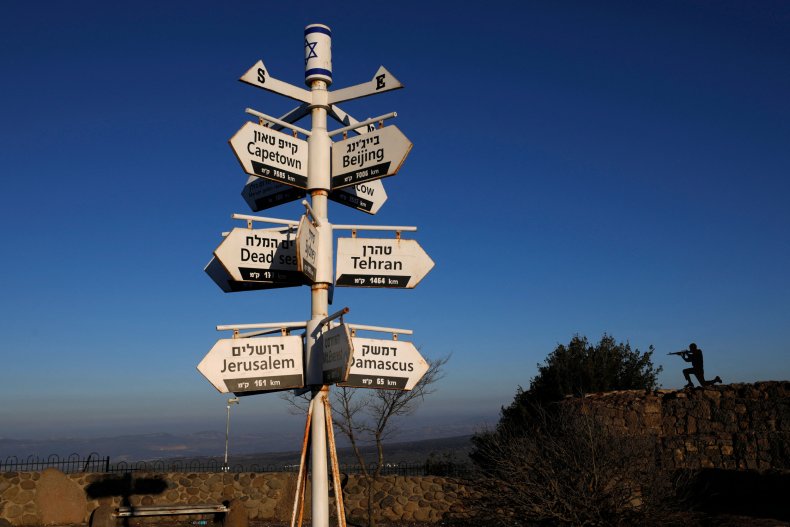 Despite the recent war of words, however, there has been little indication that either side was on the verge of any actual escalation.
Maxim Suchkov, director of the Institute for International Studies at MGIMO University in Moscow, points out that Putin is proud of the connections he has established with Israel both under Bennett and his predecessor, former Israeli Prime Minister Benjamin Netanyahu. The relations have proven especially fruitful now, as Israel hesitates to join the U.S.-led campaign of sanctions against Russia over the conflict in Ukraine.
"While the relations soured, there are no signs that either Russia or Israel seek to make life more difficult for each other's interests in the Middle East," Suchkov told Newsweek.
That being said, he noted another front that threatened to fray the ties between the two nations.
"Russia cannot be happy that more Israeli mercenaries have been flocking Ukraine to fight on the side of what Russia sees as 'far-right' forces," Suchkov said, "and that Israel allegedly eyes sending more aid to Ukraine."
In an attempt to offset its military imbalance with Russia, Ukraine has opened its ranks to foreign forces, with reports of tens of thousands of recruits joining from all corners of the globe, including Israel. And though Israel has so far held back from sending offensive military assistance, reports have indicated that this remains a matter of debate among Israeli officials trying to strike the right balance on their country's role in the crisis.
Suchkov argues that despite the concerted effort on both sides to avoid a major falling out, growing Israeli proximity to the war in Ukraine could prompt serious ramifications in Syria.
"If the harsh rhetoric coming from Moscow, however controversial and clumsy as it may appear, doesn't send the right signal that is heard in Tel Aviv, I don't exclude a prospect under which Russia shows Israel what 'falling from grace' in Syria may look like," Suchkov said.
He asserted, however, that such a strategy would not entail "egging Iran or Hezbollah on against Israel," as "they are independent players with their own set of interests that are not always aligned with those of Russia."
Rather, he envisioned a possible scenario in which Russia steps away from its de facto position as "an 'air bag' between Iran and Israel — the role that Russia has played in Syria for some time now."
"This, however, is a serious policy choice that is hard to reverse once the decision is made and, clearly, the one that Moscow so far seeks to avoid," Suchkov added. "The view here is Israel has a lot to lose in its own immediate neighborhood if it too pivots from its initial standing on Ukraine and alienates Russia."
These concerns are shared in Israel as well. Eran Etzion, who served as head of policy planning at the Israeli Foreign Ministry and deputy head of the National Security Council before joining the Middle East Institute as a non-resident scholar, outlined the precarious strategic climate his country faces.
"With respect to Israel's goals in Syria and Iran's presence there, there really is only so much Israel can do," Etzion told Newsweek. "Iran is a strategic ally of the Assad regime, and also of Russia. Any number of Israeli air raids has not and will not change this fundamental strategic reality."
And he noted the fallout of Russia's war in Ukraine on a broader scale that may ultimately affect Israel's engagement.
"Furthermore, as a result of the invasion into Ukraine and the massive Western response," he added, "Russia will only be pushed further into the arms of its allies in the region, closing ranks and possibly crossing red lines, in the name of a global alliance against the democratic world."
And while he said Israel would be capable of continuing its air campaign with or without Russia's coordination, he also pointed out that "should things deteriorate, Russia does have plenty of ways to harass Israel, such as jamming GPS all the way to Israel's main civilian airport, disrupting civil aviation."
Such added adversity would come at an already difficult time for Israel. The country has contended with a roughly month-and-a-half-long spike in deadly attacks rooted in the Israeli-Palestinian conflict. The decades-long feud has been further aggravated this year by violent clashes between Muslim protestors and Israeli security forces at the revered Al-Aqsa Mosque during the holy month of Ramadan.
But despite what Etzion referred to as Russia's decision "to escalate its rhetoric and diplomatic statements" in recent days, he too felt the most likely scenario was that both parties would ultimately strive to maintain their "careful balance of interests" in the region.
"The two countries seem to be on a track of more tensions, but their respective core interests and strategic calculus haven't changed," Etzion said. "Russia has no interest in direct confrontation with Israel in Syria. And Israel has an interest in keeping its protestations on Ukraine at a minimum."
"Barring dramatic developments in Ukraine, or an accidental military incident in Syria," he added, "we can expect bilateral tensions to remain in check."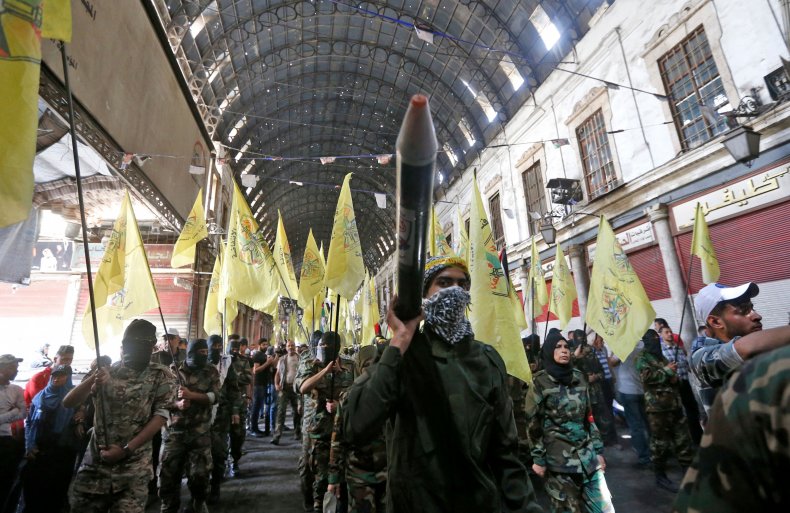 For Iran and its allied Axis of Resistance network of militias, on the other hand, friction between Russia and Israel is likely a welcome development.
Afifeh Abedi, a foreign policy analyst at the Tehran-based Center for Strategic Research, told Newsweek that she believes the current tension between the two powers is probably "temporary," but "Russia has a lot of opportunities in Syria to put pressure on Israel," and this "could be an opportunity for the resistance groups."
She also saw possible broader geopolitical ramifications, at a time when the United States was leveraging pressure simultaneously on multiple adversaries.
"If tensions between Russia and Israel continue," Abedi said, "the potential for the Tehran-Moscow-Beijing relationship will be realized."
At the same time, she argued that the U.S. was "tactically allowing the level of relations between Russia and Israel to remain," and that Israel's interests lie in mending the frays that have emerged in its ties with Russia.
Also speaking on the tactical state of affairs, Javad Heirannia, director of Persian Gulf Studies at the Center for Scientific Research and Middle East Strategic Studies in Tehran, said that "the level of play between the two sides should be evaluated tactically, not strategically," as Russia and Israel, "while having game cards, are also aware of their limitations and obstacles."
In this regard, Moscow must also balance its ties with Tehran, a relationship that presents both risk and reward for both sides. Heirannia noted that Russia seeks to make the most of its coordination with Iran, while also keeping an eye on its presence so as to not create a spoiler for the Kremlin's broader agenda.
He argues that Moscow's view extends beyond the immediate region, and takes into account the Eastern Mediterranean's strategic location near the southern flank of the U.S.-led NATO military alliance in Europe.
"In fact, Russia does not want Iran to be a threat to Israel from Syrian territory," Heirannia said. "Russia also does not want Iran to have full influence in some important areas in Syria. Therefore, it has left Israel free to attack these positions."
If Moscow does seek to up the ante, he said that "the Russians may open the hand of Iran and Iranian-affiliated groups in Syria in order to put pressure on Israel over its position on Ukraine." Recent unconfirmed reports have emerged of Russian troops in Syria transferring control of bases to units of Iran's Revolutionary Guard and Hezbollah, a development that would coincide with Assad's surprise visit to Tehran on Sunday.
But Heirannia noted that Moscow appears to be hedging its bets in the region.
"Russia does not seem to want to go so far as to seriously affect its relations with Israel," he said, "because Russia also does not want Iran and the axis of resistance in Syria to have a high hand."
Therefore, he argued that Moscow "may only tactically allow Iran to maneuver more forces against Israel."
With Russia seeking to maintain the balance of power in Syria while warning Israel of the potential for allowing Iran more space to operate, Heirannia noted that the Kremlin believes it ultimately holds the upper hand, and was making that known to all parties involved through its words and actions.
"Accordingly," he said, "the Russians are playing the best game with the cards they have in Syria."