Despite String of Mass Shootings, Fewer Americans Favor Stricter Gun Laws Today Than in 2019
The share of Americans who favor stricter gun laws is lower today than it was in 2019, according to a new survey released Tuesday by the Pew Research Center.
The nonpartisan think tank found that just 53 percent of U.S. adults think gun laws should be stricter than they currently are—a 7-point drop from September 2019, when six in 10 Americans backed tougher firearm legislation.
Democrats are the most likely to say gun laws should be stricter than they are today. Eighty-one percent held that view in the most recent survey, a slight decline from 86 percent in 2019.
About half of Republicans and Republican leaners (53 percent) say that gun laws are currently about right, while 20 percent think they should be more strict. Since 2019, the share of Republicans favoring stricter gun laws has declined 11 points.
The findings of the poll come amid a recent string of mass shootings. Pew conducted the study between April 5 and 11, after two back-to-back mass shootings left 18 people dead.
On March 16, eight people—including six Asian women—were killed when a gunman opened fire at three Atlanta-area spas. Georgia's no-wait gun laws allowed the suspect, identified as Robert Aaron Long, to purchase the weapon just hours before the attacks.
Less than a week later, on March 22, a shooter killed 10 people at a King Soopers grocery store in Boulder, Colorado. Just 10 days before the shooting, during which the suspect used an AR-15 assault rifle, a judge struck down a 2018 measure invoked by municipal officials to ban assault weapons and large-capacity magazines.
Several more mass shootings have occurred since then. Four people, including a 9-year-old boy, were killed when a shooter opened fire at a business complex in Orange County, California, on April 1. A week later, five people were killed in a home shooting in South Carolina.
The most recent attack was on April 15, when eight people were killed at a FedEx facility in Indianapolis. Authorities had already seized a shotgun from the suspect's home last year, after his mother raised alarms about his mental health. But he was able to legally purchase more firearms shortly after that incident.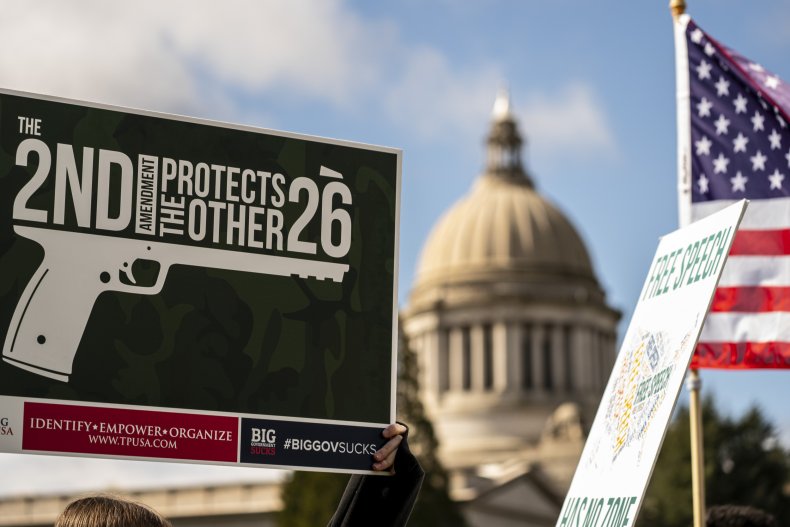 The series of shootings have renewed a gun control debate in Congress and across the country. President Joe Biden, along with signing several executive orders on guns, has called on lawmakers to pass two House bills dealing with gun control. One would implement a ban on assault weapons, while the other would close background check loopholes.
But gun reform remains an uphill battle in the Senate, where Democrats would need 10 Republicans to join them in order to pass legislation.
The gun control measures that have the most public support, according to Pew, are preventing people with mental illnesses from purchasing guns and subjecting private gun sales to background checks. Both proposals have more than 80 percent support.
In addition, majorities of Americans back the creation of a national gun database (66 percent), bans on assault-style weapons (63 percent) and bans on high-capacity magazines (64 percent).
The Pew Research Center surveyed 5,109 U.S. adults between April 5 and 11. The poll has a margin of error of plus or minus 2.1 percentage points.